Edison Yu's team does not expect raw material price increases to have a materially negative impact on EV demand, considering that many ICE vehicle prices are also rising.
China's major electric vehicle (EV) companies have already released their March delivery figures, and Deutsche Bank analyst Edison Yu's team offered a look at what they call the "Fab 5" of EV makers.
Sales of the Chinese EV maker "Fab 5" rebounded as expected, with limited impact from Covid lockdowns, the team said in a research note sent to investors Monday.
"We expect some small spillover in April mainly from Shanghai's 'dynamic zero tolerance' policy but highlight none of the production sites for the Fab Five are located in Shanghai so problems would mostly be related to suppliers or delivery logistics," the team said.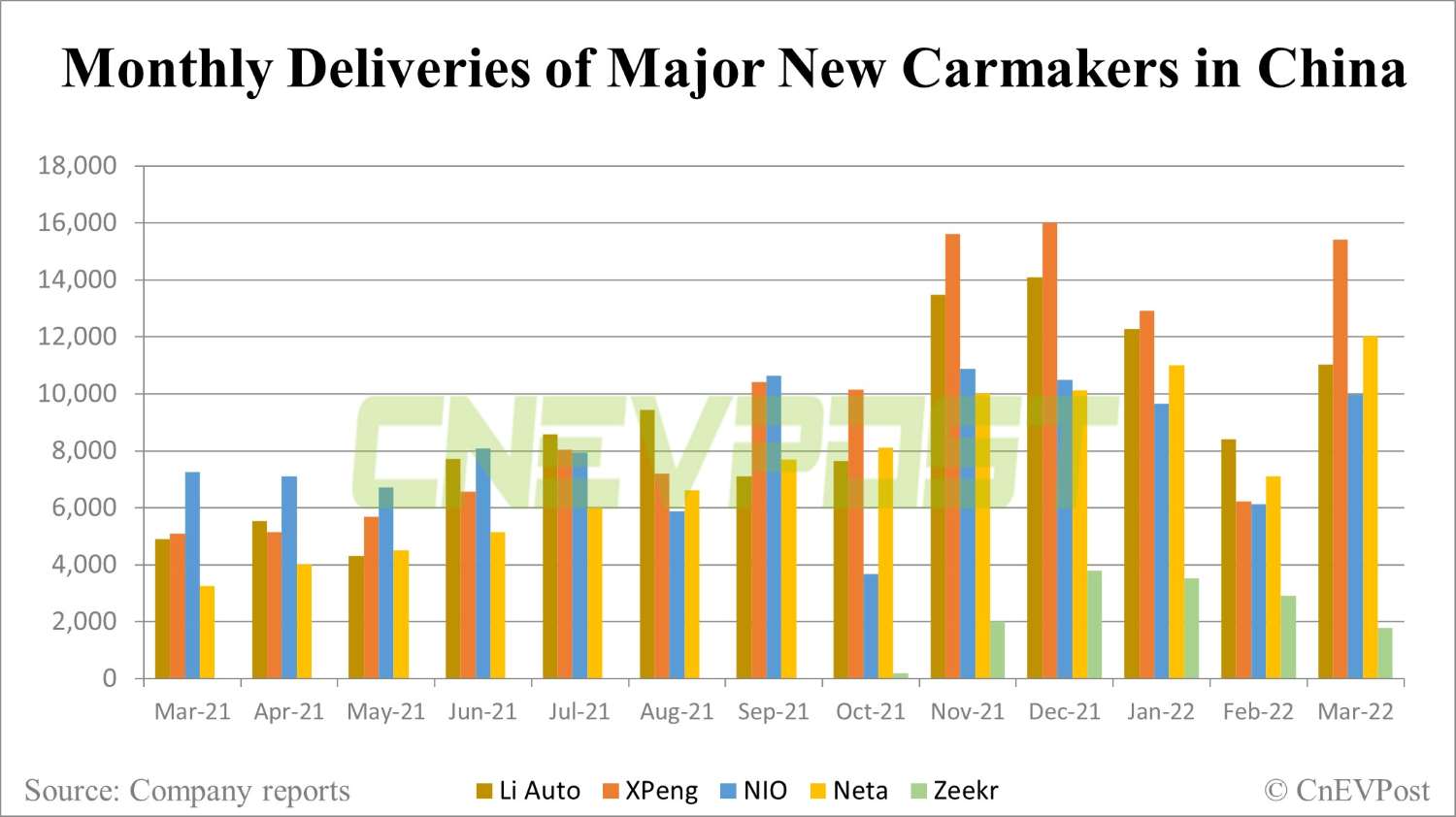 While higher raw material prices, particularly lithium carbonate, have led most automakers to raise prices, the team does not expect a material negative impact on EV demand, given that internal combustion engine (ICE) vehicle prices are also rising or already elevated in many cases.
It's also worth noting that local policies, such as license plate quotas and driving restrictions, still favor EV ownership, the team said.
In March, XPeng Motors (NYSE: XPEV, HKG: 9868) resaid the top sales spot, while Li Auto (NASDAQ: LI, HKG: 2015) appears to have been affected by supply chain issues, the team noted.
NIO (NYSE: NIO, HKG: 9866) began deliveries of its new flagship ET7 sedan, which should see significant growth in the coming months, according to the team.
Yu's team initially introduced what they saw as the most promising Chinese EV startups - NIO, XPeng, Li Auto and WM Motor - last year, calling them the "Fab 4".
Heading into 2022, the team updated their list, dropping WM Motor and adding Geely's Zeekr, and Hozon Auto, which owns the Neta brand.
NIO delivered 9,985 vehicles in March, up 37.6 percent year-on-year and up 63 percent from February. Its flagship sedan ET7, which was first delivered on March 28, had 163 deliveries in March.
XPeng delivered 15,414 units in March, up 202 percent year-on-year and 148 percent from February. The company delivered 9,183 units of the P7 flagship sedan in March, the first time the model has exceeded 9,000 deliveries.
Li Auto delivered 11,034 Li ONE vehicles, the company's only model, in March, up 125 percent year-on-year and up 31 percent from February. Production was impacted by a shortage of some parts supply due to the impact of the Covid pandemic in the Yangtze River Delta, the company said.
Zeekr delivered 1,795 units of the Zeekr 001, its only model currently on sale, in March, down 38 percent from February. The decline was due to the Covid pandemic and the impact of chip supply, the company said, adding that deliveries are expected to pick up significantly in April.
Neta delivered 12,026 vehicles in March, up 270 percent year-on-year and up 69 percent from February.
BREAKING: BYD discontinues production of fuel vehicles as it shifts entirely to NEVs
CnEVPost Daily Newsletter