CICC is bullish on XPeng's room for new model sales to exceed expectations, and the potential for improved profitability from technology advantages.
CICC, a top Chinese investment bank, today raised its price target on XPeng's US-traded shares to $69 from $60 and raised its Hong Kong-traded shares to $271 from HK$236.
The brokerage maintained its Outperform rating on XPeng, saying it gives the company a 9x 2022 EV/Revenue valuation, considering the room for the company to exceed expectations on new model sales and the potential profitability improvement from its technology advantage.
XPeng closed up 8.25 percent to $51.30 in the US on Tuesday, with CICC's price target implying about 35 percent upside.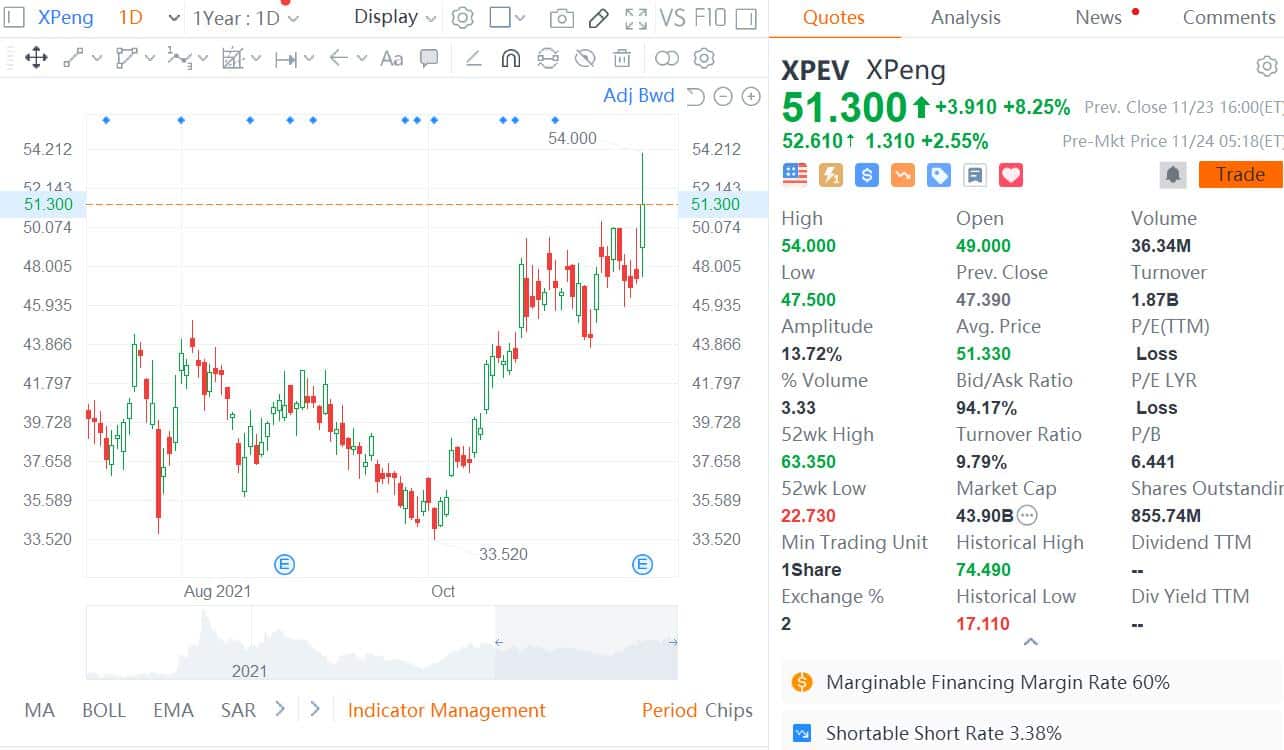 XPeng reported earnings yesterday that it reported third-quarter revenue of RMB 5.72 billion ($888 million), up 187 percent from a year earlier, beating Wall Street analysts' estimates of RMB 5.21 billion.
XPeng's guidance for fourth-quarter deliveries was 34,500-36,500 units, and CICC believes the company is on track to exceed guidance as supply improves.
XPeng has ample orders for its new sedan, the P5, and delivery dates have now been extended beyond the Chinese New Year holiday, with sales set to grow further as its capacity ramps up, CICC noted.
XPeng unveiled its new SUV G9 at the Guangzhou Auto Show, which opened on November 19, and CICC believes the model will not only complement the company's product matrix, but also lead to higher average selling prices and improved gross margins.
CICC said XPeng's insistence on full-stack self-research of software and hardware to achieve rapid iterations of intelligent features has allowed it to continue to strengthen its differentiation.
XPeng said yesterday that it now has more than 4,000 R&D staff, up more than 100 percent from the end of 2020. CICC believes this means the company will make more breakthroughs in the areas of smart driving, smart cockpits and efficient energy replenishment.
XPeng's software revenue is expected to get a boost along with the release of XPilot's smart driving features, while its Robotaxi operation in 2022 could boost iterations and upgrades of its smart driving system and help its experimental placement in the smart mobility space, CICC said.
Get China EV News Directly in Your Inbox
Join our Telegram group to be alerted the moment we publish an article: t.me/CnEVPost