Zeekr has delivered 9,537 Zeekr 001s since deliveries began last October.
Geely Group's electric vehicle (EV) brand Zeekr delivered 3,530 units of the Zeekr 001 - its only current model - in January, down 7 percent from 3,796 units in December.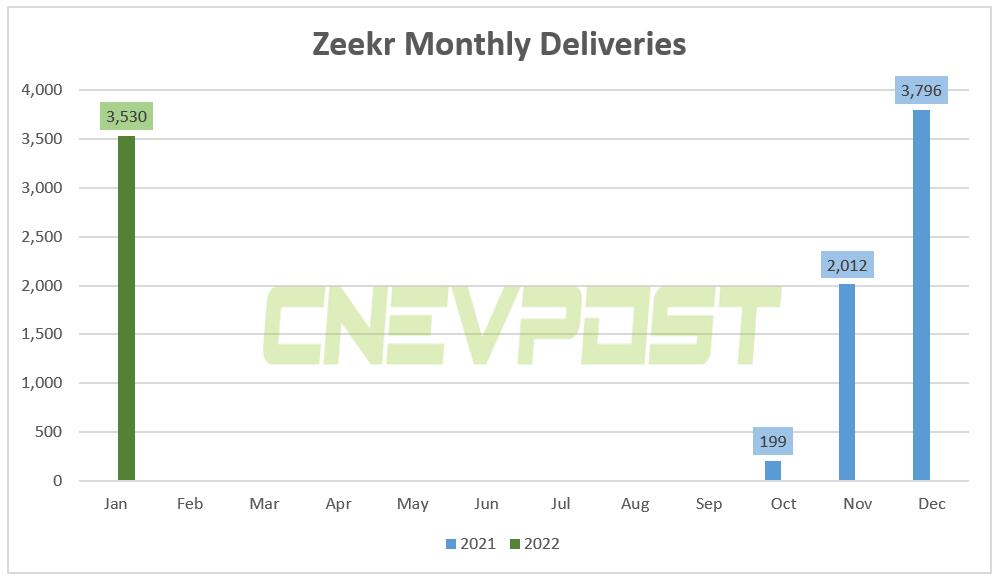 (Graphic by CnEVPost)
Zeekr didn't explain why that decline occurred, but it doesn't seem to come as a surprise.
During the week leading up to the Chinese New Year holiday on January 31, which is the peak travel period for the Chinese population, consumers typically put their plans for optional consumer goods on hold and vehicle deliveries may be delayed due to slowing logistics.
Since deliveries began last October, Zeekr has delivered a total of 9,537 Zeekr 001 units.
In January, Zeekr added nine offline stores, including four Zeekr Spaces, four flash stores and one delivery center, according to the company.
To date, Zeekr has its own charging stations in 19 cities in China, it said, without disclosing the number.
In March 2021, Zeekr was officially established as an independent company. On April 15, Zeekr 001 was announced.
On October 19, 2021, the first production vehicle of Zeekr 001 rolled off the production line, and 199 units of this model were delivered that month.
Zeekr delivered 2012 units in November and 3,796 units in December.
For the full year 2021, Zeekr 001 deliveries were 6,007 units.
Zeekr has set a delivery target of 70,000 units for 2022, local media Cailian quoted the company as saying last month.
Zeekr plans to export the Zeekr 001 to the EU market early next year, the report said, adding that the company expects to export up to 100,000 units in 2025.
The company plans to launch a cumulative total of seven models by 2025, according to the report.
Zeekr announced on January 27 that it saw the 10,000th Zeekr 001 roll off the line, 99 days after the first production vehicle of the model rolled off the line.
Zeekr reportedly aims to deliver 70,000 units this year, plans Europe entry in early 2023
CnEVPost Daily Newsletter