All SAIC-VW's ID.4 X models have been reduced in price by RMB 24,000 ($3,750), and the ID.6 models have been reduced by RMB 31,000.
Two of the ID. series electric vehicles sold by SAIC-Volkswagen, a joint venture between SAIC and Volkswagen, have received significant price cuts for a limited time, just as the ID.3 is about to be officially launched in China.
A poster shared by multiple Weibo users shows that SAIC-VW has reduced the price of all ID.4 X models by RMB 24,000 yuan ($3,750) and ID.6 models by RMB 31,000.
If consumers traded in their old cars, the price reductions for these two models would be RMB 28,000 and RMB 37,000 respectively.
The ID.4 X is offered in five models with a subsidized price range of RMB 199,888 - RMB 272,888. The ID.6 X is also offered in five models with a price range of RMB 239,888 - RMB 335,888.
The above offers are valid from now until October 31.
"Due to chip shortages, availability is limited," the poster reads.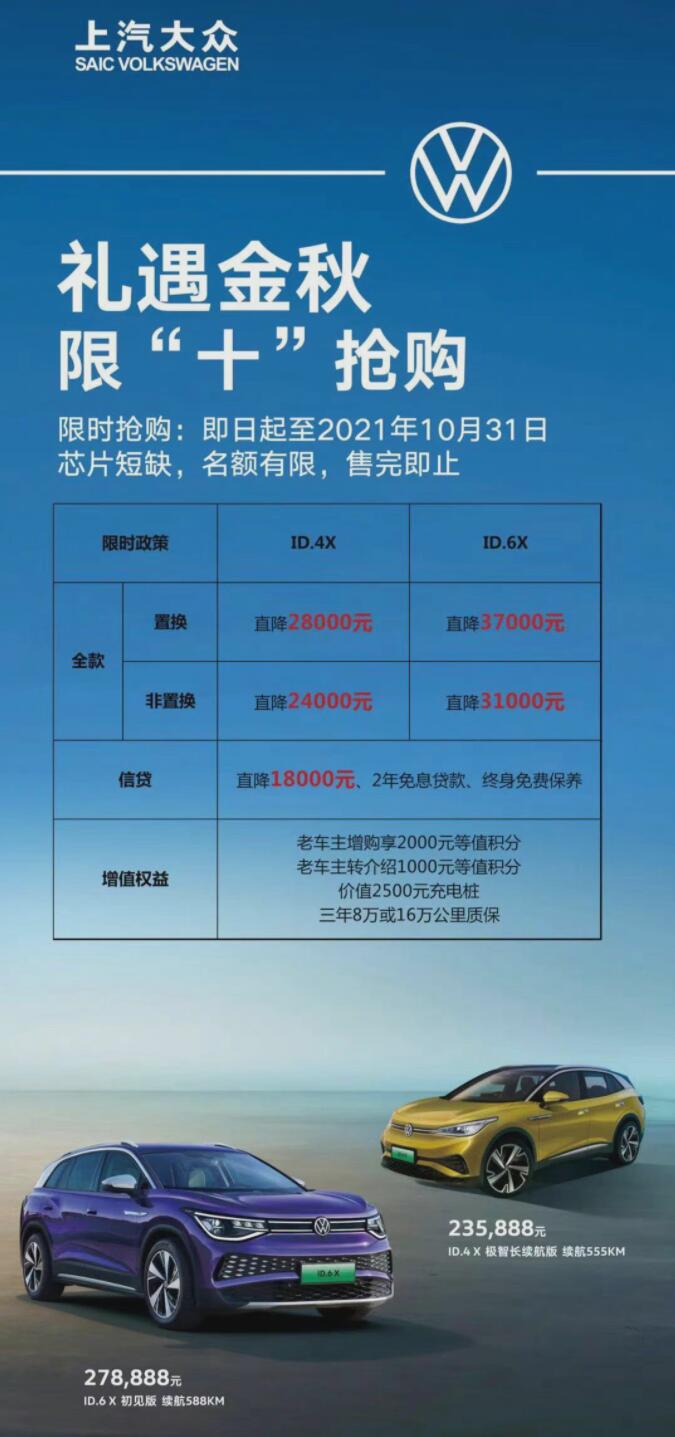 The campaign comes as the VW ID.3, the Golf's electric counterpart, is set to go on sale in China.
A teaser image released by SAIC-VW on Tuesday showed it will hold a launch event for the ID.3 in China on October 22 at 19:00 Beijing time, making it the third model in VW's ID. lineup in China after the ID.4 and ID.6.
VW's ID. lineup delivered 10,126 units in China in September, up 44 percent from 7023 units in August, according to data the company announced earlier this month.
It also makes VW the first traditional carmaker among joint venture brands in China to deliver more than 10,000 units in a single month.
Volkswagen ID.3 will be officially launched in China on Oct 22
CnEVPost Daily Newsletter