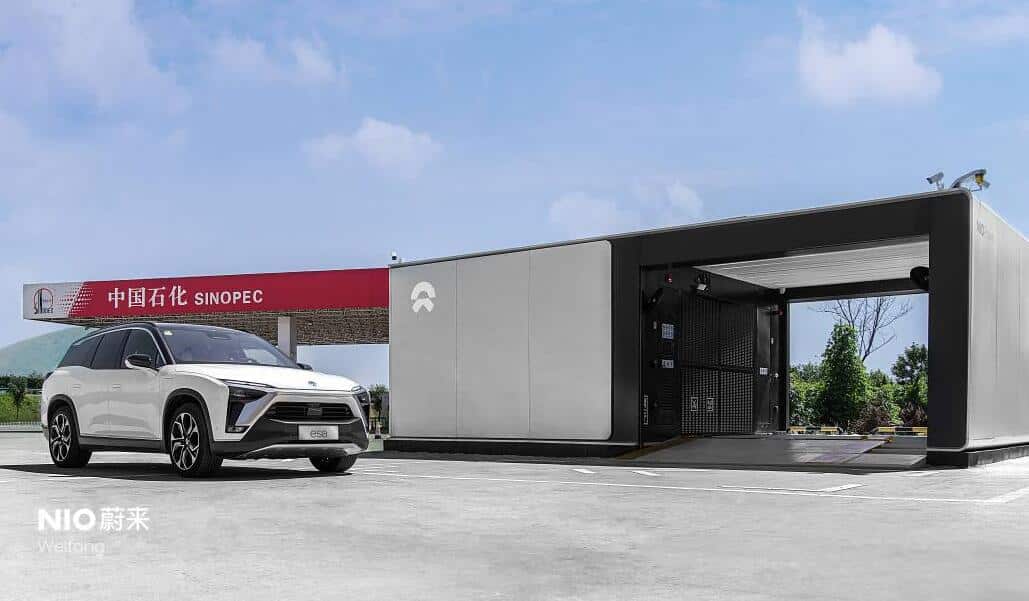 NIO today put five new battery swap stations into operation, bringing the total to 471.
Two of the stations are located in highway service areas and one is in the parking lot of a store of furniture retail giant and real estate conglomerate Red Star Macalline Group in Tianjin.
As of September 18, NIO also had 334 supercharging stations in China offering 2,134 charging piles, 512 destination charging stations offering 2,861 piles, and access to more than 400,000 third-party charging piles.
CnEVPost's database shows that as of September 17, the company had 331 supercharging stations offering 2,128 supercharging piles and 511 destination charging stations offering 2,860 piles.
This means that in addition to the 5 battery swap stations, NIO put 3 supercharging stations and 1 destination charging station into operation today.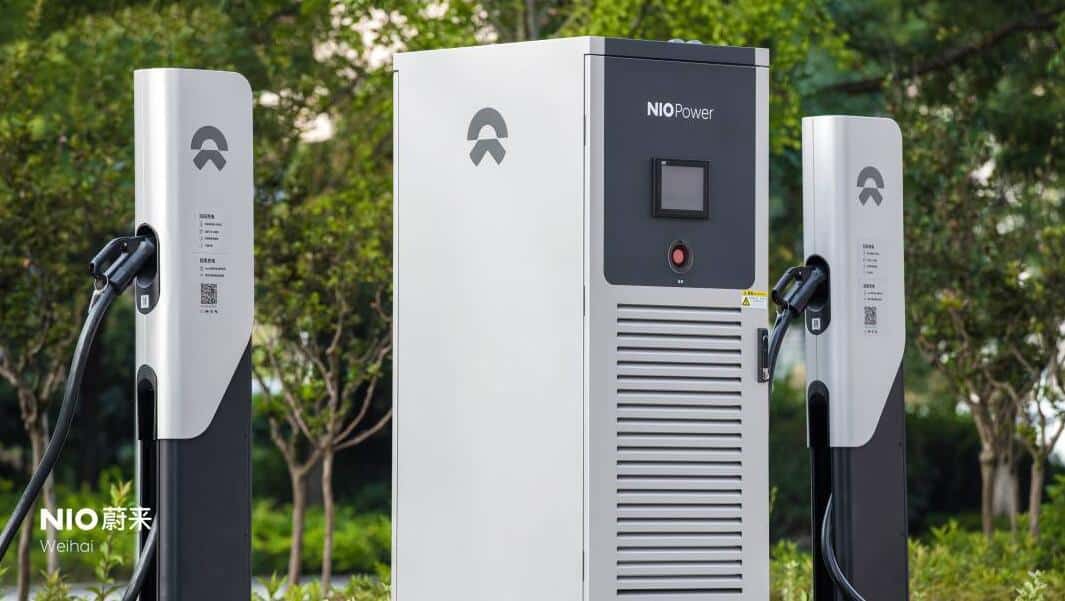 (Photo source: NIO)
With billions of dollars in cash, NIO lays out ambitious plans for energy replenishment system construction
NIO's energy replenishment facility tracker
| Date | Swap | Chargers | Destination | Third Party |
| --- | --- | --- | --- | --- |
| Oct 17, 2021 | 541 | 386 (2,364 piles) | 545 (3,045 piles) | 410,000+ |
| Oct 16, 2021 | 541 | 386 (2,364 piles) | 545 (3,045 piles) | 410,000+ |
| Oct 15, 2021 | 537 | 384 (2,354 piles) | 543 (3,035 piles) | 410,000+ |
| Oct 14, 2021 | 535 | 382 (2,348 piles) | 542 (3,033 piles) | 410,000+ |
| Oct 13, 2021 | 535 | 382 (2,348 piles) | 542 (3,033 piles) | 410,000+ |
| Oct 12, 2021 | 535 | 382 (2,348 piles) | 542 (3,033 piles) | 410,000+ |
| Oct 11, 2021 | 531 | 381 (2,340 piles) | 538 (3,019 piles) | 410,000+ |
| Oct 10, 2021 | 529 | 381 (2,340 piles) | 538 (3,019 piles) | 410,000+ |
| Oct 9, 2021 | 525 | 377 (2,322 piles) | 537 (3,005 piles) | 410,000+ |
| Oct 8, 2021 | 524 | 377 (2,322 piles) | 537 (3,005 piles) | 410,000+ |
| Oct 7, 2021 | 523 | 377 (2,322 piles) | 537 (3,005 piles) | 410,000+ |
| Oct 6, 2021 | 523 | 377 (2,322 piles) | 537 (3,005 piles) | 410,000+ |
| Oct 5, 2021 | 523 | 377 (2,322 piles) | 537 (3,005 piles) | 410,000+ |
| Oct 4, 2021 | 522 | 377 (2,322 piles) | 537 (3,005 piles) | 410,000+ |
| Oct 3, 2021 | 522 | 377 (2,322 piles) | 537 (3,005 piles) | 410,000+ |
| Oct 2, 2021 | 522 | 377 (2,322 piles) | 537 (3,005 piles) | 410,000+ |
| Oct 1, 2021 | 521 | 376 (2,320 piles) | 537 (3,005 piles) | 410,000+ |
| Sept 30, 2021 | 517 | 375 (2,312 piles) | 536 (2,993 piles) | 410,000+ |
| Sept 29, 2021 | 504 | 365 (2,280 piles) | 526 (2,958 piles) | 410,000+ |
| Sept 28, 2021 | 497 | 360 (2,264 piles) | 523 (2,944 piles) | 410,000+ |
| Sept 27, 2021 | 494 | 353 (2,238 piles) | 517 (2,901 piles) | 410,000+ |
| Sept 26, 2021 | 491 | 353 (2,238 piles) | 517 (2,901 piles) | 410,000+ |
| Sept 25, 2021 | 486 | 348 (2,218 piles) | 517 (2,901 piles) | 410,000+ |
| Sept 24, 2021 | 484 | 341 (2,176 piles) | 515 (2,878 piles) | 400,000+ |
| Sept 23, 2021 | 484 | 341 (2,176 piles) | 515 (2,878 piles) | 400,000+ |
| Sept 22, 2021 | 484 | 341 (2,176 piles) | 515 (2,878 piles) | 400,000+ |
| Sept 21, 2021 | 484 | 341 (2,176 piles) | 515 (2,878 piles) | 400,000+ |
| Sept 20, 2021 | 484 | 341 (2,176 piles) | 515 (2,878 piles) | 400,000+ |
| Sept 19, 2021 | 479 | 340 (2,170 piles) | 514 (2,872 piles) | 400,000+ |
| Sept 18, 2021 | 471 | 334 (2,134 piles) | 512 (2,861 piles) | 400,000+ |
| Sept 17, 2021 | 466 | 331 (2,128 piles) | 511 (2,860 piles) | 400,000+ |
| Sept 16, 2021 | 456 | 320 (2,096 piles) | 505 (2,832 piles) | 400,000+ |
| Sept 15, 2021 | 450 | 304 (2,054 piles) | 505 (2,825 piles) | 400,000+ |
| Sept 14, 2021 | 445 | 300 (2,036 piles) | 502 (2,806 piles) | 400,000+ |
| Sept 13, 2021 | 445 | 300 (2,036 piles) | 502 (2,806 piles) | 400,000+ |
| Sept 12, 2021 | 444 | 299 (2,032 piles) | 502 (2,804 piles) | 400,000+ |
| Sept 11, 2021 | 444 | 299 (2,032 piles) | 502 (2,804 piles) | 400,000+ |
| Sept 10, 2021 | 441 | 296 (2,014 piles) | 500 (2,786 piles) | 400,000+ |
| Sept 9, 2021 | 437 | 295 (2,010 piles) | 499 (2,784 piles) | 400,000+ |
| Sept 8, 2021 | 434 | 293 (2,002 piles) | 499 (2,784 piles) | 400,000+ |
| Sept 7, 2021 | 432 | 292 (1,996 piles) | 499 (2,784 piles) | 400,000+ |
| Sept 6, 2021 | 430 | 291 (1,984 piles) | 499 (2,784 piles) | 400,000+ |
| Sept 5, 2021 | 430 | 291 (1,984 piles) | 499 (2,784 piles) | 400,000+ |
| Sept 4, 2021 | 430 | 291 (1,984 piles) | 499 (2,784 piles) | 400,000+ |
| Sept 3, 2021 | 428 | 291 (1,984 piles) | 499 (2,784 piles) | 400,000+ |
| Sept 2, 2021 | 427 | 289 (1,974 piles) | 497 (2,771 piles) | 400,000+ |
| Sept 1, 2021 | 427 | 289 (1,974 piles) | 497 (2,771 piles) | 400,000+ |
| Aug 31, 2021 | 427 | 289 (1,974 piles) | 497 (2,771 piles) | 400,000+ |
| Aug 30, 2021 | 410 | 278 (1,940 piles) | 478 (2,652 piles) | 400,000+ |
| Aug 29, 2021 | 405 | 264 (1,900 piles) | 462 (2,578 piles) | 400,000+ |
| Aug 28, 2021 | 400 | 262 (1,873 piles) | 448 (2,569 piles) | 390,000+ |
| Aug 27, 2021 | 391 | 256 (1,852 piles) | 444 (2,536 piles) | 390,000+ |
| Aug 26, 2021 | 391 | 256 (1,852 piles) | 444 (2,536 piles) | 390,000+ |
| Aug 25, 2021 | 389 | 255 (1,844 piles) | 444 (2,536 piles) | 390,000+ |
| Aug 24, 2021 | 385 | 255 (1,844 piles) | 444 (2,536 piles) | 390,000+ |
| Aug 23, 2021 | 380 | 252 (1,832 piles) | 444 (2,536 piles) | 390,000+ |
| Aug 22, 2021 | 380 | 252 (1,832 piles) | 444 (2,536 piles) | 390,000+ |
| Aug 21, 2021 | 378 | 252 (1,832 piles) | 443 (2,531 piles) | 390,000+ |
| Aug 20, 2021 | 378 | 252 (1,832 piles) | 443 (2,531 piles) | 390,000+ |
| Aug 19, 2021 | 374 | 252 (1,832 piles) | 440 (2,454 piles) | 390,000+ |
| Aug 18, 2021 | 374 | 252 (1,832 piles) | 440 (2,454 piles) | 390,000+ |
| Aug 17, 2021 | 370 | 248 (1,824 piles) | 437 (2,441 piles) | 390,000+ |
| Aug 16, 2021 | 366 | 246 (1,814 piles) | 436 (2,437 piles) | 390,000+ |
| Aug 15, 2021 | 366 | 246 (1,814 piles) | 436 (2,437 piles) | 390,000+ |
| Aug 14, 2021 | 366 | 246 (1,814 piles) | 436 (2,437 piles) | 390,000+ |
| Aug 13, 2021 | 363 | 243 (1,798 piles) | 435 (2,428 piles) | 390,000+ |
| Aug 12, 2021 | 363 | 243 (1,798 piles) | 435 (2,428 piles) | 390,000+ |
Get China EV News Directly in Your Inbox