NIO delivers 7,102 vehicles in April, down 2% from March
Chinese electric carmaker NIO delivered 7,102 vehicles in April, down 2 percent from March, as chip shortages put constraints on its production capacity. The figure was up 125.1 percent from a year ago.
The company delivered 1,523 ES8s, 3,163 ES6s, and 2,416 EC6s in April.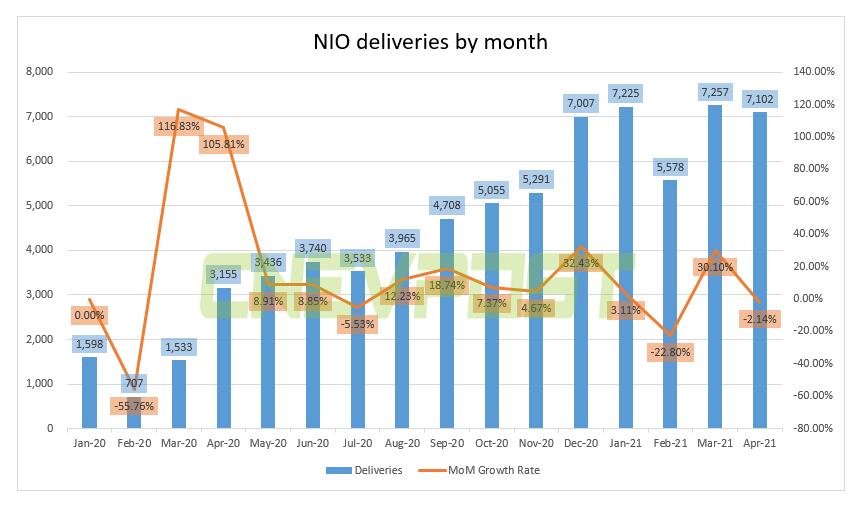 (Graphic by CnEVPost)
As of April 30, NIO's cumulative deliveries of ES8, ES6, and EC6 reached 102,803 units, the company said.
The decline in NIO's April deliveries from the previous month reflects the impact of the chip shortage that has been haunting the entire industry. From March 29 to April 2, NIO halted production for five working days due to the chip shortage, resulting in about 500 fewer units produced in April than normal.
William Li, founder, chairman, and CEO of NIO, said in a conference call yesterday after the company's earnings release that the previous temporary shutdown would have had some impact on deliveries and that it was now more challenging to achieve 7,000-7,500 units of capacity.
"The industry as a whole believes that 3Q will be better and 4Q will be further improved. There are also views that are more pessimistic. Partners are supportive of NIO and want to support NIO's production," Li said, adding, "So far, NIO is doing OK."
Despite the challenges faced by global car companies due to chip shortages, NIO still delivered first-quarter results that exceeded expectations. In JP Morgan's view, this is a clean beat and a surprise.
NIO expects to deliver 21,000 to 22,000 vehicles in the second quarter, set to become the second consecutive quarter with deliveries exceeding 20,000 units.
According to Deutsche Bank analyst Edison Yu's team, NIO's delivery guidance implies that second-quarter sales could range from RMB8.15 billion to RMB8.5 billion, which is broadly in line with the team's estimate of RMB8.26 billion and above the market consensus estimate of RMB7.92 billion.
Yu's team believes that NIO may have benefited from higher average selling prices and increased sales under the "Others" program.
NIO earnings call: Chip shortage, ET7, LFP batteries, and more