Despite the challenges faced by global car companies due to chip shortages, the Chinese electric car company NIO still delivered Q1 results that exceeded expectations. In JP Morgan's view, that was a clean beat and a surprise.
NIO's unaudited earnings report showed that its revenue for the first quarter was RMB 7.98 billion yuan ($1.22 billion), beating market expectations of 6.65 billion yuan and up about 482% from a year ago.
NIO's adjusted loss per ADS was RMB 0.23, a 75% reduction from RMB 0.93 in the fourth quarter.
The company's gross margin was 19.5 percent in the first quarter, higher than 17.2 percent in the fourth quarter. Its vehicle margin was 21.2% in the first quarter, compared with a negative 7.4% in the same period last year.
In a research note Friday, JP Morgan analyst Nick Lai's team said NIO "surprisingly" managed the industry headwinds well in the first quarter.
The team wrote:
Narratives at the company's 1Q21 result call today -despite a clean beat - mostly surrounded two major industry headwinds, which not only sent China auto stocks down, but in some cases pressured the companies' margins (e.g. Great Wall, BYD, SAIC): 1) chip shortages and production outlook, and 2) profitability from here in light of elevated material prices,production lost due to tight chip or battery supply and heightened industry competition.

Nio, surprisingly, has managed all these well in 1Q21 with record-high vehicle GPM (21.2% vs JPM's earlier estimate of 17.3%) driven by content increases (through high take rate for100Khw battery and Nio pilot options) and contained BOM (bill of materials).
The team said they will continue to look for signs of "sequential improvement" in chip supply and expect the problem to be fully mitigated by the end of the year or the first half of next year.
Before the problem is fully alleviated, the chip supply situation could change from the current "shortage" to a potential "tight" and such an inflection point is likely to occur this summer, the team said.
According to the team, if this scenario materializes, it should mark the bottom of the auto company's share price performance.
In the long term, JP Morgan maintains a positive thesis on NIO and expects the company to achieve 106% and 93% volume growth in 2021 and 2022, respectively.
JP Morgan reiterated its Overweight rating on NIO and its $70 price target, about 80 percent above the stock's Thursday close of $38.99.
NIO gained 2.18 percent to $39.84 on Friday.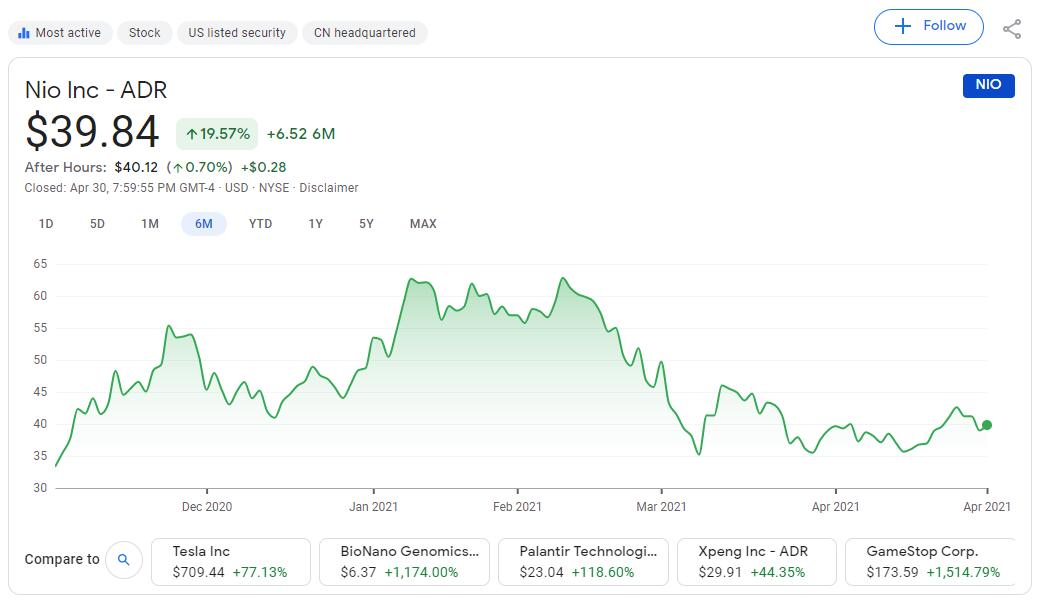 CnEVPost Daily Newsletter