Unlike industry solutions that only support high speed and urban ring roads, ANP can also be used on urban roads.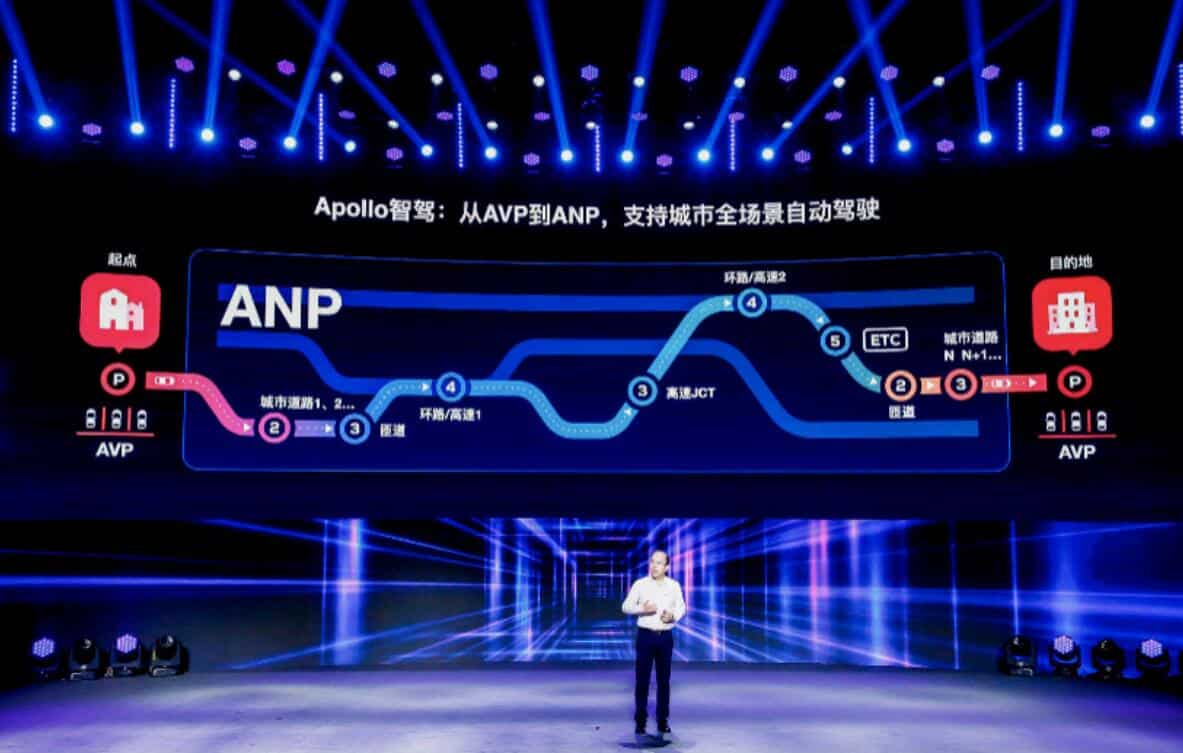 (Photo from Baidu)
Chinese search giant Baidu on Tuesday announced an automated driving assistance solution for passenger vehicles called Apollo Navigation Pilot (ANP), a feature similar to NIO's NOP and is powered by Apollo's L4 autonomous driving technology.
The ANP is based on Apollo Lite, China's only L4 pure vision autopilot technology, which is a product that applies L4 autopilot technology to assisted driving, according to Baidu.
Unlike industry solutions that only support high-speed and urban ring roads, ANP can also be used on urban roads, bringing a new generation of user experience, Baidu said.
From AVP to ANP, from parking to driving, Apollo's intelligent driving solutions have realized mass-production solutions for complex urban roads, Baidu said, adding that the solutions are expected to be equipped with one million units in the next three to five years.
Baidu had previously announced cooperation with automakers Guangzhou Automobile Group (GAC), WM Motor, and Great Wall Motors to mass-produce Apollo Valet Parking (AVP), an L4 autonomous parking solution.
Chinese premium electric car maker NIO (NYSE: NIO) in October pushed NIO OS 2.7.0 update to ES6, ES8, and EC6 vehicles via FOTA.
The update brings the much-anticipated Navigate on Pilot (NOP) which automatically guides the car following the navigation route on ring roads and highways.
This was the first commercial application of a high-definition map in China on the ADAS functionality of mass-produced vehicles, which further enhances NIO Pilot's capability.
NIO's NOP system is a deep integration of the navigation system and the NIO Pilot's auto-assisted driving function.
It allows the vehicle to follow the path planned by the navigation to automatically enter and exit the ramp, overtake, merge, cruise driving, and other functions under certain conditions.
Simply put, as NIO founder and CEO William Li Bin had put it, "it's similar to the Tesla NOA."
Following NIO, another Chinese EV maker XPeng also announced the details of its full-stack self-developed NGP High-Speed Autopilot feature, the latest updates of XPILOT Autopilot Assist System and Xmart OS Intelligent Cockpit System, on October 24.
In the update, nearly 100 updates are introduced, such as ACC adaptive cruise control, LCC lane centering assist, ALC automatic lane change assist, BSD, LCA, all-scene voice function, auto-parking function, and the most vociferous NGP pilot assist function.
According to XPeng,its NGP is similar to NIO NOP and is integrated with in-vehicle voice interchange to provide voice reminders for lane change, on- and off-ramps, and merging into the main road.
Back to Baidu, the company on Tuesday also released new intelligent vehicle solutions for automakers and high-end intelligent driving products during the second Apollo Ecosystem Conference.
Apollo's four series of solutions include intelligent driving, intelligent cabin, intelligent map, and intelligent cloud, the company said.
Intelligent cabin solutions are already empowering 600 types of vehicles from over 70 automakers, with DuerOS for Apollo pre-installed on over one million vehicles.
Apollo's intelligent high-definition map series continued to hold the top market share in 2020 with automaker partners including Honda, GAC, Great Wall Motor, BAIC, NIO and WM Motor.
"The transportation industry and automobile industry are undergoing a once-in-a-century transformation," said Li Zhenyu, Corporate Vice President of Baidu and General Manager of Intelligent Driving Group (IDG), during the conference.
"With its focus on 'intelligence', Apollo is helping automakers to build good cars and governments to build good roads through intelligent transformation," Li said.
CnEVPost Daily Newsletter