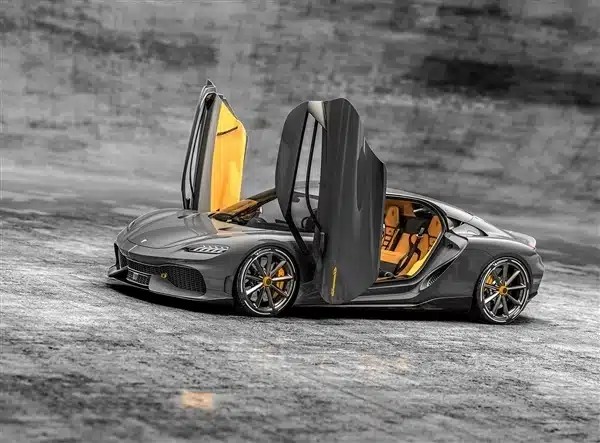 Evergrande Automobile recently announced that its first new energy supercar, Gemera, was launched in Geneva after its joint venture with Koenigsegg. The new car is limited to 300 units worldwide, priced at 1.3 million euros, and has been sold out.
The name of the "Gemera" is a combination of the Swedish "ge" and "mera", which means "give more", which means that this car can give users more surprises.
The appearance of Gemera has a strong Koenigsegg design style, and the overall shape is very radical. It has a strong sense of technology and futuristic. The unique charm of Koenigsegg models.
Such a design is definitely inseparable from the designer. The designer of Gemera is named Sasha Selipanov, and his representative works include Bugatti Vision GT, Lamborghini Huracan, Ferrari 612 GTO, etc. It is worth mentioning that Selipanov is also one of the main designers of Hengchi.
Gemera's power system consists of a 2.0T twin-turbo three-cylinder engine + 3 motors, and its combined maximum power reaches a terrible 1,724 horsepower and a peak torque of 3500 N·m.
Evergrande announced the acceleration time of 0-60 mph (0-100km/h) is only 1.9 seconds, and the acceleration time of 0-400km / h is less than 20 seconds.
The car's cruising range will reach 1,000 kilometers, of which 50 kilometers are pure electric. If this data is measured, it will become the fastest four-seater sports car currently.
It is worth mentioning that the inverter of this car was researched and developed by Evergrande's Dutch e-Traction Company. The battery is the latest generation product developed and produced by Evergrande New Energy Technology Group.
Due to the unique investment value and appreciation potential of Koenigsegg's products, the limited production of 300 Gemera has been sold out. It is understood that one of the Swiss buyers directly ordered 30.
CnEVPost Daily Newsletter