A Tesla user not only took his hands off the wheel, but used a board to completely block the view ahead.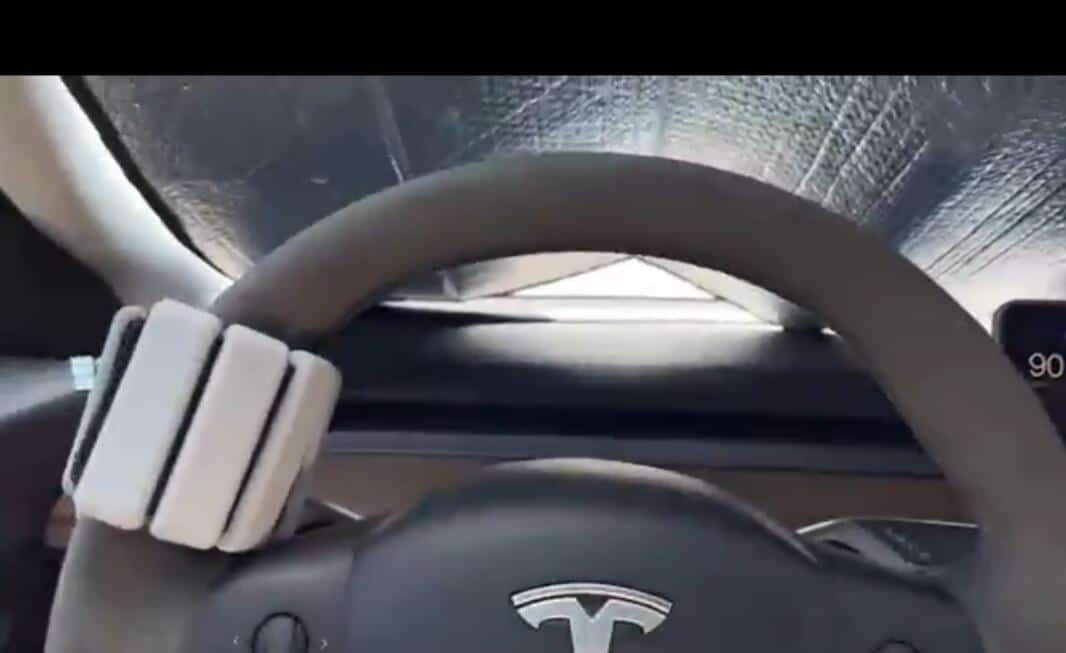 The Internet is full of videos about users abusing assisted driving features, but this latest one goes a little over the top.
A Tesla user not only took his hands off the wheel while driving on the highway, but used a board to completely block the view ahead, according to a video shared Sunday by a user of the Chinese Tesla user community Xiaote.
The video, which appears to have been taken by the driver inside the vehicle, shows the car was traveling at 90 kilometers per hour on the highway.
A navigation tone coming from inside the vehicle says there is a 120 km/h speed limit camera ahead. 120 km/h is the maximum speed limit for highways in China.
The vehicle's front windshield is completely blocked by a board used to shade the sun, and the upper left side of the steering wheel has a counterweight device that is used to trick the vehicle's steering wheel disengagement detection system.
In the comments section below the video, dozens of user comments expressed their criticism of this dangerous behavior.
"If an accident happens, they say it's Tesla's problem and claim to be veteran drivers with 30 years of experience," wrote the comment that received the most likes.

At a time of rapid growth in smart electric vehicles, it's not uncommon for users to abuse assisted driving systems.
On August 4 last year, a video of a Li Auto owner tricking a Li ONE into going into "full self-driving" went viral on the Chinese Internet.
The video showed the driver taking his hands off the wheel and lying flat, leaving the car to drive solely on the assisted driving feature.
The driver used seat belt buckles and a device that allows the steering wheel to feel weight, thus avoiding the driver monitoring system.
On August 20 of last year, another video showed a driver sitting in the passenger seat of a vehicle on the highway, allowing a GAC Trumpchi Yingbao (Shadow Leopard) to drive on its own.
Notably, the latest example of a Tesla user is more worrisome than these two cases because he completely obscured the forward view.
The shade used by the Tesla user is common in China and is used to shade the vehicle in the summer when it is parked to reduce the interior temperature.
It is unclear whether the user was using Tesla's free Basic Autopilot (BAP) or the paid Enhanced Autopilot (EAP) or Full Self-Driving (FSD).
Tesla launched the EAP option in China on February 5 of last year at a price of RMB 32,000 ($4,740), half the price of FSD.
EAP adds new features compared to BAP, including automatic assisted navigation driving, automatic assisted lane change, automatic parking, and smart summoning.
CnEVPost Daily Newsletter