NIO owners who refer a friend for a test drive this summer will have the opportunity to paint the walls of the company's battery swap stations.
Battery swap stations, a facility unique to NIO (NYSE: NIO, HKG: 9866, SGX: NIO), are being used in innovative ways by the electric vehicle (EV) maker to drive sales.
After letting a few lucky owners decide the location of some of its battery swap stations last summer, NIO is coming up with new tricks to play with these facilities this year.
NIO has launched a campaign for existing owners to invite friends to test drive their vehicles. Between June 20 and August 28, owners will receive a digital mystery box for every friend they invite to complete their first NIO vehicle test drive.
Each mystery box will contain a gift, and one of the most notable gifts is the opportunity to paint the walls of NIO's battery swap stations.
Here is a rendering of a battery swap station with painted walls that NIO unveiled in its app on Monday.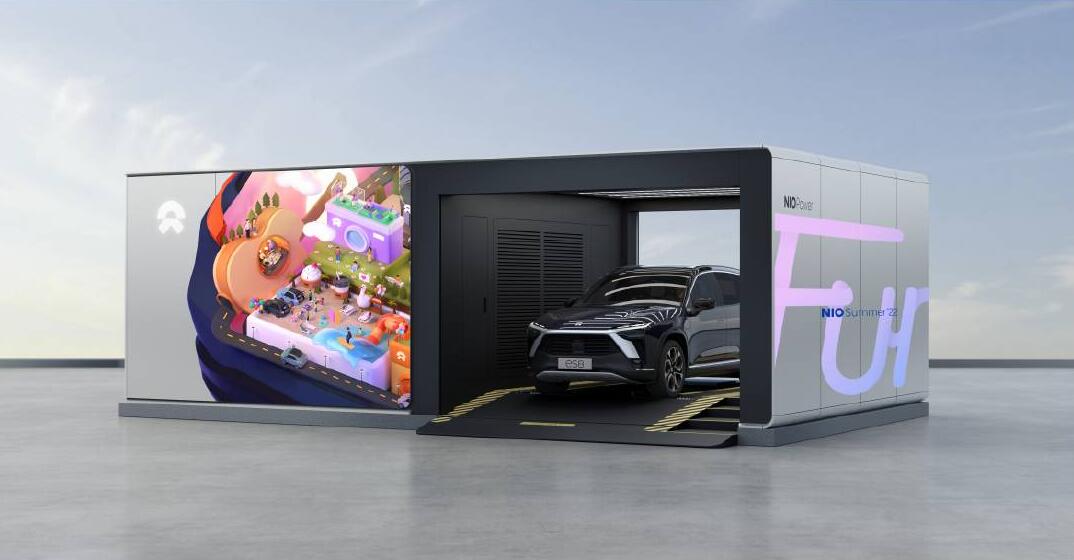 The lucky winner of the gift can pick a battery swap station in his or her area and have its exterior painted with their favorite elements, such as a view of their hometown, a child's graffiti or a scene from a car gathering with friends.
However, it is worth noting that NIO does not allow users to do the painting by themselves, but will invite professional designers to work with their teams to design and present their ideas on the battery swap stations.
Users and designers will be able to add their own signatures to the paint job.
NIO will provide eight battery swap stations to participate in the campaign, offering one such mystery box per week for eight weeks.
This is the second time NIO has used battery swap stations to strengthen its connection with users and drive the acquisition of potential customers.
From July 2 to September 10 last year, NIO ran a similar campaign in which users received one mystery box for every friend they invited to complete their first test drive.
NIO offered 10 mystery boxes including the right to choose the location of the battery swap station and the right to name it.
On July 15 last year, an ES6 owner from Chengdu, Sichuan province became the first lucky winner to decide the location and name of the battery swap station.
In this year's campaign, in addition to the chance to paint the walls of battery swap stations, other prizes in mystery boxes include NIO Credits and free hotel stays in several tourist cities, including Sanya.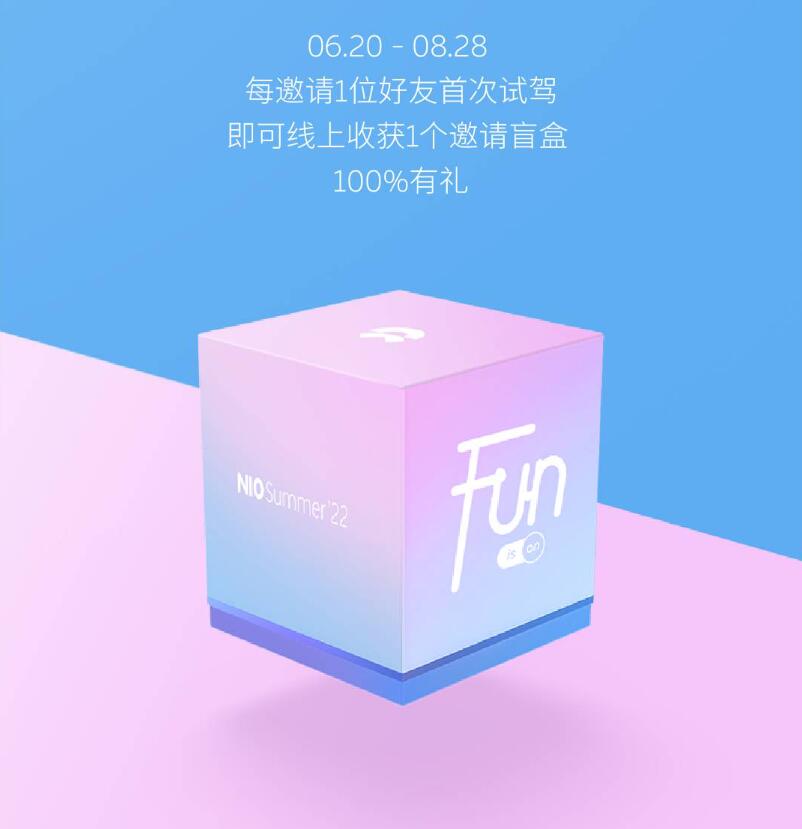 As of June 20, NIO had 981 battery swap stations and 857 supercharging stations offering 4,732 charging piles, according to data monitored by CnEVPost.
The company also has 737 destination charging stations offering 4,354 charging piles and access to more than 510,000 third-party charging piles.
CnEVPost Daily Newsletter
NIO's energy replenishment facility tracker
| Date | Swap | Charger | Destination | 3rd-party |
| --- | --- | --- | --- | --- |
| 6/24/2022 | 988 | 864 (4,747 piles) | 738 (4,362 piles) | 510,000+ |
| 6/23/2022 | 987 | 863 (4,745 piles) | 738 (4,362 piles) | 510,000+ |
| 6/22/2022 | 985 | 861 (4,739 piles) | 738 (4,362 piles) | 510,000+ |
| 6/21/2022 | 983 | 858 (4,734 piles) | 738 (4,359 piles) | 510,000+ |
| 6/20/2022 | 981 | 857 (4,732 piles) | 737 (4,354 piles) | 510,000+ |
| 6/19/2022 | 981 | 855 (4,714 piles) | 735 (4,333 piles) | 510,000+ |
| 6/18/2022 | 980 | 854 (4,712 piles) | 735 (4,333 piles) | 510,000+ |
| 6/17/2022 | 974 | 849 (4,694 piles) | 735 (4,333 piles) | 510,000+ |
| 6/16/2022 | 973 | 841 (4,626 piles) | 731 (4,300 piles) | 510,000+ |
| 6/15/2022 | 972 | 839 (4,616 piles) | 721 (4,187 piles) | 510,000+ |
| 6/14/2022 | 971 | 838 (4,612 piles) | 720 (4,183 piles) | 510,000+ |
| 6/13/2022 | 969 | 838 (4,612 piles) | 719 (4,174 piles) | 510,000+ |
| 6/12/2022 | 967 | 837 (4,608 piles) | 718 (4,154 piles) | 500,000+ |
| 6/11/2022 | 967 | 835 (4,600 piles) | 718 (4,154 piles) | 500,000+ |
| 6/10/2022 | 964 | 832 (4,592 piles) | 718 (4,154 piles) | 500,000+ |
| 6/9/2022 | 960 | 829 (4,580 piles) | 716 (4,140 piles) | 500,000+ |
| 6/8/2022 | 957 | 826 (4,566 piles) | 716 (4,140 piles) | 500,000+ |
| 6/7/2022 | 955 | 825 (4,560 piles) | 715 (4,134 piles) | 500,000+ |
| 6/6/2022 | 954 | 825 (4,560 piles) | 715 (4,134 piles) | 500,000+ |
| 6/2/2022 | 951 | 822 | 715 (4,134 piles) | 500,000+ |
| 6/1/2022 | 950 | 821 (4,520 piles) | 715 (4,134 piles) | 500,000+ |
| 5/31/2022 | 949 | 820 (4,514 piles) | 712 (4,098 piles) | 500,000+ |
| 5/30/2022 | 941 | 815 (4,494 piles) | 704 (4,059 piles) | 500,000+ |
| 5/29/2022 | 940 | 812 (4,474 piles) | 704 (4,059 piles) | 500,000+ |
| 5/28/2022 | 939 | 811 (4,472 piles) | 703 (4,056 piles) | 500,000+ |
| 5/27/2022 | 938 | 811 (4,472 piles) | 703 (4,056 piles) | 500,000+ |
| 5/26/2022 | 937 | 810 (4,470 piles) | 703 (4,056 piles) | 500,000+ |
| 5/25/2022 | 936 | 810 (4,470 piles) | 703 (4,056 piles) | 490,000+ |
| 5/24/2022 | 933 | 809 (4,452 piles) | 702 (4,046 piles) | 490,000+ |
| 5/23/2022 | 932 | 808 (4,450 piles) | 702 (4,046 piles) | 490,000+ |
| 5/22/2022 | 931 | 806 (4,434 piles) | 702 (4,045 piles) | 490,000+ |
| 5/21/2022 | 928 | 805 (4,430 piles) | 702 (4,045 piles) | 490,000+ |
| 5/20/2022 | 927 | 804 (4,424 piles) | 702 (4,045 piles) | 490,000+ |
| 5/19/2022 | 925 | 799 (4,386 piles) | 699 (4,023 piles) | 490,000+ |
| 5/18/2022 | 924 | 799 (4,386 piles) | 699 (4,023 piles) | 499,000+ |
| 5/16/2022 | 923 | 795 (4,374 piles) | 696 (3,991 piles) | 490,000+ |
| 5/15/2022 | 920 | 795 (4,374 piles) | 696 (3,991 piles) | 490,000+ |
| 5/14/2022 | 919 | 794 (4,360 piles) | 694 (3,980 piles) | 490,000+ |
| 5/10/2022 | 918 | 791 (4,348 piles) | 693 (3,976 piles) | 490,000+ |
| 5/6/2022 | 917 | 788 (4,328 piles) | 692 (3,964 piles) | 490,000+ |
| 5/1/2022 | 915 | 784 (4,310 piles) | 692 (3,964 piles) | 490,000+ |
| 4/30/2022 | 915 | 783 (4,302 piles) | 692 (3,964 piles) | 490,000+ |
| 4/29/2022 | 913 | 774 (4,258 piles) | 690 (3,957 piles) | 490,000+ |
| 4/28/2022 | 911 | 771 (4,238 piles) | 690 (3,957 piles) | 490,000+ |
| 4/27/2022 | 910 | 768 (4,232 piles) | 690 (3,939 piles) | 480,000+ |
| 4/26/2022 | 910 | 762 (4,196 piles) | 689 (3,914 piles) | 480,000+ |
| 4/25/2022 | 909 | 761 (4,194 piles) | 689 (3,914 piles) | 480,000+ |
| 4/24/2022 | 908 | 758 (4,188 piles) | 689 (3,914 piles) | 480,000+ |
| 4/23/2022 | 908 | 757 (4,184 piles) | 689 (3,914 piles) | 480,000+ |
| 4/22/2022 | 907 | 756 (4,180 piles) | 687 (3,906 piles) | 480,000+ |
| 4/21/2022 | 906 | 752 (4,160 piles) | 686 (3,897 piles) | 480,000+ |
| 4/20/2022 | 905 | 748 (4,148 piles) | 686 (3,897 piles) | 480,000+ |
| 4/19/2022 | 902 | 745 (4,132 piles) | 686 (3,897 piles) | 480,000+ |
| 4/18/2022 | 900 | 745 (4,132 piles) | 686 (3,897 piles) | 480,000+ |
| 4/16/2022 | 895 | 738 (4,104 piles) | 685 (3,892 piles) | 480,000+ |
| 4/15/2022 | 894 | 737 (4,102 piles) | 685 (3,892 piles) | 480,000+ |
| 4/14/2022 | 893 | 734 (4,092 piles) | 685 (3,892 piles) | 480,000+ |
| 4/13/2022 | 892 | 733 (4,090 piles) | 685 (3,892 piles) | 480,000+ |
| 4/12/2022 | 891 | 731 (4,061 piles) | 685 (3,850 piles) | 480,000+ |
| 4/10/2022 | 891 | 730 (4,072 piles) | 685 (3,850 piles) | 480,000+ |
| 4/9/2022 | 889 | 730 (4,072 piles) | 685 (3,850 piles) | 480,000+ |
| 4/8/2022 | 889 | 730 (4,072 piles) | 682 (3,838 piles) | 480,000+ |
| 4/3/2022 | 888 | 729 (4,068 piles) | 682 (3,838 piles) | 480,000+ |
| 4/2/2022 | 885 | 727 (4,048 piles) | 682 (3,838 piles) | 480,000+ |
| 3/31/2022 | 884 | 727 (4,048 piles) | 681 (3,832 piles) | 480,000+ |
| 3/30/2022 | 881 | 722 (4,018 piles) | 679 (3,803 piles) | 480,000+ |
| 3/29/2022 | 878 | 720 (4,012 piles) | 678 (3,795 piles) | 480,000+ |
| 3/27/2022 | 876 | 718 (3,996 piles) | 678 (3,792 piles) | 480,000+ |
| 3/26/2022 | 873 | 715 (3,984 piles) | 678 (3,792 piles) | 480,000+ |
| 3/25/2022 | 871 | 714 (3,982 piles) | 678 (3,792 piles) | 480,000+ |
| 3/24/2022 | 866 | 711 (3,958 piles) | 677 (3,786 piles) | 480,000+ |
| 3/23/2022 | 865 | 709 (3,950 piles) | 677 (3,782 piles) | 480,000+ |
| 3/22/2022 | 864 | 708 (3,944 piles) | 676 (3,773 piles) | 480,000+ |
| 3/20/2022 | 864 | 706 (3,932 piles) | 675 (3,762 piles) | 480,000+ |
| 3/18/2022 | 860 | 704 (3,910 piles) | 675 (3,762 piles) | 480,000+ |
| 3/16/2022 | 858 | 696 (3,878 piles) | 675 (3,762 piles) | 480,000+ |
| 3/15/2022 | 858 | 692 (3,862 piles) | 673 (3,742 piles) | 480,000+ |
| 3/14/2022 | 857 | 691 (3,860 piles) | 673 (3,742 piles) | 480,000+ |
| 3/12/2022 | 857 | 690 (3,858 piles) | 673 (3,742 piles) | 480,000+ |
| 3/11/2022 | 853 | 688 (3,852 piles) | 673 (3,742 piles) | 480,000+ |
| 3/10/2022 | 851 | 685 (3,844 piles) | 673 (3,742 piles) | 480,000+ |
| 3/9/2022 | 850 | 684 (3,838 piles) | 673 (3,742 piles) | 470,000+ |
| 3/4/2022 | 847 | 683 (3,834 piles) | 673 (3,742 piles) | 470,000+ |
| 3/3/2022 | 846 | 681 (3,826 piles) | 670 (3,716 piles) | 470,000+ |
| 3/2/2022 | 845 | 680 (3,820 piles) | 670 (3,716 piles) | 470,000+ |
| 3/1/2022 | 844 | 680 (3,820 piles) | 670 (3,716 piles) | 470,000+ |
| 2/28/2022 | 844 | 676 (3,802 piles) | 670 (3,716 piles) | 470,000+ |
| 2/22/2022 | 839 | 671 (3,782 piles) | 665 (3,690 piles) | 470,000+ |
| 2/18/2022 | 837 | 670 (3,778 piles) | 665 (3,690 piles) | 470,000+ |
| 2/15/2022 | 837 | 669 (3,772 piles) | 656 (3,665 piles) | 470,000+ |
| 2/13/2022 | 836 | 669 (3,772 piles) | 656 (3,665 piles) | 470,000+ |
| 2/11/2022 | 836 | 668 (3,766 piles) | 656 (3,665 piles) | 470,000+ |
| 1/31/2022 | 836 | 668 (3,766 piles) | 655 (3,656 piles) | 470,000+ |
| 1/30/2022 | 835 | 667 (3,762 piles) | 655 (3,656 piles) | 460,000+ |
| 1/29/2022 | 831 | 667 (3,762 piles) | 655 (3,656 piles) | 460,000+ |
| 1/28/2022 | 828 | 667 (3,762 piles) | 652 (3,641 piles) | 460,000+ |
| 1/27/2022 | 818 | 659 (3,696 piles) | 649 (3,578 piles) | 460,000+ |
| 1/26/2022 | 815 | 655 | 647 (3,554 piles) | 460,000+ |
| 1/25/2022 | 814 | 654 (3,684 piles) | 647 (3,554 piles) | 460,000+ |
| 1/24/2022 | 805 | 647 (3,636 piles) | 647 (3,554 piles) | 460,000+ |
| 1/23/2022 | 803 | 644 (3,626 piles) | 647 (3,554 piles) | 460,000+ |
| 1/22/2022 | 802 | 642 (3,616 piles) | 647 (3,554 piles) | 460,000+ |
| 1/21/2022 | 800 | 637 (3,584 piles) | 645 (3,552 piles) | 460,000+ |
| 1/20/2022 | 798 | 634 (3,572 piles) | 633 (3,519 piles) | 460,000+ |
| 1/19/2022 | 796 | 634 (3,572 piles) | 633 (3,519 piles) | 460,000+ |
| 1/18/2022 | 795 | 632 (3,562 piles) | 632 (3,515 piles) | 460,000+ |
| 1/17/2022 | 792 | 629 (3,542 piles) | 632 (3,515 piles) | 460,000+ |
| 1/15/2022 | 791 | 629 (3,542 piles) | 632 (3,515 piles) | 450,000+ |
| 1/14/2022 | 787 | 626 (3,532 piles) | 628 (3,494 piles) | 450,000+ |
| 1/12/2022 | 784 | 624 (3,526 piles) | 626 (3,463 piles) | 450,000+ |
| 1/11/2022 | 784 | 621 (3,516 piles) | 626 (3,463 piles) | 450,000+ |
| 1/10/2022 | 784 | 620 (3,514 piles) | 626 (3,463 piles) | 450,000+ |
| 1/8/2022 | 781 | 613 (3,454 piles) | 626 (3,463 piles) | 450,000+ |
| 1/7/2022 | 780 | 613 (3,454 piles) | 626 (3,463 piles) | 450,000+ |
| 1/3/2022 | 780 | 608 (3,426 piles) | 626 (3,463 piles) | 450,000+ |
| 1/1/2022 | 779 | 607 (3,422 piles) | 626 (3,463 piles) | 450,000+ |
| 12/31/2021 | 777 | 605 (3,404 piles) | 626 (3,463 piles) | 450,000+ |
| 12/30/2021 | 756 | 588 (3,282 piles) | 619 (3,419 piles) | 440,000+ |
| 12/29/2021 | 753 | 583 (3,274 piles) | 614 (3,413 piles) | 440,000+ |
| 12/28/2021 | 753 | 582 | 614 (3,413 piles) | 440,000+ |
| 12/27/2021 | 752 | 580 (3,202 piles) | 613 | 440,000+ |
| 12/26/2021 | 751 | 577 (3,186 piles) | 610 (3,400 piles) | 440,000+ |
| 12/25/2021 | 748 | 577 (3,186 piles) | 610 (3,400 piles) | 440,000+ |
| 12/24/2021 | 746 | 574 (3,168 piles) | 610 (3,400 piles) | 440,000+ |
| 12/23/2021 | 741 | 568 (3,148 piles) | 607 (3,366 piles) | 440,000+ |
| 12/22/2021 | 739 | 567 (3,144 piles) | 607 (3,366 piles) | 440,000+ |
| 12/20/2021 | 738 | 565 (3,140 piles) | 604 (3,348 piles) | 440,000+ |
| 12/18/2021 | 733 | 564 (3,136 piles) | 604 (3,348 piles) | 440,000+ |
| 12/17/2021 | 732 | 563 (3,128 piles) | 604 (3,348 piles) | 440,000+ |
| 12/16/2021 | 722 | 559 (3,118 piles) | 604 (3,348 piles) | 430,000+ |
| 12/15/2021 | 719 | 540 (3,040 piles) | 604 (3,348 piles) | 430,000+ |
| 12/14/2021 | 710 | 538 (3,034 piles) | 603 (3,332 piles) | 430,000+ |
| 12/12/2021 | 708 | 537 (3,030 piles) | 601 (3,328 piles) | 430,000+ |
| 12/11/2021 | 702 | 535 (3,024 piles) | 601 (3,328 piles) | 430,000+ |
| 12/10/2021 | 700 | 534 (3,020 piles) | 600 (3,319 piles) | 430,000+ |
| 12/9/2021 | 699 | 534 (3,020 piles) | 600 (3,319 piles) | 430,000+ |
| 12/8/2021 | 696 | 532 (3,016 piles) | 600 (3,319 piles) | 430,000+ |
| 12/7/2021 | 691 | 527 (2,994 piles) | 600 (3,319 piles) | 430,000+ |
| 12/6/2021 | 690 | 526 (2,990 piles) | 600 (3,319 piles) | 430,000+ |
| 12/5/2021 | 689 | 526 (2,990 piles) | 600 (3,319 piles) | 430,000+ |
| 12/4/2021 | 683 | 521 (2,956 piles) | 600 (3,319 piles) | 430,000+ |
| 12/3/2021 | 681 | 520 (2,952 piles) | 600 (3,319 piles) | 430,000+ |
| 12/2/2021 | 679 | 518 | 600 (3,319 piles) | 430,000+ |
| 11/30/2021 | 678 | 516 (2,940 piles) | 598 (3,307 piles) | 430,000+ |
| 11/29/2021 | 668 | 511 (2,918 piles) | 595 (3,286 piles) | 430,000+ |
| 11/28/2021 | 660 | 505 (2,898 piles) | 594 (3,282 piles) | 430,000+ |
| 11/27/2021 | 657 | 500 (2,882 piles) | 587 (3,274 piles) | 430,000+ |
| 11/26/2021 | 650 | 496 (2,858 piles) | 587 (3,274 piles) | 430,000+ |
| 11/25/2021 | 647 | 489 (2,840 piles) | 586 (3,265 piles) | 430,000+ |
| 11/24/2021 | 640 | 486 (2,828 piles) | 584 (3,256 piles) | 430,000+ |
| 11/23/2021 | 637 | 485 (2,826 piles) | 583 (3,248 piles) | 430,000+ |
| 11/22/2021 | 636 | 483 (2,820 piles) | 579 (3,238 piles) | 430,000+ |
| 11/20/2021 | 634 | 481 (2,810 piles) | 576 (3,226 piles) | 430,000+ |
| 11/19/2021 | 626 | 475 (2,774 piles) | 576 (3,226 piles) | 430,000+ |
| 11/18/2021 | 623 | 474 (2,768 piles) | 576 (3,226 piles) | 430,000+ |
| 11/17/2021 | 620 | 473 (2,764 piles) | 574 (3,207 piles) | 430,000+ |
| 11/15/2021 | 614 | 467 (2,718 piles) | 574 (3,207 piles) | 430,000+ |
| 11/13/2021 | 613 | 465 (2,704 piles) | 574 (3,170 piles) | 420,000+ |
| 11/12/2021 | 611 | 463 (2,698 piles) | 570 (3,161 piles) | 420,000+ |
| 11/10/2021 | 609 | 462 (2,694 piles) | 570 (3,161 piles) | 420,000+ |
| 11/9/2021 | 608 | 460 (2,690 piles) | 569 (3,155 piles) | 420,000+ |
| 11/8/2021 | 607 | 460 (2,690 piles) | 569 (3,155 piles) | 420,000+ |
| 11/6/2021 | 606 | 459 (2,688 piles) | 569 (3,155 piles) | 420,000+ |
| 11/5/2021 | 604 | 458 | 569 (3,155 piles) | 420,000+ |
| 11/4/2021 | 601 | 455 (2,680 piles) | 568 | 420,000+ |
| 11/3/2021 | 600 | 455 (2,680 piles) | 567 (3,136 piles) | 420,000+ |
| 11/2/2021 | 599 | 452 (2,674 piles) | 567 (3,136 piles) | 420,000+ |
| 11/1/2021 | 599 | 452 (2,674 piles) | 567 (3,136 piles) | 420,000+ |
| 10/31/2021 | 598 | 452 (2,674 piles) | 567 (3,136 piles) | 420,000+ |
| 10/30/2021 | 576 | 438 (2,604 piles) | 564 (3,125 piles) | 420,000+ |
| 10/29/2021 | 574 | 430 (2,528 piles) | 559 (3,098 piles) | 420,000+ |
| 10/28/2021 | 571 | 422 (2,507 piles) | 559 (3,098 piles) | 420,000+ |
| 10/27/2021 | 567 | 406 (2,458 piles) | 556 (3,095 piles) | 420,000+ |
| 10/26/2021 | 563 | 403 (2,450 piles) | 556 (3,095 piles) | 420,000+ |
| 10/25/2021 | 560 | 400 (2,441 piles) | 555 (3,083 piles) | 420,000+ |
| 10/24/2021 | 554 | 396 (2,410 piles) | 547 (3,051 piles) | 420,000+ |
| 10/22/2021 | 551 | 394 (2,402 piles) | 547 (3,051 piles) | 420,000+ |
| 10/21/2021 | 547 | 392 (2,388 piles) | 547 (3,051 piles) | 420,000+ |
| 10/20/2021 | 546 | 391 (2,382 piles) | 546 (3,048 piles) | 420,000+ |
| 10/19/2021 | 543 | 389 (2,370 piles) | 546 (3,048 piles) | 420,000+ |
| 10/18/2021 | 542 | 389 (2,370 piles) | 546 (3,048 piles) | 420,000+ |
| 10/16/2021 | 541 | 386 (2,364 piles) | 545 (3,045 piles) | 410,000+ |
| 10/15/2021 | 537 | 384 (2,354 piles) | 543 (3,035 piles) | 410,000+ |
| 10/12/2021 | 535 | 382 (2,348 piles) | 542 (3,033 piles) | 410,000+ |
| 10/11/2021 | 531 | 381 (2,340 piles) | 538 (3,019 piles) | 410,000+ |
| 10/10/2021 | 529 | 381 (2,340 piles) | 538 (3,019 piles) | 410,000+ |
| 10/9/2021 | 525 | 377 (2,322 piles) | 537 (3,005 piles) | 410,000+ |
| 10/8/2021 | 524 | 377 (2,322 piles) | 537 (3,005 piles) | 410,000+ |
| 10/5/2021 | 523 | 377 (2,322 piles) | 537 (3,005 piles) | 410,000+ |
| 10/2/2021 | 522 | 377 (2,322 piles) | 537 (3,005 piles) | 410,000+ |
| 10/1/2021 | 521 | 376 (2,320 piles) | 537 (3,005 piles) | 410,000+ |
| 9/30/2021 | 517 | 375 (2,312 piles) | 536 (2,993 piles) | 410,000+ |
| 9/29/2021 | 504 | 365 (2,280 piles) | 526 (2,958 piles) | 410,000+ |
| 9/28/2021 | 497 | 360 (2,264 piles) | 523 (2,944 piles) | 410,000+ |
| 9/27/2021 | 494 | 353 (2,238 piles) | 517 (2,901 piles) | 410,000+ |
| 9/26/2021 | 491 | 353 (2,238 piles) | 517 (2,901 piles) | 410,000+ |
| 9/25/2021 | 486 | 348 (2,218 piles) | 517 (2,901 piles) | 410,000+ |
| 9/20/2021 | 484 | 341 (2,176 piles) | 515 (2,878 piles) | 400,000+ |
| 9/19/2021 | 479 | 340 (2,170 piles) | 514 (2,872 piles) | 400,000+ |
| 9/18/2021 | 471 | 334 (2,134 piles) | 512 (2,861 piles) | 400,000+ |
| 9/17/2021 | 466 | 331 (2,128 piles) | 511 (2,860 piles) | 400,000+ |
| 9/16/2021 | 456 | 320 (2,096 piles) | 505 (2,832 piles) | 400,000+ |
| 9/15/2021 | 450 | 304 (2,054 piles) | 505 (2,825 piles) | 400,000+ |
| 9/13/2021 | 445 | 300 (2,036 piles) | 502 (2,806 piles) | 400,000+ |
| 9/11/2021 | 444 | 299 (2,032 piles) | 502 (2,804 piles) | 400,000+ |
| 9/10/2021 | 441 | 296 (2,014 piles) | 500 (2,786 piles) | 400,000+ |
| 9/9/2021 | 437 | 295 (2,010 piles) | 499 (2,784 piles) | 400,000+ |
| 9/8/2021 | 434 | 293 (2,002 piles) | 499 (2,784 piles) | 400,000+ |
| 9/7/2021 | 432 | 292 (1,996 piles) | 499 (2,784 piles) | 400,000+ |
| 9/4/2021 | 430 | 291 (1,984 piles) | 499 (2,784 piles) | 400,000+ |
| 9/3/2021 | 428 | 291 (1,984 piles) | 499 (2,784 piles) | 400,000+ |
| 8/31/2021 | 427 | 289 (1,974 piles) | 497 (2,771 piles) | 400,000+ |
| 8/30/2021 | 410 | 278 (1,940 piles) | 478 (2,652 piles) | 400,000+ |
| 8/29/2021 | 405 | 264 (1,900 piles) | 462 (2,578 piles) | 400,000+ |
| 8/28/2021 | 400 | 262 (1,873 piles) | 448 (2,569 piles) | 390,000+ |
| 8/26/2021 | 391 | 256 (1,852 piles) | 444 (2,536 piles) | 390,000+ |
| 8/25/2021 | 389 | 255 (1,844 piles) | 444 (2,536 piles) | 390,000+ |
| 8/24/2021 | 385 | 255 (1,844 piles) | 444 (2,536 piles) | 390,000+ |
| 8/22/2021 | 380 | 252 (1,832 piles) | 444 (2,536 piles) | 390,000+ |
| 8/20/2021 | 378 | 252 (1,832 piles) | 443 (2,531 piles) | 390,000+ |
| 8/18/2021 | 374 | 252 (1,832 piles) | 440 (2,454 piles) | 390,000+ |
| 8/17/2021 | 370 | 248 (1,824 piles) | 437 (2,441 piles) | 390,000+ |
| 8/14/2021 | 366 | 246 (1,814 piles) | 436 (2,437 piles) | 390,000+ |
| 8/12/2021 | 363 | 243 (1,798 piles) | 435 (2,428 piles) | 390,000+ |