Rumors surfaced yesterday that CATL may post earnings of less than RMB 5 billion in the first quarter, falling short of market expectations.
Shares of power battery giant Contemporary Amperex Technology Co Ltd (CATL, SHE: 300750) plunged today despite no immediate negative news, and some reports are blaming investor concerns about its earnings outlook.
CATL, which trades in Shenzhen, plunged 7.55 percent to RMB 407 by the close of trading, a new low since June 2021. That sent the company's total market capitalization below 1 trillion yuan to RMB 948.7 billion.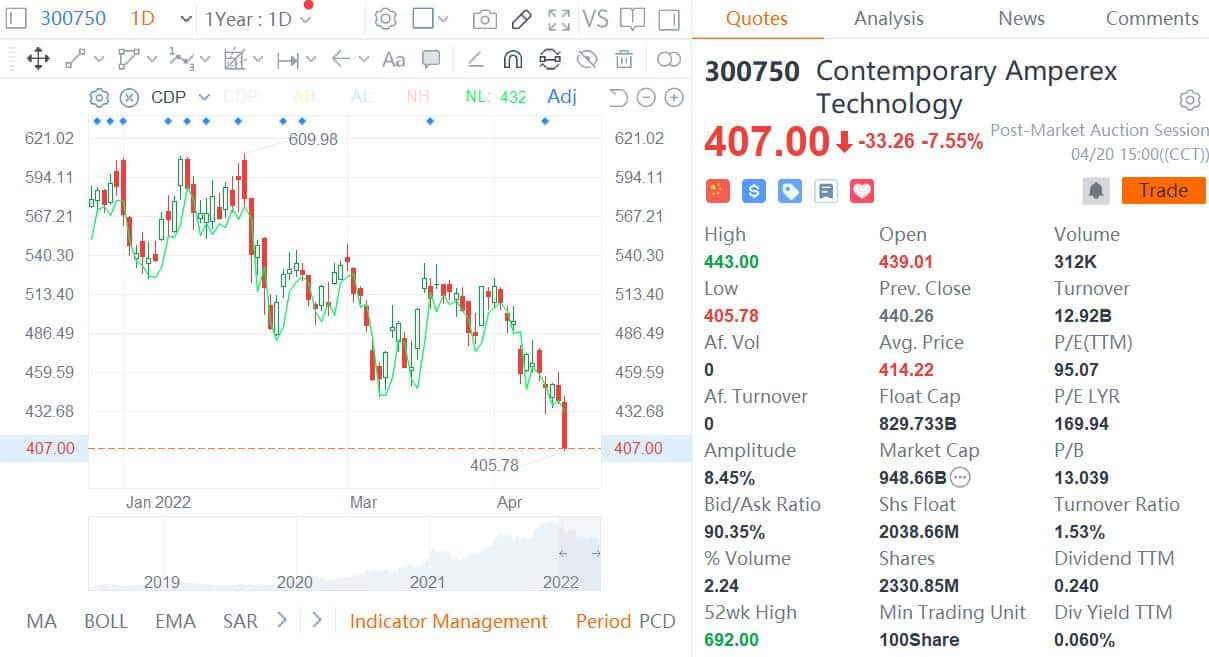 After the Chinese stock market closed on April 19, there were rumors that CATL's earnings in the first quarter of the year were expected to be below RMB 5 billion, according to a report in the Shanghai Securities News today. CATL is expected to disclose its first-quarter earnings on April 28.
The report, citing an unnamed analyst, said that if the rumors are true, CATL's first-quarter earnings would fall short of previous market expectations of around RMB 5 billion.
Whenever earnings season rolls around, there are many rumors and their accuracy is hard to assess, the analyst said, adding that it's hard to make a judgment because their communication with CATL is not smooth, according to the report.
If the rumors are true, there is only one possible reason for CATL's lower-than-expected results, and that is their failure to pass on the rise in lithium carbonate prices in a timely manner, the analyst said.
"It's hard for us to comment on the rumor, but one thing is for sure, and that is that the surge in upstream battery raw material prices has transmitted the pressure to mainstream battery makers like CATL," Shanghai Securities News quoted auto industry analyst Mei Songlin as saying.
The rise in raw material prices will be further transmitted to electric vehicle (EV) companies in the future, and consumers will likely face another wave of new energy vehicle (NEV) price increases, Mei said.
CATL's price increase for customers will be implemented in the second quarter, for example for Li Auto, the report said, adding that Tesla is still negotiating with CATL and the current discussions are focused on whether to raise prices by 10 percent or 15 percent.
If there is a widespread price transmission delay, it could lead to pressure on CATL's operating numbers in the first quarter, especially in March, according to the report.
CATL's competitiveness has not changed and its share of the global market continues to improve. These rumors may be mainly due to cost pressure from rising lithium carbonate prices and the impact of the Covid outbreak in Shanghai and Ningde where CATL is based in Fujian, according to the unnamed analyst.
Notably, CATL's smaller rivals appear to be faring a bit better.
BYD, China's largest NEV maker and the second-largest battery maker, said on April 18 it expects to report net income of 650 million yuan ($102 million) to 950 million yuan in the first quarter, up 174 percent to 300 percent from 237 million yuan a year earlier.
In the first quarter, the NEV industry in general continued its rapid growth momentum despite the adverse impact of macroeconomic downturn and Covid outbreaks, BYD said.
BYD's NEV sales hit a record high and its market share continued to climb, achieving rapid growth year-on-year, the company said, adding that this drove a significant improvement in earnings and hedged to some extent the earnings pressure from rising upstream raw material prices.
CnEVPost Daily Newsletter