"Stock-wise, we think this may unlock a lever of optionality if XPeng can gain some credibility in respect to this endeavor," Edison Yu's team said.
XPeng Motors said yesterday in a conference call following the release of its third-quarter earnings that it will explore the Robotaxi business in the second half of 2022. In Deutsche Bank's view, this is a surprise coming out of the event.
XPeng intends to become a potential player in the Robotaxi market, which could unlock "material optionality" for the stock, Deutsche Bank analyst Edison Yu's team said in a research note sent to investors today.
XPeng said yesterday that the Robotaxi business will first run on a trial basis in Guangzhou and will start with XPilot 3.5 and gradually transition to XPilot 4.0.
XPeng's strategic goal is to improve the robustness and safety of autonomous driving algorithms in the short term through the operation of generalized scenarios, He Xiaopeng, the company's chairman and CEO, said in the conference call.
The company believes that through its ability to mass-produce front-loading Robotaxi software and hardware, as well as future partnerships with various mobility operators, it can create significant business value by bringing a revolutionary experience to user travel.
Yu's team said that XPeng appears to position itself as a supplier/partner to Robotaxi operators and other mobility use cases, which represents a pivot from what was announced at last month's Tech Day, when its management appeared to be targeting more niche applications.
Conceptually, the XPilot software could be deployed on existing vehicles for a Robotaxi fleet, and the company would use data from perhaps 8,000-10,000 km of driving per month to train and enhance algorithms and mapping data, Yu's team said.
From a competitive perspective, XPeng's management believes it has several advantages over Baidu as well as Pony.ai because of its production scale, lower hardware and sensor suite costs, and ability to optimally integrate hardware and software, Yu's team noted.
"Stock-wise, we think this may unlock a lever of optionality if XPeng can gain some credibility in respect to this endeavor," the team said, adding, " The leading pure-play autonomous driving companies in China typically can garner multi-billion USD valuations on the private market (Pony.ai, AutoX, Weride, Momenta, etc…)."
Yu's team maintains a Buy rating on XPeng and a $57 12-month price target.
XPeng closed up 8.25 percent to $51.30 on Tuesday, and the price target implies an 11 percent upside.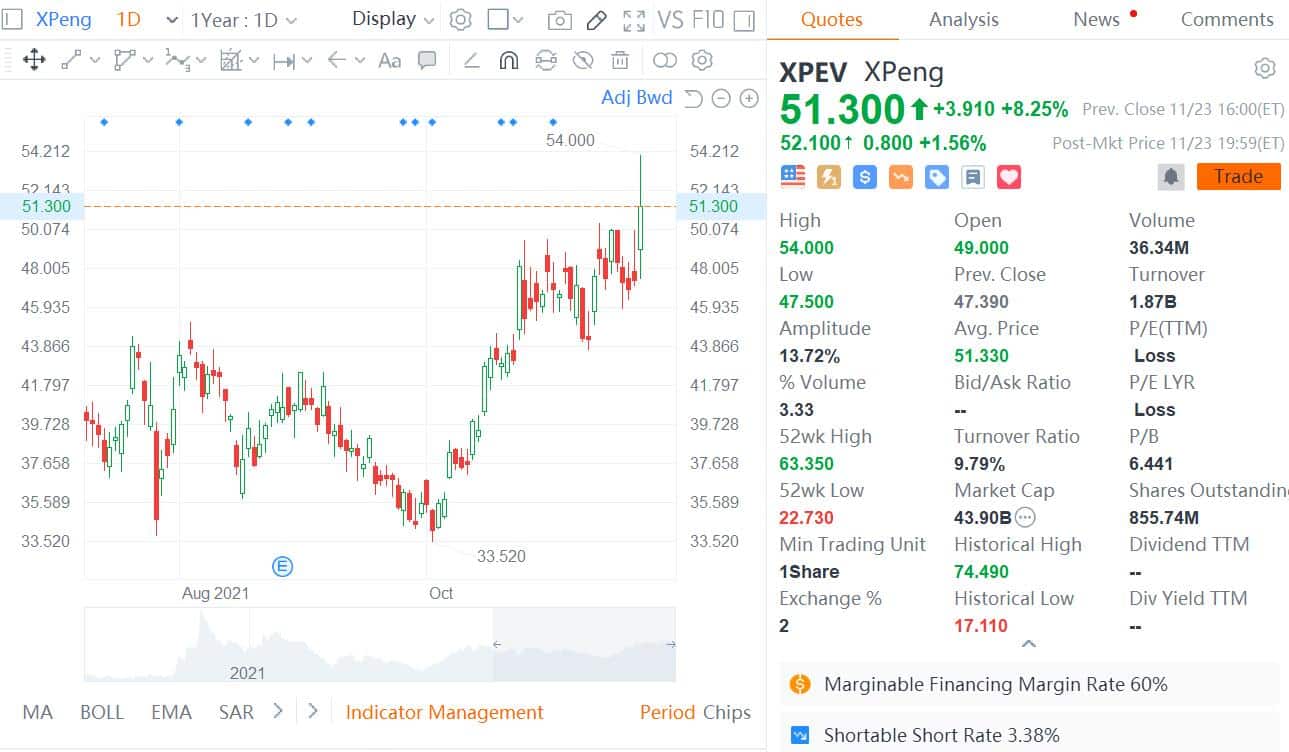 Get China EV News Directly in Your Inbox
Join our Telegram group to be alerted the moment we publish an article: t.me/CnEVPost