Li Auto has passed its listing hearing on the Hong Kong Stock Exchange and will soon become another Chinese electric vehicle company listed in Hong Kong after XPeng Motors. Its filing reveals its product plans.
Li Auto currently has only one model on sale, the Li ONE, which was released in 2019 and received an update in late May this year.
According to the company's filing to the Hong Kong Stock Exchange, it will launch its X platform next year and build a full-size luxury electric SUV based on it.
Notably, though, the model will still use extended-range technology like the Li ONE, the filing said.
Late last month, Chinese media reported that Li Auto will release a new big SUV codenamed X01 in 2022, with a full size upgrade compared to the Li ONE.
The new vehicle will drop the 1.2T three-cylinder engine from Harbin Dongan Auto Engine Co Ltd in favor of a 1.5T four-cylinder engine from Xinchen China Power, the report said, citing a leaked spec sheet.
If true, this would hopefully significantly improve the noise problem of the three-cylinder engine, which has been criticized by some, and would also make it more competitive with other models that use the same extended-range technology.
Starting in 2023, Li Auto will launch two new platforms, the Whale and the Shark, and plans to launch at least two premium all-electric vehicles per year by then.
Li Auto's filings with the Hong Kong Stock Exchange show that its X platform will also be used to produce all-electric vehicles starting in 2023. The Whale and Shark are pure electric vehicle platforms.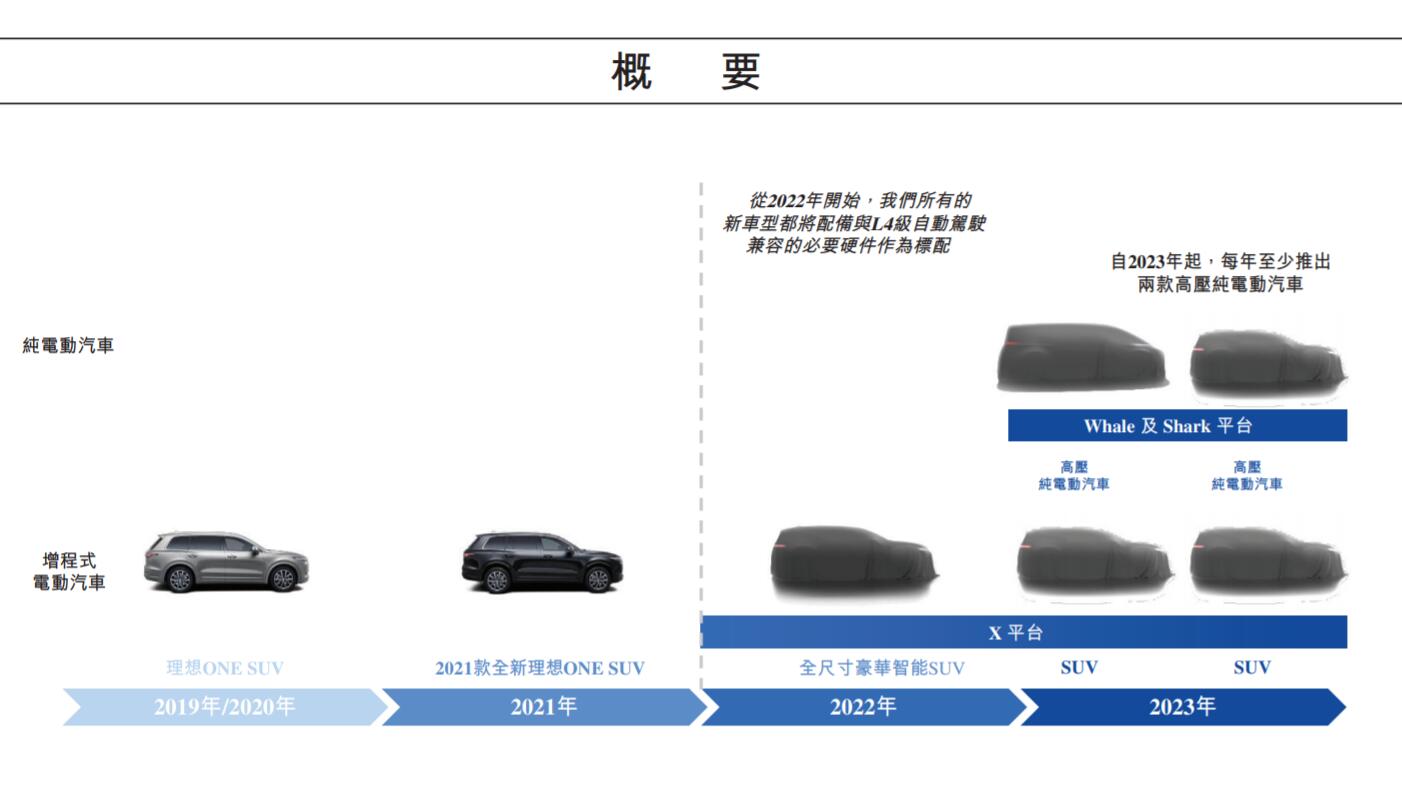 Li Auto said it is investing heavily in high-voltage pure electric vehicle technology. "We are focused on developing pure electric vehicles with ultra-fast charging capability, or high-voltage pure electric vehicles, which we believe will deliver a superior charging experience," the company said.
Under the company's planned high-power charging network, charging will be faster, cheaper and more accessible, Li Auto said.
The company also said it is investing heavily in autonomous driving technology, believing that L4 autonomous driving will be the primary mode of operation for all vehicles for the foreseeable future.
"Starting in 2022, all of our new models will come standard with the necessary hardware compatible with self-developed L4 autonomous driving, and we will continue to optimize our autonomous driving solutions using our self-developed full-stack software development capabilities," the company said.
Li Auto's new large SUV to be all-out upgrade to current model, leaked specs show