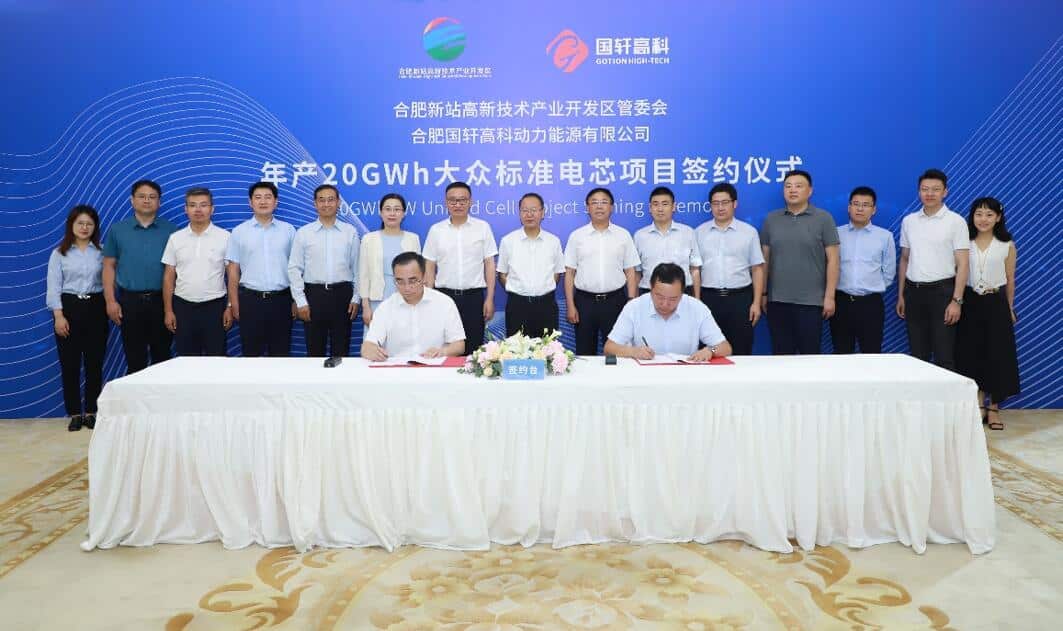 (Photo source: Gotion High-Tech)
Chinese power battery supplier Gotion High-Tech's subsidiary Gotion Hefei signed an agreement with Hefei Xinzhan High-Tech Zone on July 20 to build a 20 GWh power battery production base there.
The site will focus on producing unified cells for Volkswagen, meaning that Volkswagen's first global unified cells are expected to be produced in Hefei, according to a press release sent to CnEVPost.
The project is expected to cover 500 acres and will be built in phases. In the first phase, the company will build 10 GWh of battery capacity, with production scheduled to begin 18 months from the start of construction.
What does 20 GWh mean? For reference, China's power battery production in June totaled 15.2 GWh, with sales of 12 GWh, according to the China Automotive Battery Innovation Alliance.
Gotion is the fifth largest power cell supplier in China, with 0.64 GWh of power cells installed in China in June and 2.76 GWh in the first half of the year.
On July 12, Gotion signed an agreement with VW to develop the first generation of standard cells for the latter's regular mass-production models.
According to the agreement, Gotion, as a technology partner, will work with Volkswagen Group to optimize the production layout, equipment deployment and production processes at the Volkswagen Group's Salzgitter plant to accelerate the industrial production of electric cells.
Gotion will develop the first battery application with standard cells for Volkswagen Group's regular production models.
The program is scheduled to enter the product introduction phase in 2023 and will cover 80 percent of Volkswagen Group's electric vehicle models by 2030.
In May 2020, the two companies signed an equity cooperation agreement in which VW China invested approximately €1.1 billion to acquire a 26 percent stake in Gotion and become its majority shareholder.
The investment deal was approved by the China Securities Regulatory Commission, making VW the first foreign automotive company to invest directly in a Chinese battery manufacturer.
Gotion High-Tech signs deal to develop first-gen unified battery cells for VW