Li Auto CEO says 'more money is better' in response to secondary listing rumors
For Li Auto, more money is better because the US-listed Chinese EV trio's rivals, including Tesla, Xiaomi and Baidu, as well as traditional car companies, are well funded, said Li Xiang, CEO of the Chinese electric car company.
Li said this in an interview with Chinese media on Tuesday when asked about rumors of a secondary listing. He said Li Auto doesn't mind getting its capital reserves in any way it can, including secondary market financing, bank loans and debt issuance.
On March 22, Reuters reported that NIO, Li Auto and XPeng Motors had hired investment banks to prepare for a Hong Kong IPO.
NIO has contacted Credit Suisse and Morgan Stanley to offer 5% of its total share capital in Hong Kong, the report said, citing sources who added that NIO could also go public in A-shares.
XPeng has contacted Bank of America and Morgan Stanley, while Li Auto was working with Goldman Sachs and UBS, who expect to complete an IPO in the third quarter with an expected $1 billion to $2 billion in capital raised, the report said.
On March 29, local media cls.cn quoted sources as saying that NIO and XPeng have submitted listing applications to the Hong Kong Stock Exchange, while Li Auto has not yet submitted its application.
However, none of these three companies have so far confirmed plans for a secondary listing in Hong Kong.
Li also said that Li Auto's current self-driving team of 300 people will increase to 600 by the end of this year.
In terms of autonomous driving targets, Li Auto will catch up with Tesla and XPeng first, he said.
Li Auto will do all its own research on the hardware and software of autonomous driving in the future, including perception decision and planning, operating system and hardware design, he said.
He said he does not rule out charging for software services in the future, but it is still too early.
Li also said Tuesday that he expects deliveries to exceed 10,000 units per month by September.
For comparison, Li Auto's sole model, the Li ONE, delivered 5,539 units in April, up 13 percent from March and 111.3 percent from the same month last year.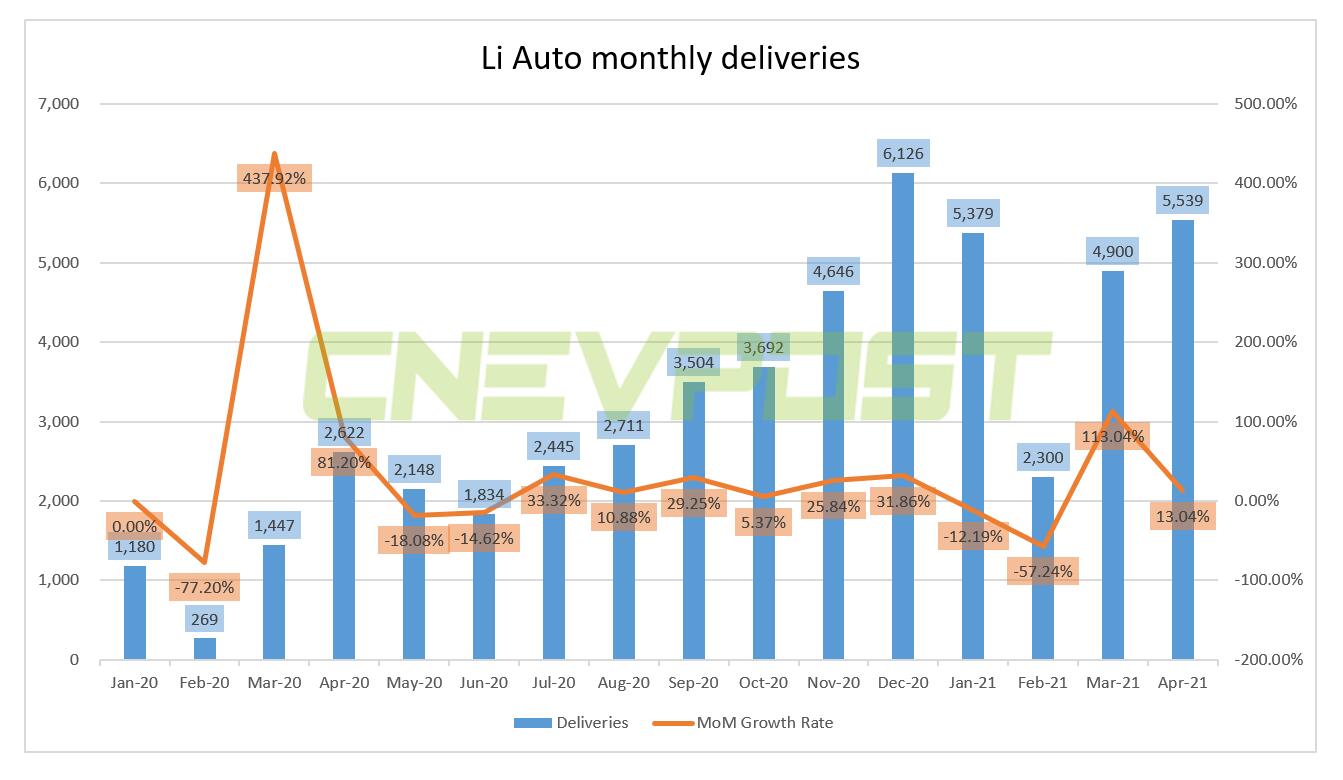 (Graphic by CnEVPost)
The company saw its 50,000th vehicle delivery of the Li ONE in April, bringing the model's cumulative new vehicle deliveries to 51,715 at the end of April, 17 months after it began deliveries in December 2019.
NIO delivered 7,102 vehicles in April, down 2% from March, as a chip shortage put constraints on its capacity. The figure was up 125.1 percent from a year ago, however.
XPeng Motors delivered 5,147 vehicles in April, up 0.88 percent from 5,102 in March. Compared to the same month last year, XPeng's deliveries were up 285 percent, marking the 10th consecutive month of year-over-year growth of more than 100 percent.
Li Auto on Tuesday unveiled an upgraded version of the Li ONE, optimized in terms of self-driving capabilities as well as hardware specifications.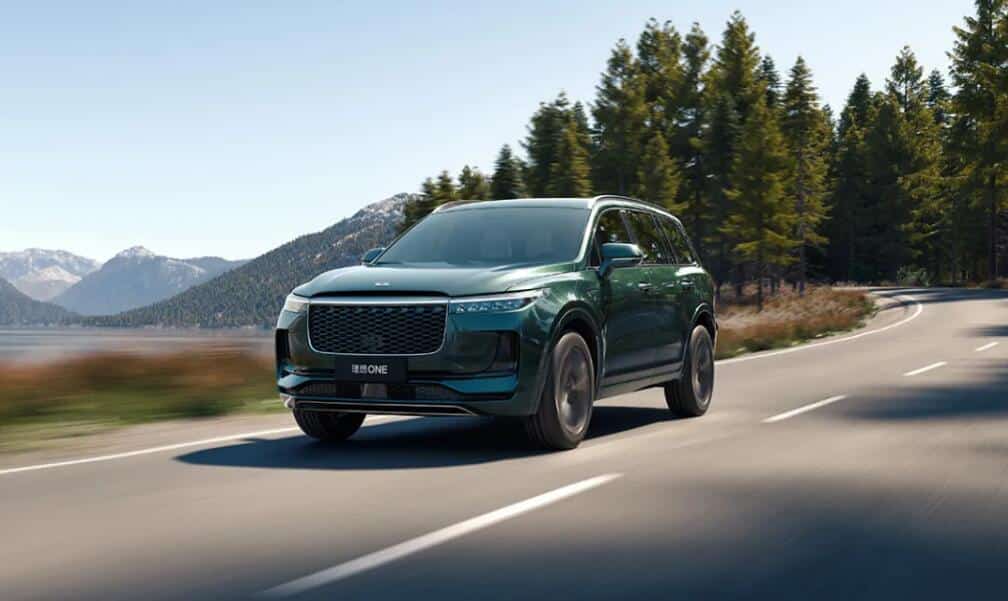 (Source: Li Auto)
Li said at the launch that the standard version is priced at RMB 338,000 in black, white, silver and gray, just RMB 10,000 ($1,560) higher than the current model's RMB 328,000.
The company also offers Baby Blue, Deep Green and Tech Blue special editions for users to choose from, and they are priced at RMB 348,000, which is RMB 10,000 higher than the standard version.
This price comes as a surprise to many, as just last Friday, Yan Yupeng, a well-known car blogger and founder of xincheping.com, said that the new Li ONE will be priced at RMB 400,000, up RMB 72,000 ($11,000) from the current model.
Deliveries of the new Li ONE will begin on June 1.
Li Auto unveils new Li ONE, standard version costs $1,560 more than current model