After EV, LiDAR set to become next crowded industry in China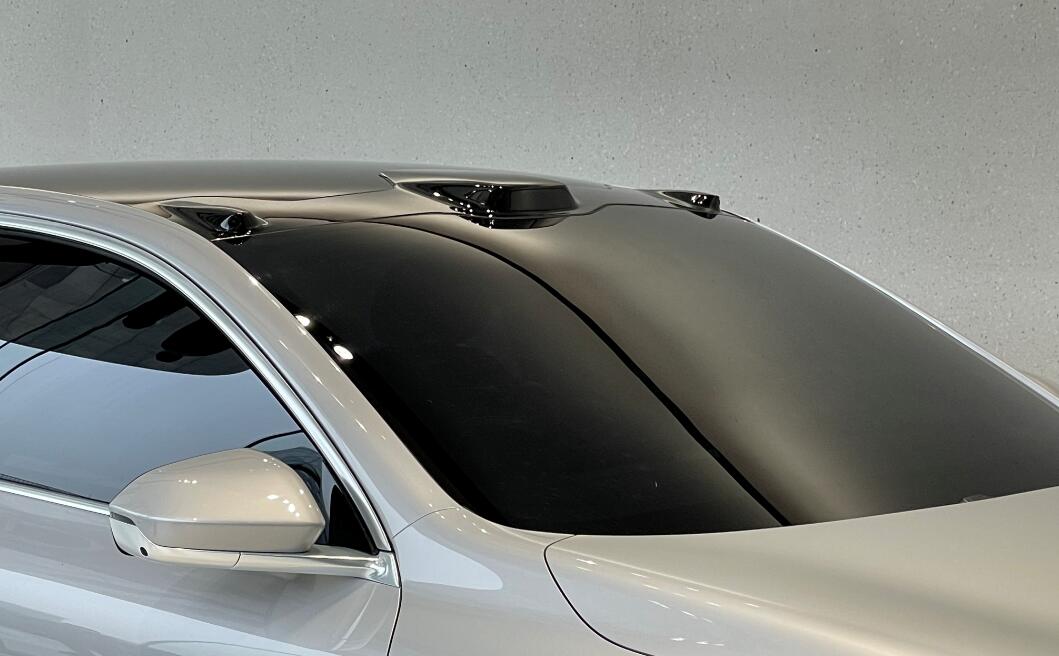 (The LiDAR module on the NIO ET7. Source: CnEVPost)
In China right now, the EV industry is getting more and more crowded as many tech giants are joining the industry. And besides it, another industry is also showing this similar trend.
Faced with an upcoming RMB 10 billion market, competition in the LiDAR space is fierce, with both traditional car companies and tech companies entering the market in various ways, Chuancai Securities analyst Sun Chan said in a report on Friday.
LiDAR has become an important foundation for the development of China's smart car strategy. With the development of autonomous driving technology, the LiDAR industry has huge room for growth, the analyst noted.
The LiDAR market is seeing rapid growth, with global LiDAR-equipped vehicles expected to exceed 300,000 units in 2023 and the global market size to reach $13.54 billion in 2025, the report said.
Based on the important value of LiDAR for autonomous driving technology, many companies have entered the market over the years. Basically, most players in the autonomous driving field have chosen LiDAR, except for Tesla.
NIO's LiDAR supplier Innovusion closes $64 million Series B round
Chuancai Securities said in its report that:
By the end of 2019, low-cost LiDAR products from companies including Hesai Technology and RoboSense make Velodyne's products in China look uncompetitive.

In August 2020, DJI-incubated LiDAR company Livox announced the first LiDAR for autonomous driving in vehicles to be priced down to the RMB 1,000 level and available for mass production and supply.

Zvision cooperated with Inceptio Technology and its LiDAR products will be deployed on heavy truck models to actively promote the logistics sector to achieve L3 driverless level.

And the heavy trucks of SAIC Iveco Hongyan in Shanghai Yangshan Deepwater Port are equipped with LiDAR products of local brands. These products are manufactured locally with all parts except for Nvidia's chips, and have driverless technology at L4 level.
Chuancai Securities believes that the LiDAR industry has a broad development prospect, with the first adoption on Chinese commercial vehicles supporting high-level driverless models, followed by a large number of low-cost domestic LiDARs.
In the short term, the main impediment to LiDAR installation for mass production is the high price and resistance to commercialization, so cost reduction is a top priority, the report says.
In the current low-level autonomous driving, i.e., assisted driving and partially autonomous driving, the main positioning, and ranging technologies are still millimeter-wave radar and vision sensors, and LiDAR is too expensive to be accepted by car companies.
At present, the publicly available LiDARs are all above 16 lines and ready to be used in high-level autonomous driving, the report reads.
And according to Ibeo, SureStar, 4-line LiDARs are already sufficient for assisted driving, and a streamlined version of LiDAR systems will offer lower prices and begin to replace other sensors in low-level autonomous driving in the short term.
In 2017, Audi's new A8 has started to be equipped with Ibeo's Scala 4-wire LiDAR, which together with millimeter-wave radar forms the latest L3 level autonomous driving system.
According to Chuancai Securities, the main cost reduction measures are:
First, mass production. R&D costs and production costs can be significantly shared with the expansion of mass production scale.

Second, control the cost of upstream components. Companies can control the BOM cost of LiDAR products by self-researching optical components, chips, and other upstream products.

Third, technology path iteration. The migration from higher-cost mechanical LiDAR to pure solid-state LiDAR and from higher labor cost EEL to machine mass-producible VCSEL can reduce costs.

In addition, the development of theoretically lower cost FMCW technology and further development of 1550nm solutions will provide new cost reduction paths.
XPeng unveils P5, world's first mass-produced smart car with LiDAR