NIO was the top-selling brand in China's all-electric SUV market in April with a 23 percent market share, higher than Tesla's 17 percent, WM Motor and XPeng Motors' 7 percent, according to China Automotive Technology and Research Center data.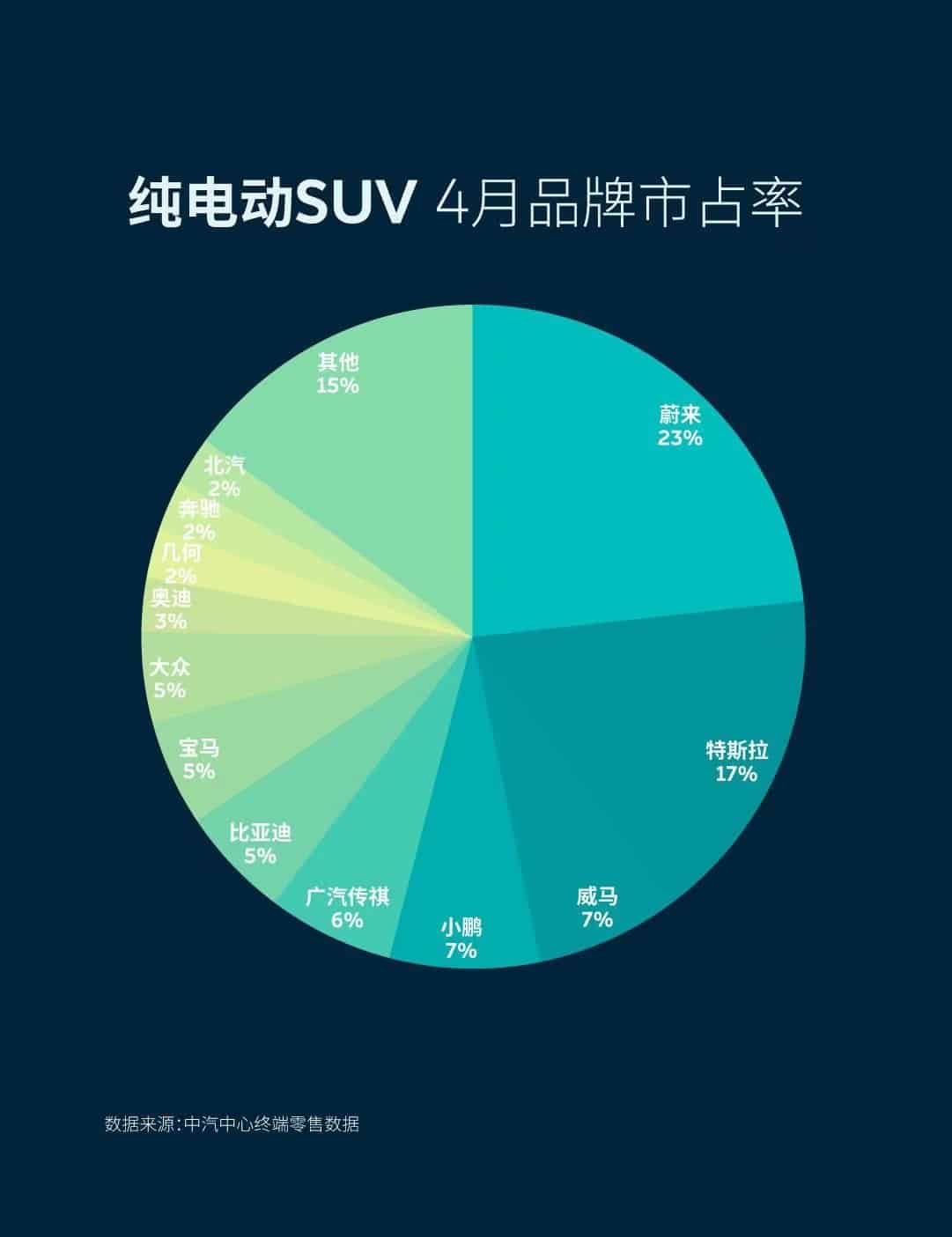 In terms of models, the data showed that the Tesla Model Y was the highest-selling model with 5,520 units sold in April.
Notably, according to yicai.com, the Model Y production line at Tesla's Shanghai Gigafactory was shut down for two weeks in April to upgrade equipment, and sales fluctuated as a result.
NIO ES6 sales in April were 3,302, EC6 sales were 2,484 and ES8 sales were 1,618. NIO's total sales of these three SUVs were 7,404, the data showed.
In China's pure electric SUV market, WM Motor's SUV EX5 ranked fifth with 1,963 sales in April. The BMW iX3 ranked sixth with sales of 1,648. The Volkswagen ID.4 X ranked 12th with 738 sales, and the Volkswagen ID.4 CROZZ ranked 13th with 684 sales.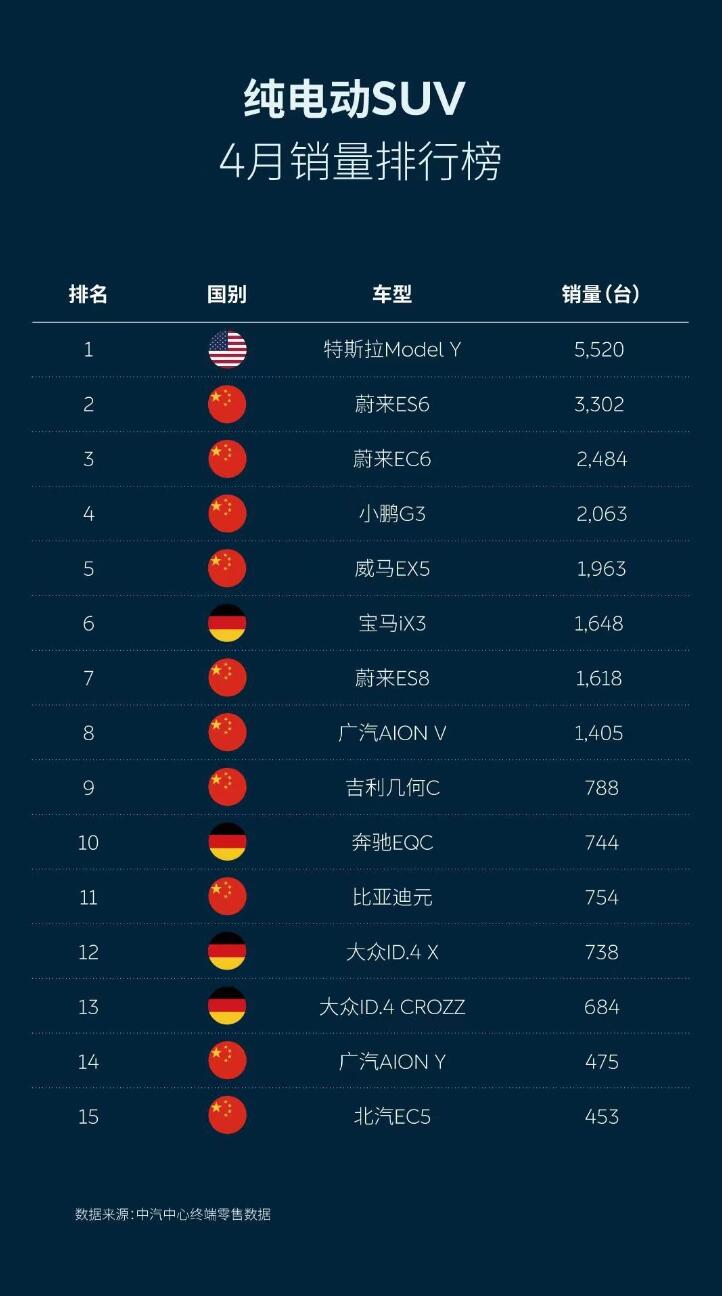 In the mid-size SUV segment priced over RMB 400,000 ($62,000), the Lexus RX was No. 1 with sales of 4,802. The NIO ES8 was No. 7, ahead of the Volvo XC90 and Audi Q7.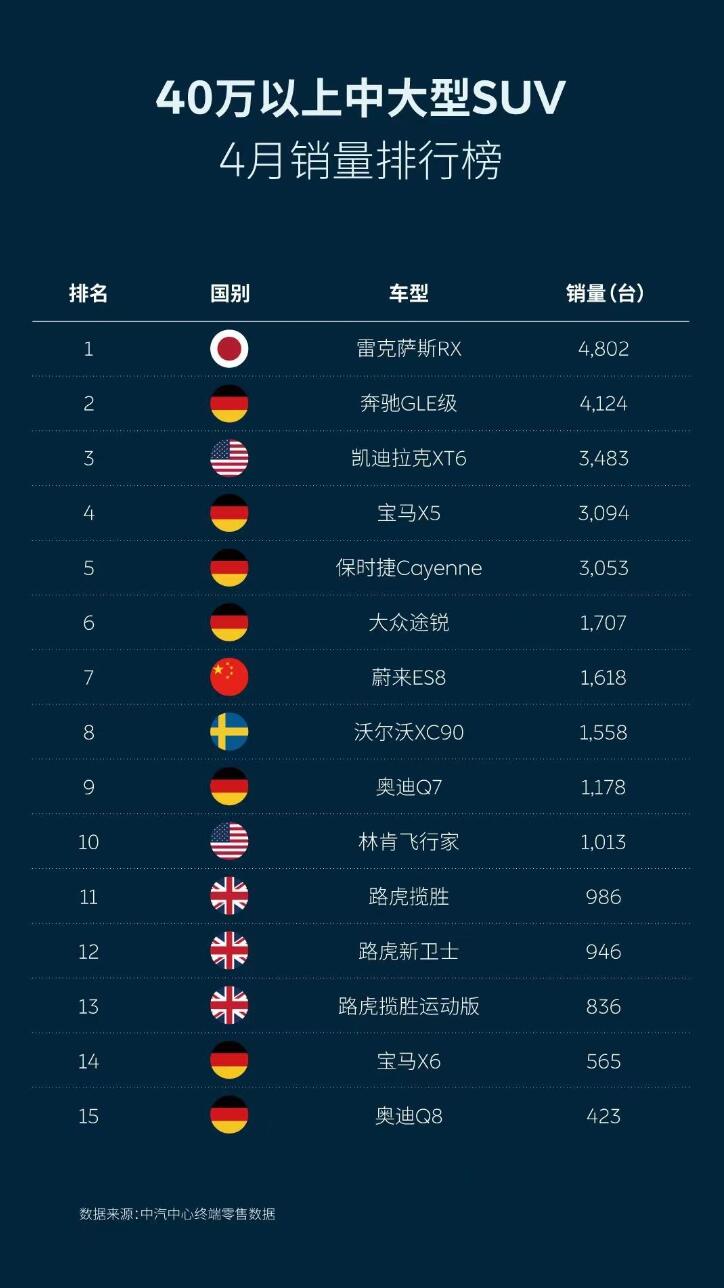 In the midsize SUV market priced over RMB 300,000, the Audi Q5L was No. 1 with 14,860 sales, the Tesla Model Y was No. 4, the NIO ES6 was No. 8 and the NIO EC6 was No. 10.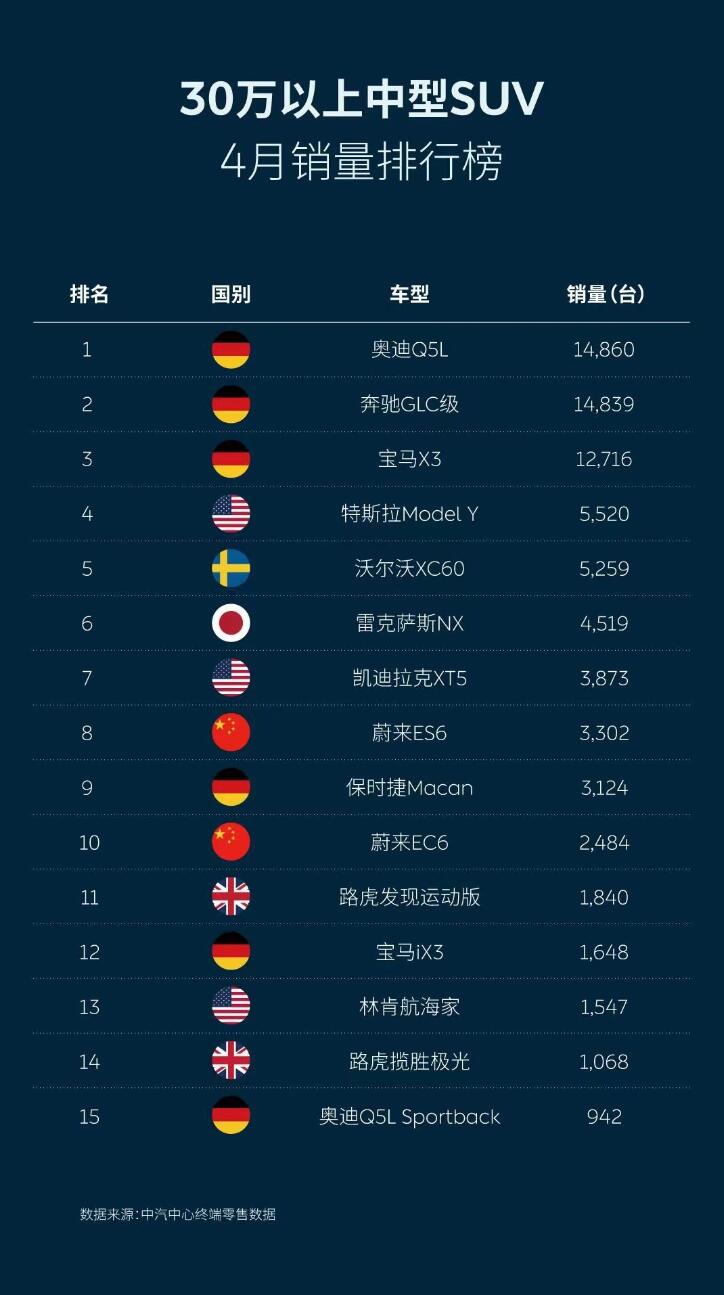 In the market for coupe SUVs priced over RMB 300,000, the Tesla Model Y was No. 1, the NIO EC6 was No. 2, and the Audi Q3 Sportback was No. 3 with 970 sales.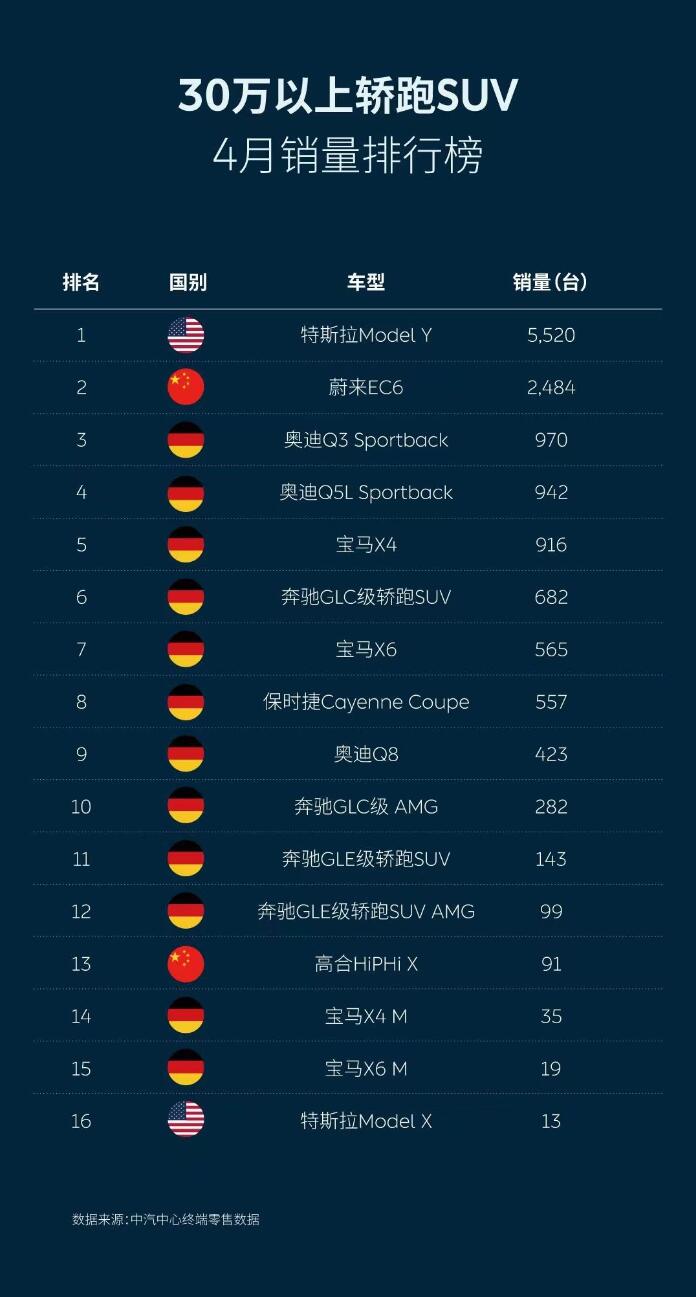 The average price of NIO models in April was RMB 437,200, ranking fourth among premium brands. The top three were Porsche with RMB 834,400, Land Rover with RMB 670,600 and Mercedes-Benz with RMB 439,300.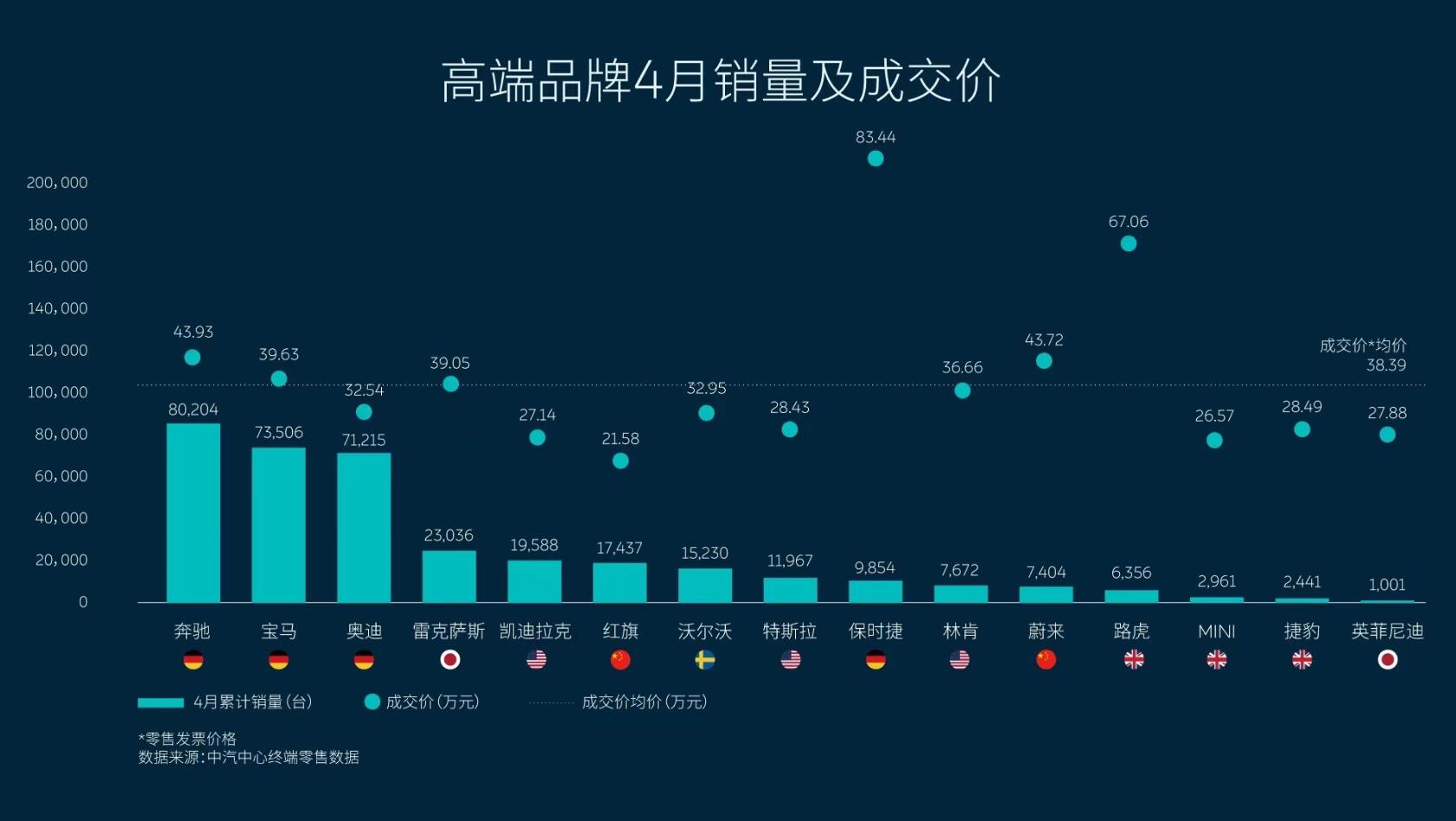 CnEVPost Daily Newsletter