XPeng delivers 5,147 vehicles in April, up 0.88% from March
Chinese electric vehicle company XPeng Motors delivered 5,147 vehicles in April, up 0.88 percent from 5,102 units in March. Compared to the same month last year, XPeng's deliveries were up 285 percent, marking the 10th consecutive month of year-on-year growth of more than 100 percent.
In April, 2,995 units of XPeng P7 were delivered and 2,152 units of XPeng G3 were delivered.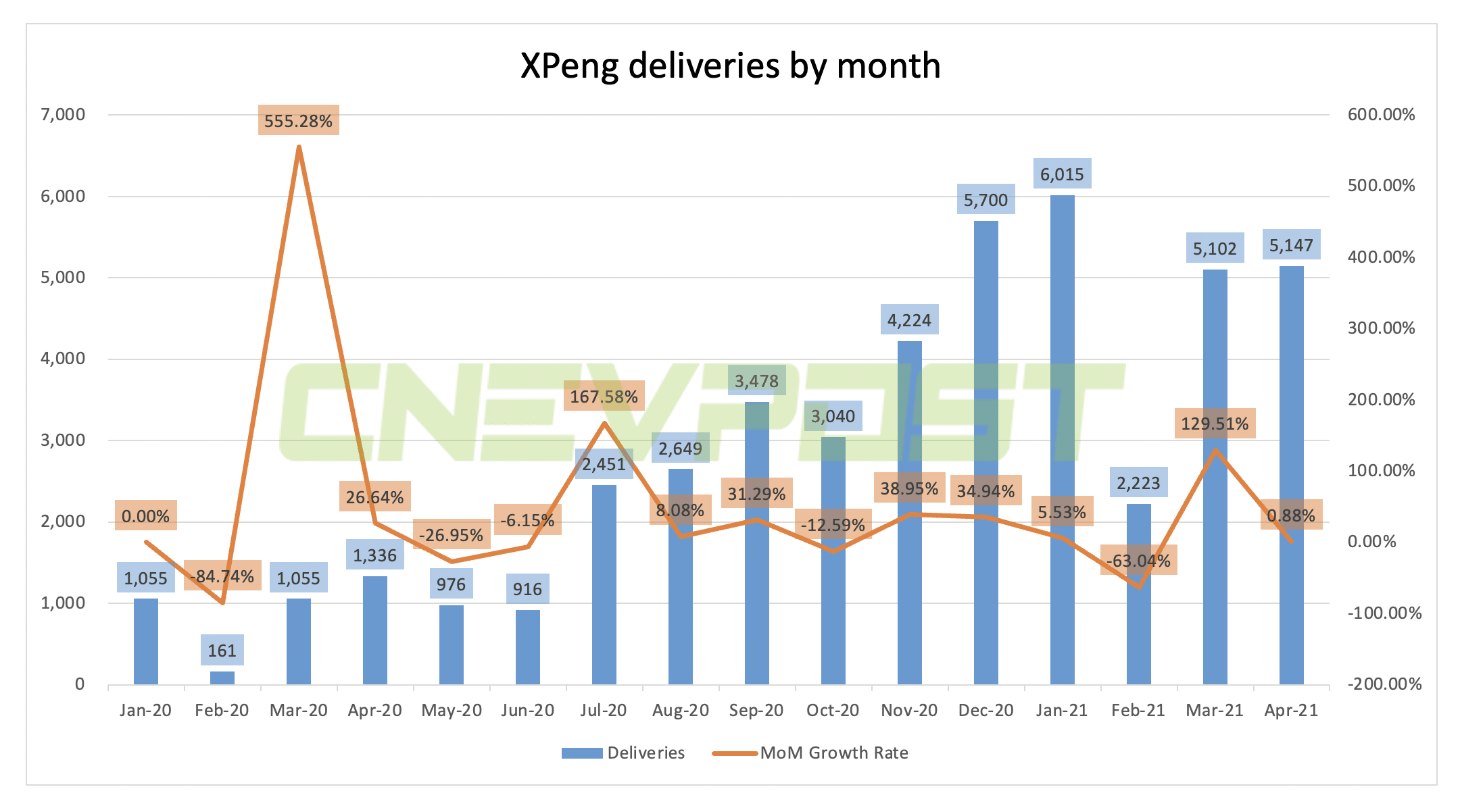 (Graphic by CnEVPost)
By the end of April 2021, XPeng's cumulative deliveries this year have reached 18,487 units, five times the number of units delivered in the same period last year.
XPeng will release its first-quarter 2021 financial results on May 13.
XPeng to report Q1 earnings on May 13, 13,300 vehicles delivered in the quarter
Previously announced earnings showed that XPeng reported fourth-quarter revenue of RMB 2.85 billion and narrowed its net loss to RMB 787 million, achieving its first full-year gross profit turnaround.
XPeng went public in the US in August last year and its share price once rose more than three times to above $70. However, the stock price went lower after that, falling back to $29.91 as of Friday's close.
On April 14, XPeng unveiled the P5, the company's third product and the world's first LiDAR-equipped mass-produced smart car.
It is worth noting that XPeng has not announced the price of the model so far. However, it is widely expected that the price of the P5 may be below RMB 200,000.
The model began accepting pre-orders on April 19, and as of April 21 the XPeng P5 had received more than 10,000 orders, the company previously said.
XPeng's local counterpart NIO released figures Saturday showing it delivered 7,102 vehicles in April, down 2 percent from March, as a chip shortage put constraints on its production capacity. But the figure was up 125.1 percent from a year earlier.
NIO delivered 1,523 ES8s, 3,163 ES6s, and 2,416 EC6s in April.
As of April 30, NIO's cumulative deliveries of ES8, ES6 and EC6 reached 102,803 units, the company said.
The decline in NIO's April deliveries from the previous month reflects the impact of the chip shortage that has been lingering throughout the industry. From March 29 to April 2, NIO temporarily halted production for five working days due to the chip shortage, resulting in about 500 fewer units than normal in April.