XPeng to report Q1 earnings on May 13, 13,300 vehicles delivered in the quarter
XPeng Motors will report unaudited earnings for the first quarter on Thursday, May 13, before the US stock market opens, the Chinese electric vehicle company said Tuesday.
The company's management team will hold a conference call at 8:00 AM US Eastern Time on May 13 (8:00 PM Beijing/Hong Kong time on May 13, 2021).
Dial-in details for the earnings conference call are as follows:
United States: +1-833-350-1333

United Kingdom: +44-203-547-8612

International: +1-236-389-2427

Hong Kong, China: +852-3012-6671

Chinese mainland: 400-820-9391

Conference ID: 7159369
Participants should dial-in at least 5 minutes before the scheduled start time to be connected to the call.
A live and archived webcast of the conference call will be available on the Company's investor relations website at http://ir.xiaopeng.com.
A replay of the conference call will be accessible approximately two hours after the conclusion of the call until May 20, 2021, by dialing the following telephone numbers:
United States: +1-800-585-8367

International: +1-416-621-4642

Replay Access Code: 7159369
On April 1, XPeng released data showing that it delivered 5,102 new vehicles in March this year, an increase of 384% year-over-year and 130% from February.
In the first quarter of this year, XPeng delivered 13,300 new vehicles, an increase of 487% year-on-year, the data showed.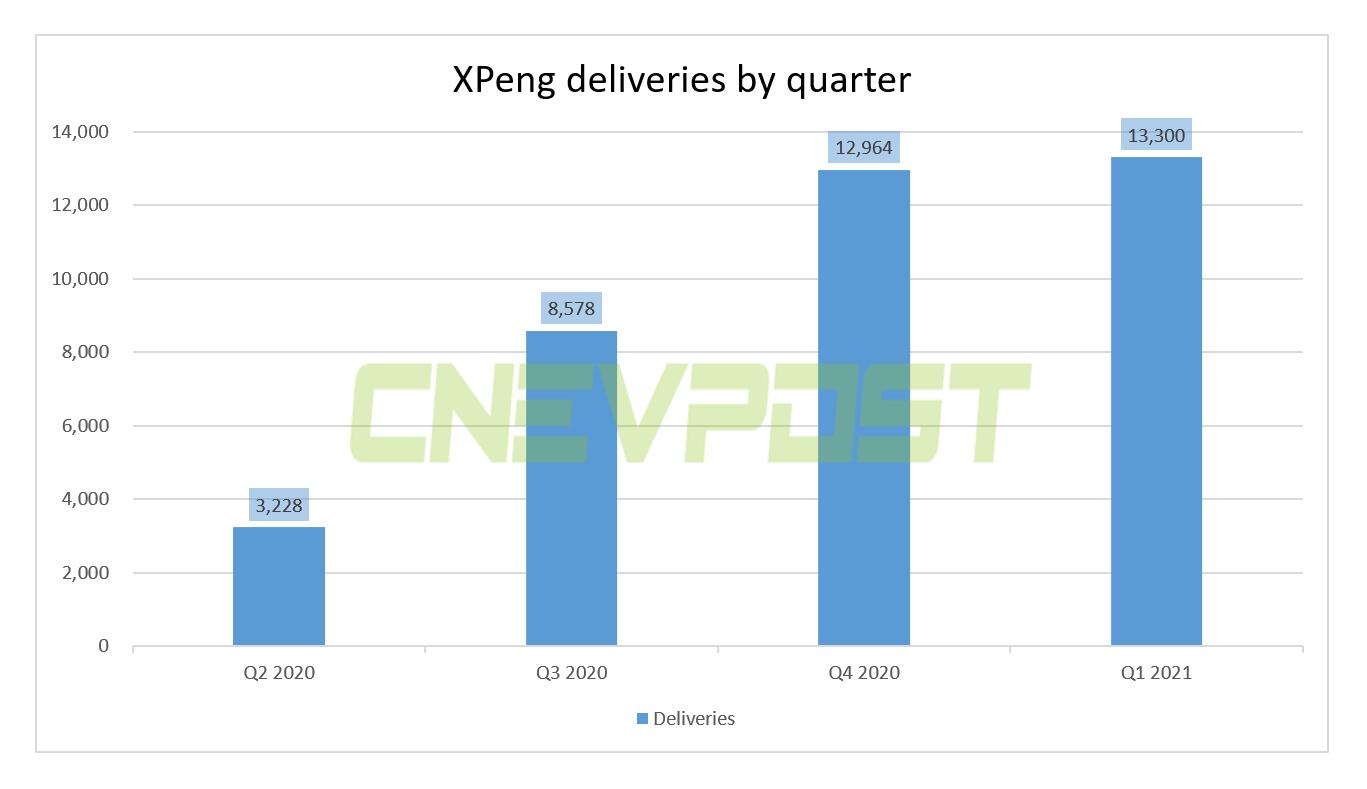 (Graphic by CnEVPost)
XPeng P7 Wing edition has started delivery at the end of March, and the G3 and P7 with lithium iron phosphate batteries launched on March 3 are scheduled to start delivery in April and May this year, respectively.
XPeng's sales target for 2021 is 100,000 units, implying a 270 percent increase over last year, according to LatePost's report on March 31.
XPeng sold 27,000 units last year, trailing NIO's 44,000 units and Li Auto's 33,000 units.
The XPeng P7 competes directly with the China-made Tesla Model 3, so it has been most affected by the Model 3's frequent price cuts compared to the NIO and Li Auto.
XPeng President Brian Gu said in the last earnings call that overall sales will trend up as new products are introduced in each of the next three quarters of the year.
XPeng delivers 5,102 vehicles in March, up 130% from February