(Correction: A previous version incorrectly wrote February as January in the title.)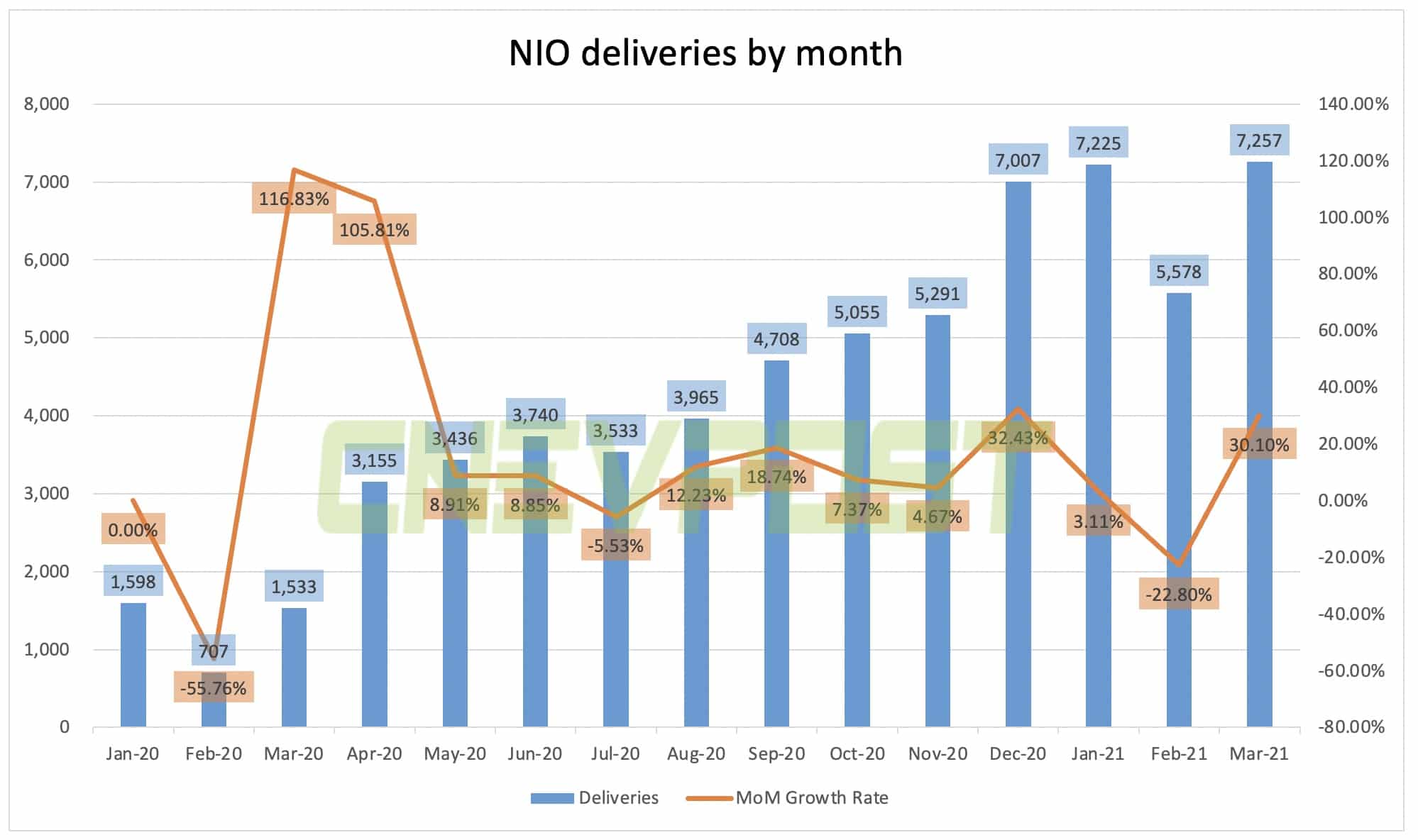 (Graphic by CnEVPost)
Chinese premium electric carmaker NIO delivered a record 7,257 vehicles in March, up 373.4 percent from the same period last year and up 30 percent from February.
The delivery includes 1,529 all-new ES8s, 3,152 ES6s, and 2,576 EC6s, according to data published by the company on Thursday.
The company delivered a total of 20,060 units in the first quarter, reaching a single-quarter delivery of more than 20,000 units for the first time, up 422.7% YoY.
The quarterly delivery figure is also higher than the company's guidance which was lowered to 19,500 units last week.
Total cumulative deliveries have reached 95,701 as of March 31, 2021.
The March delivery volume does not appear to be a true reflection of NIO's demand, as it is limited by current capacity.
During NIO's Q4 2020 earnings call, founder and CEO William Li said that the current factory capacity has reached 10,000 units, but the actual full supply chain capacity is 7,500 units per month due to battery supply and other issues.
Li expected NIO's production capacity to be ramped up around July.
Last week, NIO announced that it had decided to suspend production at its Hefei JAC plant for five days starting March 29 because of a chip shortage, potentially reducing the production by about 600 vehicles based on its 2020 deliveries.
NIO has thus lowered its delivery forecast for the first quarter of 2021 to 19,500 units.
However, NIO also said that the plant will be able to resume normal production rhythm after five working days and will continue to monitor the supply situation of its partners.
The 100,000th production vehicle will be roll off on April 7.
In March, NIO added five new battery swap stations to its fleet, bringing the total to 196, and provided more than 2 million battery swap services to customers in total.
The company added nine Supercharging stations in the month, bringing the total to 139.
In addition, the number of its destination charging stations reached 1,826 by the end of March.
NIO said it will increase the construction of its energy replenishment network this year and plans to have at least 500 battery swap stations, 600 supercharging stations and 15,000 destination charging piles by the end of 2021.
XPeng delivers 5,102 vehicles in March, up 130% from February
Get China EV News Directly in Your Inbox