Geely Holding Group and Foxconn will set up a joint venture to provide OEM production and customized consulting services for third-party auto companies, the Zhejiang-based automaker said on Wednesday.
Geely said in the statement that these services include but are not limited to complete vehicles or components, intelligent control systems, automotive ecosystems and the entire process of the entire electric vehicle industry chain.
The new joint venture will introduce an ICT (information and communication technology) division of labor model to help customers move beyond the existing automotive industry model and accelerate the transformation to an innovative and efficient manufacturing supply chain system and business model, Geely said.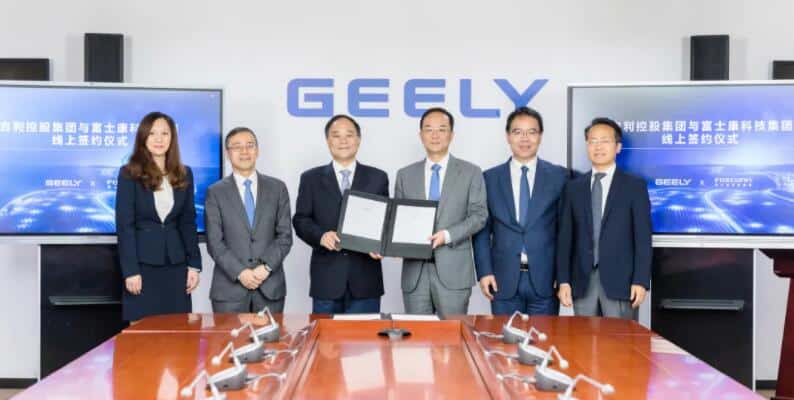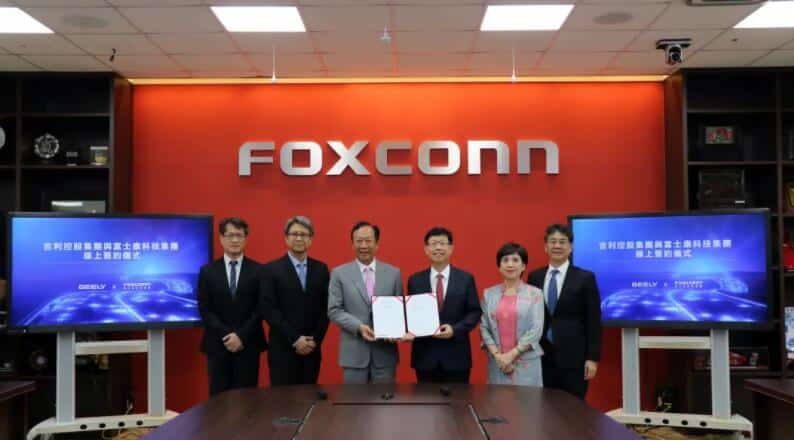 (Source: Geely)
Foxconn and Geely each hold 50 percent of the shares, and the joint venture's board of directors consists of five directors. Among them, Foxconn appoints three directors, Geely Holdings appoints two directors, and the chairman will be appointed by Foxconn.
Geely Holdings Group CEO Li Donghui said the current global automotive industry landscape is undergoing profound changes, "We must proactively embrace change, seek extensive alliances, and synergize resources to create maximum value for users."
iPhone Maker Hon Hai says will launch EV as soon as next year
Geely will leverage its expertise in the automotive field, including systemic advantages in design, engineering R&D, intelligent manufacturing, supply chain management, and quality control, and join forces with Foxconn to explore a new path for the transformation and upgrading of the manufacturing industry, he said.
Young Liu, chairman of Foxconn Technology Group, said this cooperation is expected to bring great changes to the development of the automotive industry and is looking forward to the prospect of cooperation between Geely and Foxconn.
Foxconn is the OEM of the iPhone and is currently the world's largest assembler of consumer electronic products.
In recent years, with the slowdown of the cell phone market growth and low-profit margins, Foxconn's revenue growth prospects are facing challenges.
In 2019, Foxconn's revenue growth is less than 1%, or approximately NT$5.33 trillion. Despite three consecutive years of revenue growth, Foxconn's revenue growth rate has been close to zero.
With China's electric vehicle industry seeing rapid growth, it would not be a surprise if Foxconn hopes to move from being an iPhone OEM to an automotive OEM.
As early as 2013, Foxconn was involved in car manufacturing. Its founder Terry Gou had a meeting with Tesla CEO Elon Musk and received an order for the interior panels of Tesla Model S, becoming a member of Tesla's supply chain.
In 2015, Foxconn set its sights on a full vehicle development and production project, co-funding a car-building project with China Harmony and Tencent, though the project has since ended in failure.
Baidu officially announces its entry into car-making industry
Earlier this month, Foxconn signed an agreement with Byton to help the latter ramp up the mass production of its first electric car and bring it to market within a year.
Foxconn plans to invest $200 million in the struggling startup, according to Bloomberg News.
As for Geely, the automaker founded in 1986 unveiled Sustainable Experience Architecture (SEA) on Sept. 23, 2020, a smart electric vehicle solution that took four years to build with more than $18 billion.
December 15, 2020 Rumors suggest that Baidu has approached Geely Automobile, Guangzhou Automobile Group, and FAW Hongqi about establishing an electric vehicle joint venture, but no decision has been reached.
On Monday, Chinese search engine giant Baidu announced today that it has officially formed a smart car company to enter the auto industry as a full vehicle manufacturer. Geely Holding Group will be a strategic partner of the new company.
The newly formed Baidu Auto will target the passenger car market and will focus on the entire industry chain of smart car design and development, manufacturing, and sales and service.
In 2020, Geely Holding Group will have global sales of over 2.1 million vehicles, and its Geely Automobile will be the top-selling Chinese brand passenger car for four consecutive years.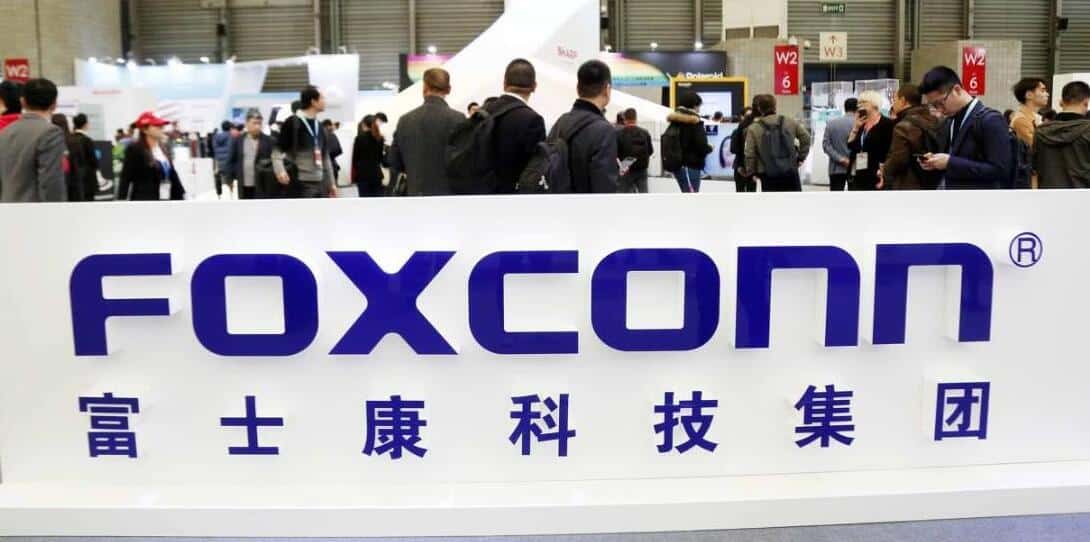 CnEVPost Daily Newsletter