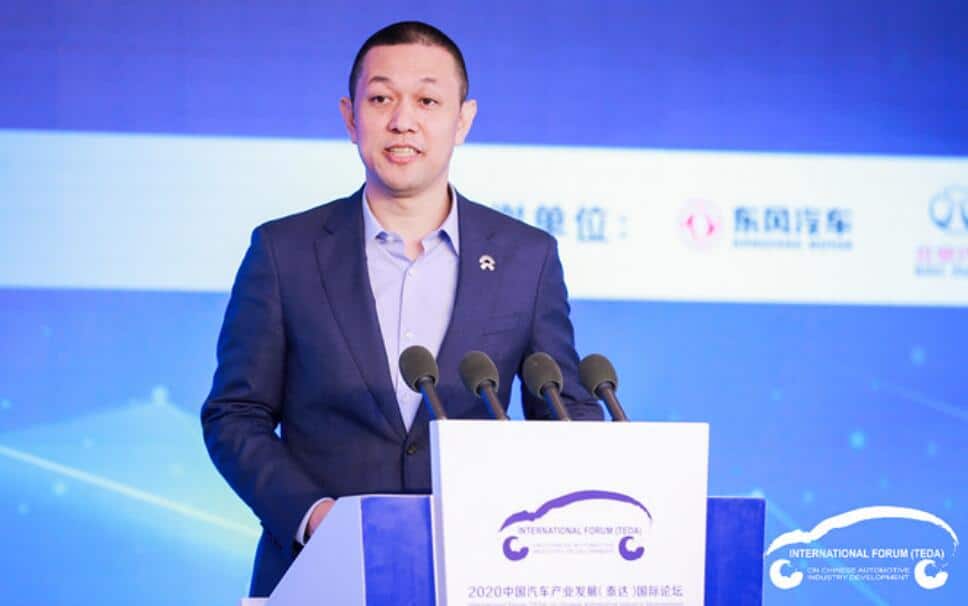 NIO is now developing a second-generation battery swap station that is much more efficient than the current one, said William Li Bin, founder, chairman and CEO of the Chinese electric vehicle company, on September 5.
In a speech at the China Automotive Industry Development Forum held today in Tianjin, William Li Bin said, NIO is now doing some cost reduction and will speed up the deployment of the second generation of battery swap station early next year.
The new battery swap station will cost less and need fewer time for deployment.
He said, NIO had said to build 1,000 battery swap stations, this year this target will not be completed, but NIO will definitely complete it.
William Li Bin said that the NIO mobile charging vehicle had previously been controversial, "One person goes to Tibet 1-2 times in a lifetime, so why can't we provide support for that? Wouldn't it be a big waste if you asked me to put a charging station there."
NIO recently announced the launch of its 20kW home fast charger, allowing a 100kWh battery pack to charge from 20% to 90% in just 3.5 hours.
The NIO battery swap station currently offers over 800,000 battery swaps with a maximum of 96 daily orders. William Li Bin said the battery swap service is a great experience in densely populated cities and on highways.
NIO is the first company to promote battery swap service on a large scale in private users, William Li Bin said, NIO provides flexible use in different scenarios, users like electric cars because of the convenience of use, charging can be more convenient than gasoline.
On August 20, NIO battery rental service BaaS was officially released, the user can buy the car in the original car price by 70,000 yuan, in addition to pay as low as 980 yuan a month to rent the battery service fee.
Under the BaaS purchase, the starting prices for the NIO ES8, ES6, EC6 went down to as low as RMB 380,000 yuan, 273,600 yuan, 280,000 yuan respectively.
The following is an auto-translated version of William Li Bin's full speech today:
Good afternoon everyone, I am very pleased to be able to share with you at the TIDE Forum today some of the latest developments in NIO, and how to think about the user experience to promote energy saving and emission reduction.
NIO's delivery and order growth has been very good in the past few months. Two days ago we released our August delivery figures, and in the two years to August 31 this year, we have delivered 53,850 units of our two production vehicles in 307 cities across China.
There are many things behind this number that are still doing well, such as the fact that our cars have broken through the usual comfortable use area for electric cars, from the Desert River in the north to Yili in the west.
We have invested a lot, and people think that NIO spends more money, but we still spend on service and user service experience, and on research and development, which we think is still worthwhile.
Since the Covid-19 epidemic this year, the number of monthly deliveries has been at a record high, and we are indeed still promoting the production capacity of the whole industrial chain.
This year we do have some supply chain partners over the past year NIO is also extreme stress test, people think we don't necessarily sell so much, prepare a little insufficient.
We now have a number of supply chain partners are 24 hours to open three shifts, indeed happy worries!
Now it takes a little time to buy NIO cars, now others are backlogged with inventory, we are backlogged with orders, and in general solving the capacity problem is also a very important task now.
From September, our entire supply chain capacity should be able to reach 5,000 units, last year the NIO encountered more situations, this year the situation is also improving.
In the second quarter of this year, the ES6 was the No. 1 luxury electric SUV sold in the world.
Quantity is one thing, but our quality is still good. The ES8 sells for an average of more than 500,000 RMB, and the ES6 is also more than 400,000 RMB.
Our average price is around RMB 450,000, RMB 100,000 higher than Tesla's average sales price in China, which also reflects the customer's recognition of our brand and service.
NIO is pretty much out of the ward, basically back to normal work, and the user's confidence and recognition of us is also growing.
Why NIO cars can be recognized by users, in addition to the competitiveness of the product, over the years around the needs of users, we have done a lot of investment.
We have invested in all scenarios for users with EVs, at home, in Xinjiang and Tibet, and at home with or without charging stations.
NIO Energy's arsenal is the most comprehensive, and 70% of our users are able to install charging stations. Our various companies and residential property management staff to communicate, this is not easy, sometimes also with the owners of the board to obtain a consensus.
There is now a certain misunderstanding about electric cars, as the most spontaneous combustion is in gasoline cars.
We have released a 20 kilowatt DC pile, which does not have such high requirements for the power grid, 380 volts will be enough. An hour to charge 20 degrees, the cost is very appropriate, we now many users also particularly like, our next step in the destination to do a lot of investment.
We also have supercharged piles, we operate in very good condition, we build with partners.
Many of our customers have suitable sites to build their own investment in supercharging piles, which can be given to NIO's customers as well as to other users, most of which are profitable, which is quite interesting.
NIO has an app that's open for others to add power, most of which are not actually NIO owners, but also Tesla owners.
We also have the controversial mobile charging car, which was controversial in 2018 when others said the charging car also burned oil and that this was not energy efficient, as if there was a lot of controversy.
Users just go to Tibet so once or twice in a lifetime, and still not give people a solution, you let me install charging stations there, isn't that a big waste.
The United States also has air refueling aircraft, how can we not engage in a, it accounts for the cost is negligible, but sometimes it is very important.
We have a fleet of them going to Inner Mongolia, but they definitely need to be serviced.
Of course there is our battery swap station, for densely populated cities, for high-speed experience is very good, a few minutes can be battery swap, based on this launch battery rental service, also very popular among users.
Battery swap is the first large-scale promotion of NIO, NIO do things especially simple, is the user has no need.
We can't compare it to a gasoline car, we must think of various ways to provide flexible service in different scenarios, so that users enjoy electric cars because of their convenience, even more convenient than gasoline cars.
Is it more convenient to add electricity than gasoline? People say I'm out of my mind, but you can figure out how 70% of users can charge at home and how it's not more convenient than a gas station. You can go to Tibet to charge without going to the gas station.
Today's appeal, when the popularity of electric cars, there must be a break from the norm, but is in line with common sense.
The first thing that you need to do is to take a look at the actual shoes or boots.
Some people will say, what about going to Tibet? How many times in your life do you go to Tibet, we have mobile charging vehicles.
We've just released our 20 kW DC charger and we encourage open access to welcome everyone.
Our destination is open for everyone to use, and everyone is welcome to use your car.
One hundred kilowatts can be charged for four or five hours, and the whole installation service adds up to 10,000 yuan, and installing 10,000 of them is 100 million yuan.
You must not put one method and another method against each other, for example, battery swap is the charging against each other.
Our cars are able to charge, charging has been excellent, I have a battery swap is not quite good.
We can't put charging and battery swap against each other, we have provided over 800,000 battery swaps. We've set a record of 96 orders a day for a battery swap station.
We are now working on the second generation of the battery swap station, which is much more efficient than the current one.
Because our battery pack is big, more than 500kg, so it is not easy to connect, 300kg battery pack is not the same as 500kg battery pack.
But the cost is really a little bit higher as well, and we are doing some cost reduction things now, and we will accelerate the deployment of our second generation battery swap station early next year, which is cheaper and faster to deploy.
Now the Internet age is also a memory, NIO said to install 1000 battery swap station when released, this year is not finished, but the future will certainly be completed.
We only have 140+ battery swap stations now, so it's good enough for everyone, plus the free battery swap.
After December, the free battery swap will be limited to six times, six times is fine. Most users are also enough, a charge of 60 degrees of electricity, basically a month is also enough.
Our APP provides a key to add electricity service, is still quite easy to use, and takeaway same aspect, welcome to use.
We launched this year which is very milestone for smart electric cars, finally we are pushing to separate the body from the battery.
It can be charged can be replaced can be upgraded, this BaaS is a service, not the financial aspects of the battery swap pool, if interested we can go to understand.
We also have something very innovative, users help us transport electricity, what does that mean?
Some users installed charging piles at night electricity cheap, just work for a good office to do an empty battery, we give a points reward about, our users are very enthusiastic.
In general, if you do the right thing, starting from user experience, to solve the needs of users of smart electric cars in different scenarios, then we can popularize electric cars.
Users will only buy a car for a good experience, including the experience of the product, including the experience of the service, we spend a little more effort, the way to do things is a little stupid, will certainly promote energy saving and emission reduction.
Our users have now exercised 937 million kilometers, what concept is this? This is equivalent to over 900 million RMB that we have helped users save on fuel costs.
Assuming that we save one dollar per kilometer, 900 million kilometers is 900 million yuan, and the natural environment will also benefit from this.
We have thus reduced carbon emissions by more than 52,000 tons, and solved the users' demand for electric vehicles, which is itself a practice of energy saving and emission reduction.
That's all I have to share, thank you all!
CnEVPost Daily Newsletter