Equipment installation for the project is underway, and the module plant has seen battery pack samples roll off the line.
As China's largest power battery maker, CATL (SHE: 300750) is still expanding its production capacity, one of which is at its base in Zhaoqing, Guangdong.
CATL began construction on March 28 of last year on the project in Zhaoqing, which is also home to XPeng Motors' (NYSE: XPEV, HKG: 9868) current plant. As a year has passed, information released today by the local government provides an update on the project's progress.
CATL's project has completed construction of the first phase of the plant, installation of equipment is underway and the module plant has seen battery pack samples come off the line, the official WeChat account of the Zhaoqing municipal government said in an article posted today, adding that the project is scheduled to start production in June.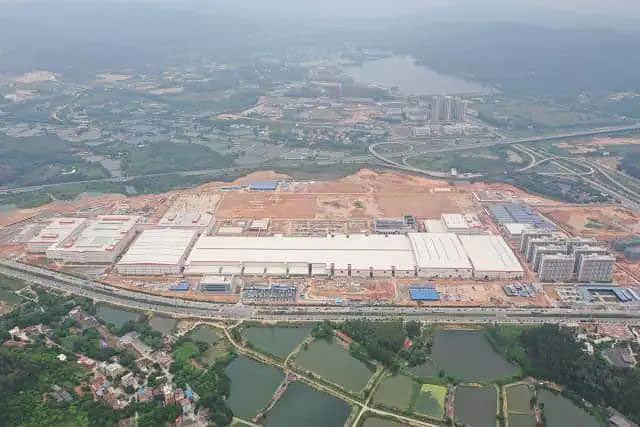 (Image credit: Zhaoqing government)
On February 1, 2021, CATL signed an investment agreement with the Zhaoqing government and the Zhaoqing High-Tech Zone Management Committee to build the first phase of the power battery and energy storage battery project.
According to its plan, the project will complete equipment installation in March and trial production in June, with an expected battery capacity of 15 GWh this year.
After the first phase of the project reaches full production, CATL's annual battery production capacity will reach 25 GWh, with an annual output value of about RMB 20 billion.
The project has also become key to attracting investment from suppliers in the new energy vehicle (NEV) industry chain in Zhaoqing. As of October 2021, the city has introduced 19 NEV and auto parts projects around CATL, with a planned investment of RMB 12.2 billion, according to the article.
Zhaoqing is home to XPeng's current plant, which began construction in late 2017 and became operational in May 2020.
CATL is XPeng's main supplier, though it was previously reported that the EV maker is trying to bring in more suppliers to reduce its dependence on the batter giant.
According to a 36kr report in late December last year, XPeng plans to bring in CALB as its new main battery supplier, which would cut into CATL's share of supply.
In late January, local media Ijiwei reported that XPeng said it would gradually replace power batteries originally supplied by CATL with CALB's batteries, saying the price of CATL's products had risen too much.
Notably, at the end of January, CALB signed contracts with the cities of Guangzhou and Jiangmen in Guangdong province to build new production bases.
CATL's power battery installed base in China in March was 10.81 GWh, accounting for 50.49 percent of the market share, according to data released earlier this month by the China Automotive Battery Innovation Alliance (CABIA).
BYD's power battery installed base in March was 4.12 GWh, with a market share of 19.24 percent, ranking second.
CALB installed 1.84 GWh in March, ranking third with 8.58 percent market share, up from 8.44 percent in February.