Neta has delivered 41,427 vehicles in the first nine months of the year, up 425 percent year-on-year.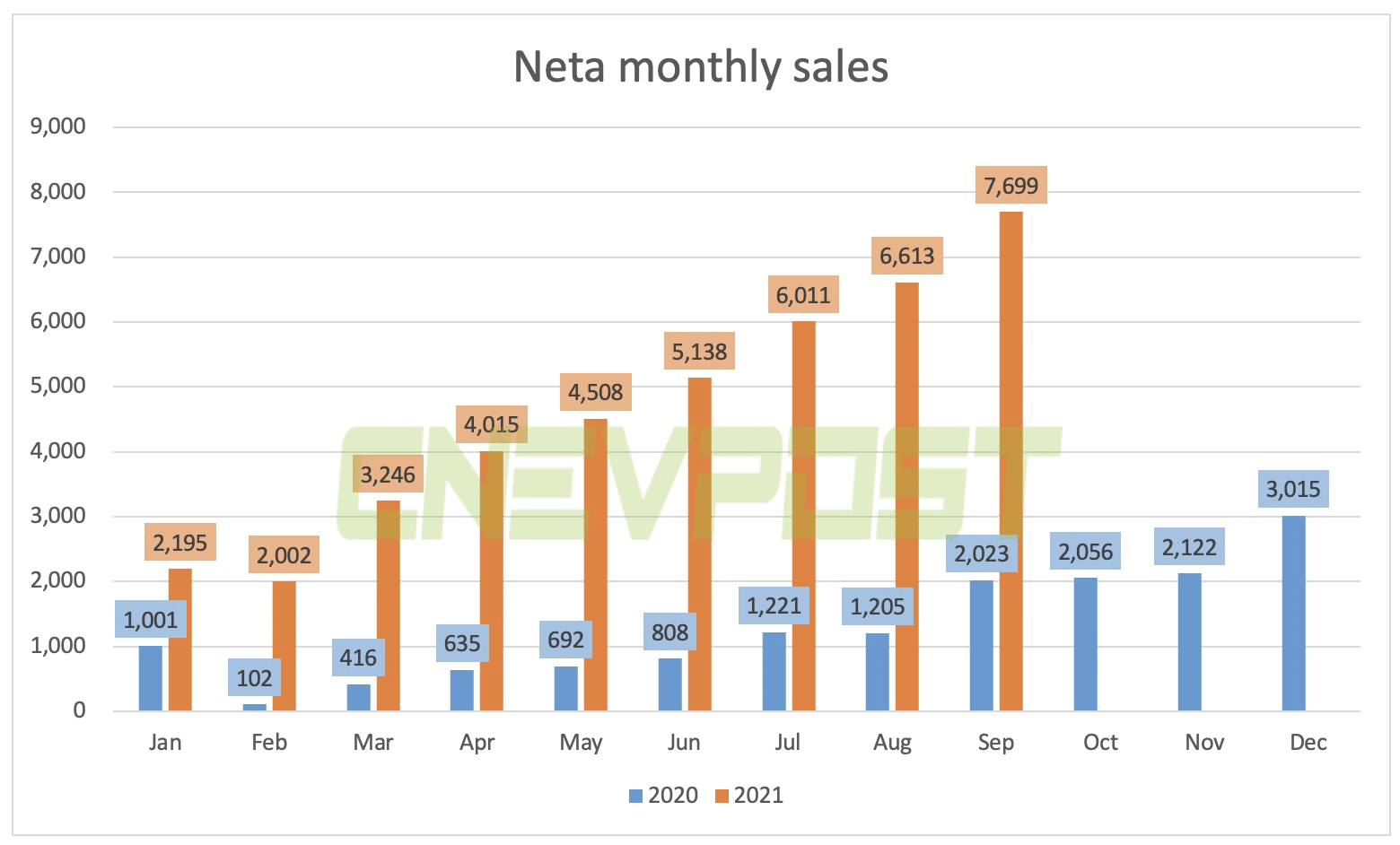 (Graphic by CnEVPost)
Neta Automobile, the electric car brand backed by Qihoo 360, China's largest cybersecurity company, delivered 7,699 vehicles in September, up 281 percent year-on-year and up 16 percent from August.
Neta is the electric car brand of Hozon Auto, which was founded in October 2014. The first Neta model was launched in November 2018, and to date, Neta has 2 models on sale - Neta V and Neta U.
The Neta V is priced between RMB 59,900 and RMB 75,900, and the Neta U Pro has an official guide price between RMB 99,800 and RMB 159,800 after subsidies.
On April 26, Neta announced the launch of Series D funding of approximately RMB 3 billion, with Qihoo 360 leading the investment, but the exact amount was not disclosed.
As of September 30, Neta's cumulative deliveries were 67,730 units, the company said today.
In the first nine months of the year, the brand's deliveries reached 41,427, up 425 percent year-on-year, the company said.
As it grows rapidly in its domestic market, Neta has begun targeting overseas markets.
The company announced on September 10 that it will enter the ASEAN new energy vehicle market to compete in the industry worldwide, kicking off its globalization journey.
Neta then unveiled a right-hand-drive version of the Neta V for overseas markets. The model has a range of 401km and is equipped with a 14.6-inch center screen and 12-inch instrument screen.
Late last month, Neta signed a cooperation agreement with Huawei to use the latter's technology in future models.
According to the agreement, Neta and Huawei will start comprehensive cooperation in the fields of intelligent network connectivity, in-vehicle computing, smart driving, digital energy and cloud services.
The Neta S is the first model to be created by the two companies, and it will use Huawei's MDC intelligent driving computing platform and LiDAR technology, according to an announcement made by Neta.
According to the company's previous statement, the Neta S will go on sale at the end of next year and is a B-class electric coupe based on a new platform.
Neta partners with Huawei to use its computing platform and LiDAR technology for next year's model
Get China EV News Directly in Your Inbox
Join our Telegram group to be alerted the moment we publish an article: t.me/CnEVPost