Chinese lithium battery maker Eve Energy plans to invest in a new 30GWh per year power battery project in Jingmen City, Hubei Province, the company said in an announcement  Wednesday.
Eve Energy has established a strategic partnership and signed an agreement with Jingmen High-Tech Industrial Development Zone Management Committee for the project.
The project is a 15GWh lithium iron phosphate battery project for logistics vehicles and home energy storage, and a 15GWh ternary battery project for passenger cars.
Eve Energy said the cooperation is expected to expand the production capacity scale of power storage batteries, further improve its diversified industrial layout and promote the company's development in the lithium-ion power battery market.
Since the beginning of this year, Eve Energy has started to expand its production frequently, of which investments and expansion projects have been announced in Jingmen alone.
On June 10, 2021, Eve Energy signed a strategic investment agreement with Jingmen High-tech Zone Management Committee.
Eve Energy and its subsidiaries plan to invest in the construction of a new energy power storage battery industrial park with an annual capacity of 104.5GWh in Jingmen Duodao District, including 11GWh of completed capacity, 11GWh of capacity under construction and 82.5GWh of capacity to be invested and constructed in phases.
On July 22, Eve Energy announced that its subsidiary Eve Power plans to sign a contract with the management committee of Jingmen High-Tech Zone to invest in the construction of several projects in the area.
The combined capacity of these projects is 12.2 GWh, including cylindrical lithium iron phosphate battery production lines and square ternary lithium-ion battery production.
On August 2, Eve Energy announced that it plans to set up a joint venture with Yunnan Energy New Material Co in Jingmen, which will focus on the manufacturing of lithium-ion battery barrier film and coating film.
The total planned investment is RMB 5.2 billion ($800 million) and the registered capital of the joint venture is RMB 1.6 billion.
Power battery maker Eve Energy to spend $380 million to add new production lines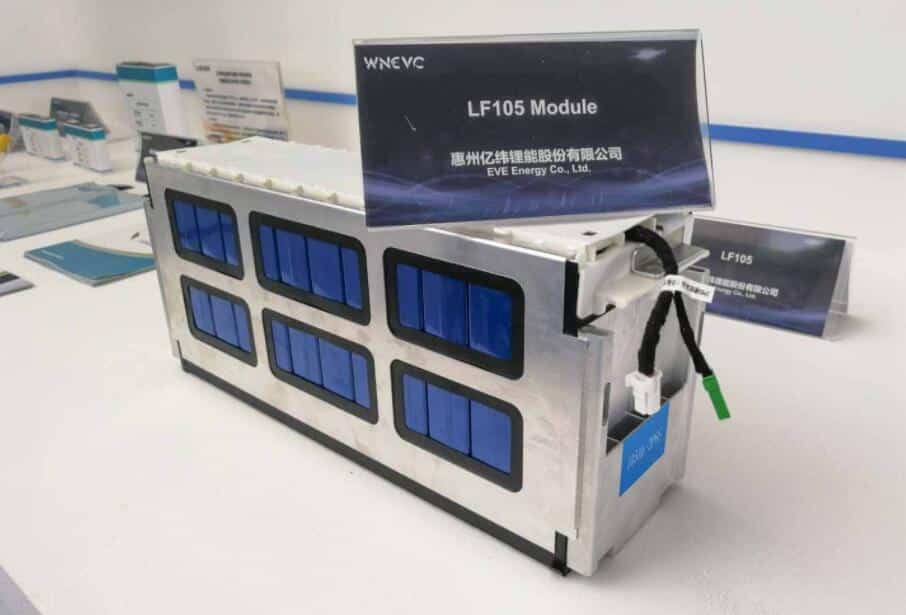 CnEVPost Daily Newsletter