Chinese electric vehicle startup Leap Motor delivered 4,404 new vehicles in July, up 666 percent year-over-year and up 12 percent from June, according to data released by the company Sunday.
Leap Motor received 6,540 orders in July, up 59 percent from June. To date, Leap Motor has accumulated orders for 28,055 units for 2021, the company said.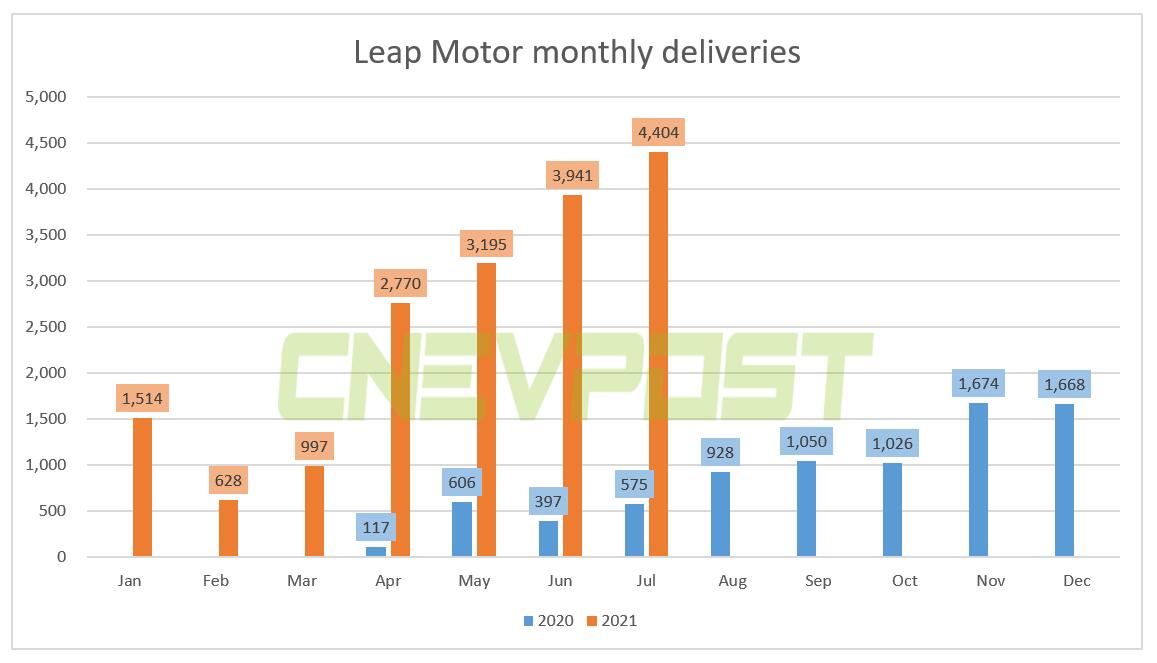 (Graphic by CnEVPost)
Of those, the Leap T03 model had 6,125 orders in July, up 63 percent from June. The model delivered 4,283 units in July, up 14 percent from June.
Leap Motor said on July 14 that its plant in Jinhua, Zhejiang province, was qualified to produce new energy vehicles in China. That means the producer of the company's products can use the name Leap Motor instead of Hangzhou Changjiang Automobile, which previously produced vehicles for it.
All versions of Leap Motor's T03, as well as the C11, will be produced at its plant in Jinhua, which covers 551 acres.
Leap Motor President Wu Baojun previously said that the C11 is ready for production and is now in the PPV production preparation phase, with test drives expected to be open to the media in September.
The company announced its August sales policy for the Leap C11, with an RMB 26,000 pre-sale deposit of RMB 20,000 ($3,096) to offset the purchase price of the car.
Leap Motor plans to expand its algorithm team to more than 100 people by the end of this year and continue to invest in its computing center, said company founder Zhu Jiangming, adding that the company will enable LiDAR solutions by the end of 2023 and full-scene autonomous driving technology by 2024.
Leap Motor's C12 model, which will be in production by the end of 2023, will feature an intelligent driving L4 solution that includes LiDAR, millimeter wave and vision, Zhu said.
By 2024, the company's models will have L4 autonomous driving capabilities, including city roads, highways and self-parking.
Leap Motor says its self-driving technology will surpass Tesla's in three years
Get China EV News Directly in Your Inbox