Neta Automobile, the electric car brand backed by China's largest cybersecurity firm Qihoo 360, is aiming for short-term sales of more than 10,000 a month, yicai.com quoted the company's CEO Zhang Yong as saying Thursday.
This is one of its milestones, and in the second phase the brand will launch a great model priced at RMB100,000-200,000 ($15445-30891) and get monthly sales to 5,000-10,000 units, Zhang said.
He said he hopes to achieve the second phase target in the next 1-2 years, followed by a target of 400,000-500,000 units per year by 2025.
Judging from its current performance, Neta still has a long way to go to reach the goal of 10,000 units per month.
Neta's 2020 sales were 15,000 units. In the first five months of this year, Neta's cumulative sales reached 16,000 units, including 4,508 units sold in May.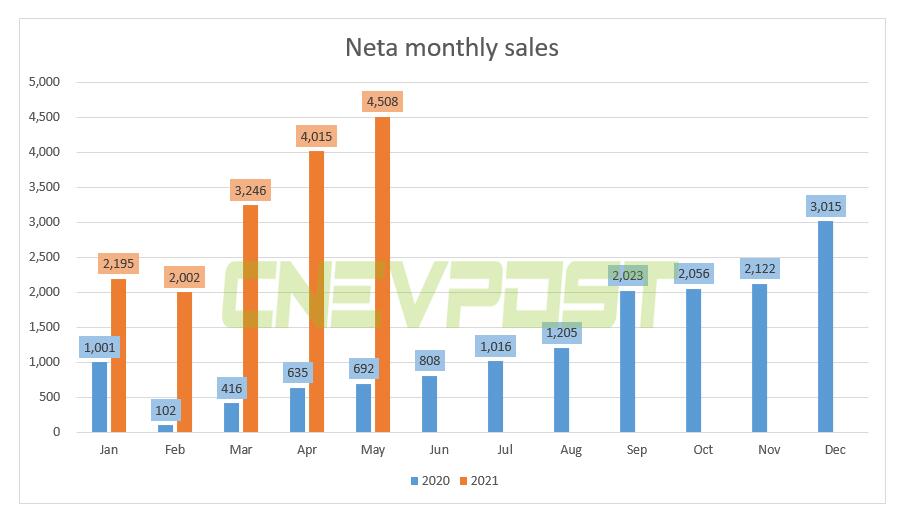 (Graphic by CnEVPost)
Currently, Neta is selling three models - Neta N01, Neta V and Neta U, with starting prices under RMB 100,000.
The Neta N01 is a small all-electric SUV priced at RMB 66,800-139,800 after subsidies, the Neta V is a small all-electric SUV priced at RMB 59,900-120,800 after subsidies, and the Neta U Pro is a compact all-electric SUV priced at RMB 99,800-181,800 after subsidies.
Neta launched the Neta V Co-sport and Neta V Co-loli versions on June 22, priced at RMB 76,900 and RMB 72,900 respectively.
Zhang said that after market research, the sales of cars under RMB 100,000 will not be able to exceed 500,000 units, so the brand is also going to build cars of RMB 100,000-200,000.
The Neta S, which is expected to be launched next year, is a coupe that will cost around RMB 200,000 yuan and may also be above RMB 200,000 yuan, he said, adding that Neta is becoming the Xiaomi of the auto industry.
Notably, Neta was previously unnoticed, but in May its deliveries surpassed Li Auto to become one of the top three among China's new car makers.
Li Auto, which had previously been ranked third in deliveries among China's new car makers, saw its deliveries drop about 22 percent to 4,323 units in May compared to April.
This resulted in Li Auto's third position being overtaken by Neta Automobile, backed by Qihoo 360, China's largest cybersecurity company, which delivered 4,508 units in May, up 551 percent year-on-year. Neta's cumulative sales reached 15,900 units in the first five months of the year.
However, the Neta's model price is far from the Li Auto 2020 model Li ONE's price of RMB 328,000.
The reason for the decline in Li Auto sales may be related to the launch of the new Li ONE, which has been optimized in terms of self-driving capabilities as well as hardware specifications, and began deliveries on June 1.
An interesting change: Li Auto's May deliveries surpassed by Neta
Get China EV News Directly in Your Inbox
Join our Telegram group to be alerted the moment we publish an article: t.me/CnEVPost