Deutsche Bank says investors underappreciate NIO's potential in overseas markets, reiterates Buy rating
Chinese electric vehicle company NIO announced plans to enter overseas markets a month ago, with Norway as the first stop. In the view of Deutsche Bank analyst Edison Yu's team, investors are currently underestimating NIO's potential in this aspect.
"We think NIO selling tens of thousands of vehicles per year in Europe would be considered a success mid-term and investors do not give them credit for this at all," the team said in a research note sent to investors on Monday.
The team reiterated its buy rating and $60 price target on NIO, which closed up 2.54 percent to $41.49 on Friday, meaning the stock has 45 percent upside potential.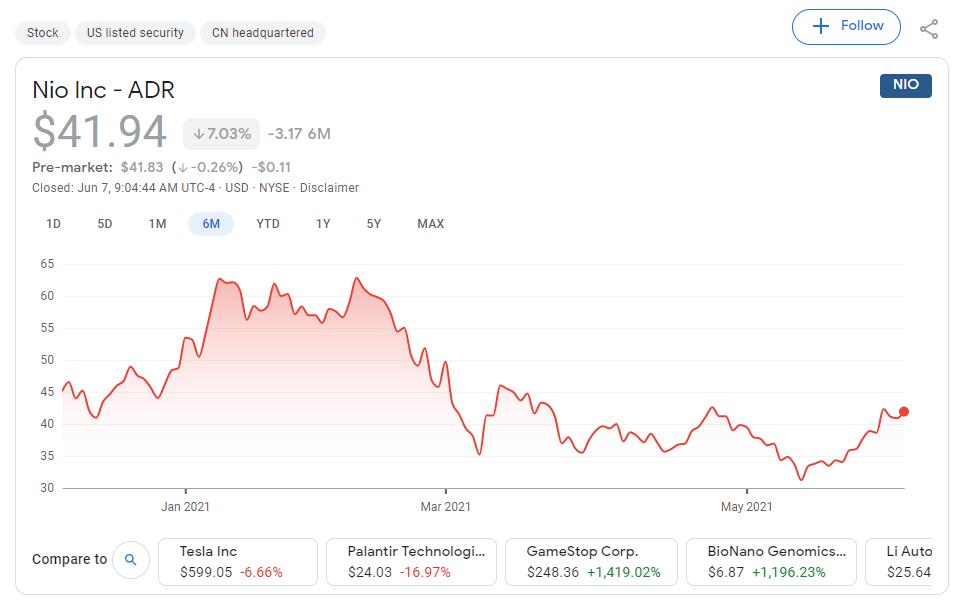 In NIO's plan, it will localize its entire ecosystem in Norway and will launch a mobile app to serve local users.
In Yu's team's view, NIO's strategy is differentiated, even though other Chinese car companies, including BYD, SAIC, and XPeng, are exporting electric cars to Europe.
NIO also has its own advantages over German car companies including BMW, Mercedes-Benz, and Audi, the team wrote:
With EVs, we think NIO fused together an evolved balance of luxury (comfort, handling, upholstery) and technology (software UI, FOTA, ADAS), underpinned by high quality post-purchase service that mitigates the greatest pain point of EVs, charging.

Instead of being overly focused on choosing one charging solution, NIO created a holistic charging infrastructure where users have numerous ways to replenish power depending on the circumstances (home charging, fast charging, mobile charging, and battery swap in <4 minutes). This has resonated very well with Chinese customers thus far, turning NIO into an aspiration brand locally.
As to whether NIO's strategy will work in Europe, the team said only time will tell, but NIO may perform better than Tesla in serving its customers, as the management team is very methodically entering markets and intrinsically much more consumer satisfaction oriented.
"Should NIO manage to cultivate its branding efforts properly, we could envision the company at least taking share from weaker luxury OEMs who are unable to properly make the transition to EV," Yu's team said.
The team noted that the competitive environment in Europe is also very different from China, where there are essentially no startups or tech giants competing in the space, which is an opportunity for NIO, which continues to outsell its European counterpart's models in the Chinese market.
Yu's team wrote:
We could envision NIO consolidating some small market share from someone like Lexus which sold >7k vehicles in France alone just a few years ago without anything close to NIO's software + services ecosystem. Perhaps somewhat more encouraging, European buyers appear willing to buy cars made in China. Tesla has been exporting thousands of MIC Model 3s to various European markets (including RHD variants to the UK this year) since late 2020.

Outside of autos in consumer electronics, Huawei + Xiaomi command about 25% market share in Europe, behind only Samsung and Apple. All in all, we think NIO selling tens of thousands of vehicles per year in Europe would be considered a success mid-term and investors do not give them credit for this at all.
NIO officially announces entry into Norway, ES8 to be first export model