Building cars is a business that needs to burn money, with labor costs taking up a big part of it, especially for China's emerging electric car companies.
NIO, Li Auto, XPeng Motors, and Tesla China gave an average monthly salary of RMB 15,367 ($2,366) in this year's hiring, up 21.6 percent from a year ago, according to a report released Tuesday by job site Boss Zhipin.
The number of job openings at these companies has continued to climb so far this year. Among them, their demand for positions such as self-driving research and development, intelligent cockpit design, software engineers, sales, and user operations has increased by more than 1.8 times year-on-year, the report said.
With the rise in recruitment demand, the industry's salary level has also risen significantly, especially for some positions related to autonomous driving algorithms, where annual salaries can even reach more than 1 million yuan, according to the report.
With the entry of Internet giants including Baidu and Xiaomi, the new car makers need to build their core strengths and therefore have a high demand for hiring talent in R&D, operations, sales, and service positions.
NIO offers a salary range of RMB 26,000-50,000 for smart cockpit recommendation algorithm development positions, while the chief system architect for intelligent human-computer interaction is paid as much as RMB 80,000-111,000 per month, according to the report.
NIO has built its first European marketing team, battery swap station has been shipped to Europe
Li Auto offers a monthly salary of RMB 30,000 - 60,000 for the smart cockpit senior systems engineer position and RMB 35,000 - 60,000 for the smart cockpit test manager position.
For autonomous driving-related positions, these companies offer a minimum monthly salary of RMB 25,000. Among them, XPeng's senior engineer of autonomous driving vision algorithm and senior expert of autonomous driving software have an annual salary of RMB 600,000-800,000.
Previously, according to media reports, Tesla will set up an R&D center in China. But at present, from the recruitment information, Tesla's recruitment about core technical positions such as smart connectivity and autonomous driving is still concentrated abroad, the report said.
In China, Tesla's talent demand is focused on software engineers and front-end engineers, with a monthly salary range of RMB 20,000 - 40,000 yuan.
Notably, talent for sales positions has also become a key target for them to compete for.
On the Boss Zhipin website, the salaries offered by NIO, XPeng, Li Auto, and Tesla in Beijing for this position are RMB 20,000-40,000, RMB 15,000-30,000, RMB 15,000-20,000, and RMB 9,000-12,000, respectively.
The average monthly salary for car sales with 1-3 years of experience in Beijing is RMB 8,600; the average monthly salary for car sales with 3-5 years of experience is RMB 12,900.
In terms of hiring requirements, NIO and Tesla clearly state that work experience is not a must, while XPeng and Li Auto require 1-3 years of work experience.
In other words, they offer salaries for sales positions that are much higher than the market average, according to the report.
Talent shortage has become the biggest factor limiting the development of the smart car industry, and in the next 4-5 years, the talent gap will reach hundreds of thousands or even millions, the report said.
"Many colleges and universities are still set up with disciplines mainly in the traditional automotive industry, but the requirements for talents have fundamentally changed," the report quoted an industry source as saying.
The industry's demand for talent is now more focused on new areas such as vehicle networking, software development, intelligent driving systems, system integration and control, algorithms, and artificial intelligence, the source said.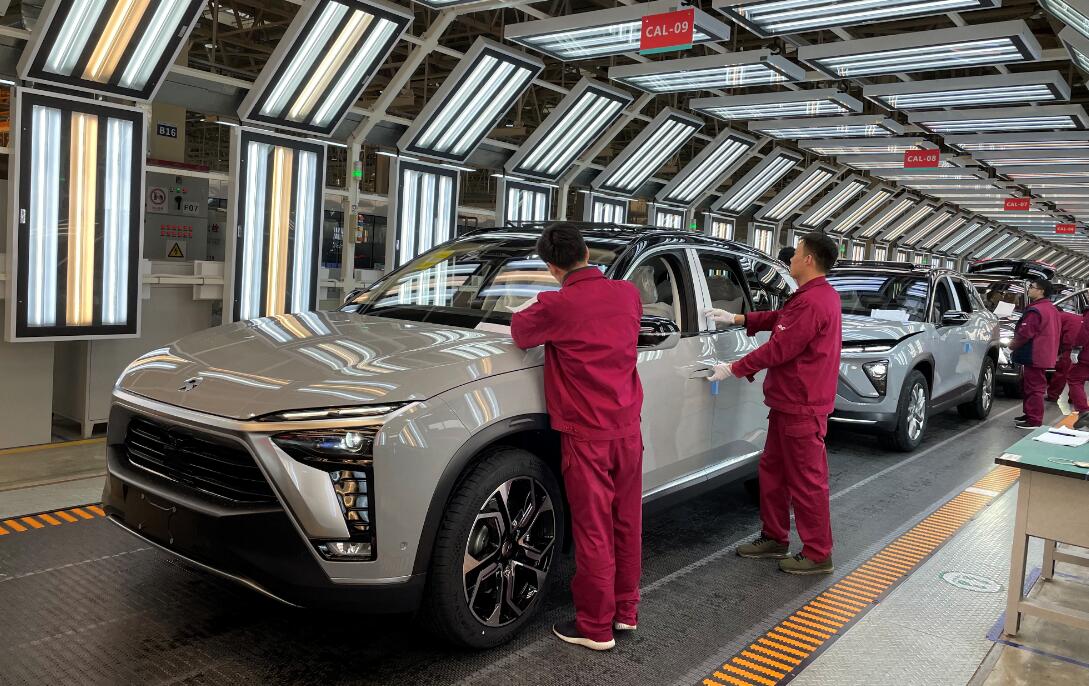 (Source: CnEVPost)
Get China EV News Directly in Your Inbox
If you like what we do, you can buy us a coffee, via the button in the lower right corner or by clicking here.