Chinese smartphone giant Xiaomi Group is fast-tracking its car-making ambitions and is expected to launch the project within 1-2 months at the earliest, 36kr.com has learned from sources close to the company's founder Lei Jun, including investors and car company executives.
Xiaomi's initial discussions on brand positioning are similar to XPeng Motors, focusing on the mid-to-high-end market with strong technology attributes, the report said.
In late February, Lei met with NIO founder William Li to consult on a car build, the report said.
The person in charge of the plan is Wang Chuan, co-founder, and chief strategy officer of Xiaomi, who was at the helm of Xiaomi TV, considered to be one of Xiaomi's most successful businesses outside of smartphones, according to the report.
Other industry sources close to Lei said that "as soon as this month or next month, a Xiaomi car-making project could be set up."
"It's almost an internal consensus that the head of Xiaomi's car-making project is Wang," 36kr.com quoted the sources as saying.
A car company executive also said, "Wang visited Li Auto many times last year, and if the No. 1 person in charge of Xiaomi's car build is Lei, the No. 2 person in charge is Wang."
Wang joined Xiaomi in 2012 and has been in charge of the TV department, staff department, China region, and large appliances department, and has participated in the whole chain of product development, production, channels, and sales.
Wang has been Lei's business partner and close friend for many years, and according to media reports, Lei once told Wang: "I support whatever you do".
Wang is studying the automotive industry on behalf of the Xiaomi Group, seeking various resources such as talent, technology, and factory manufacturing, the report said.
On the talent side, Wang is already in contact with some quality executives in the auto industry, seeking CEO candidates for auto companies.
But the sources also revealed that the plan has not yet been finalized and does not rule out ending up with one of Xiaomi's own executives as CEO.
Capital sources close to Xiaomi's top management told 36kr.com that Xiaomi hopes to understand the auto industry chain through investment, and the investment activity is likely to surface before the car-making project.
Currently, Xiaomi is focusing on smart driving-related hardware technology, including chips and LIDAR.
And in terms of factory manufacturing, Xiaomi also has multiple actions.
Sources told 36kr.com that Xiaomi had contact with Borgward and Kaiyun Motors, which is targeted at urban distribution logistics, but talks with Borgward have been halted.
"Xiaomi has also thought about finding BYD and other car companies to OEM, but is more worried about the latter's resource input degree and controllability." Sources told 36kr.com, "so it tends to look for partners with production resources that can be easily controlled through restructuring."
As a result of the news, Xiaomi's shares traded in Hong Kong quickly turned from down to up 2.67 percent.
Xiaomi clarifies reports that it plans to build electric cars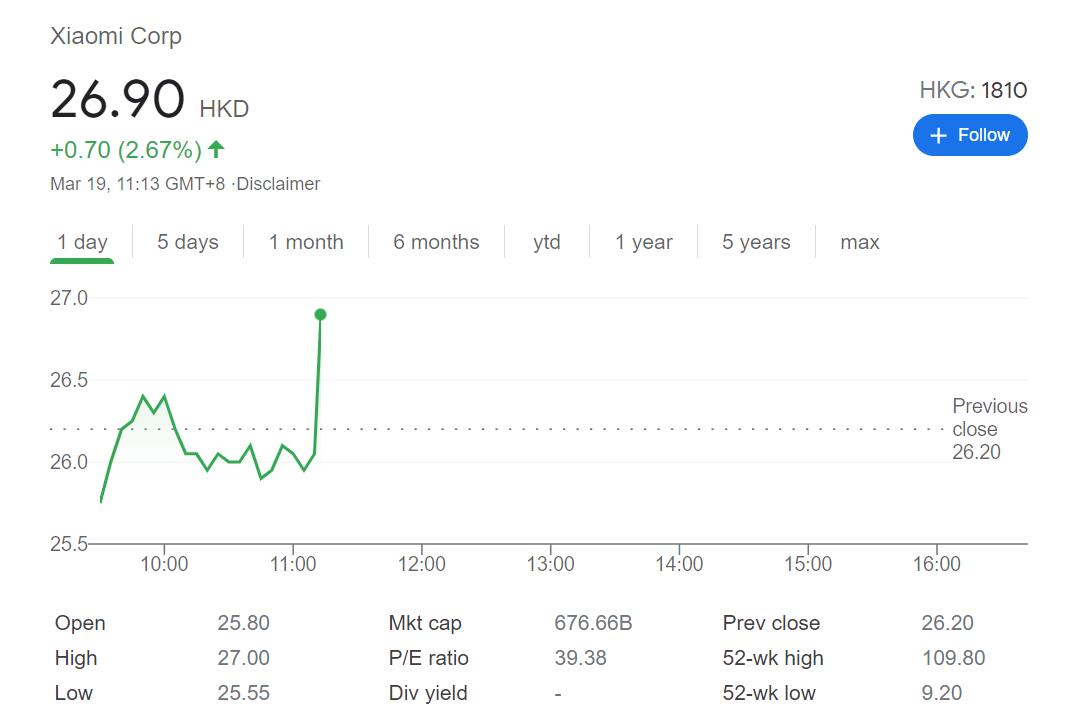 Last month, Chinese media outlet LatePost cited multiple sources as saying that Xiaomi has decided it will build a car and sees it as a strategic-level decision.
The exact form and path for Xiaomi to build a car has not yet been determined and may still be subject to change, the report said.
The report cited a person familiar with the matter as saying that Xiaomi's project to build a car will likely be handled by Xiaomi Group founder Lei Jun himself.
Lei, who visited Tesla CEO Elon Musk twice in 2013 in the U.S., wrote on his WeChat account that he was curious about Tesla, whose market value had risen sevenfold to more than $20 billion a year at the time, and the smart electric car industry in which it operates.
Now Xiaomi is among the top three in the world in the smartphone industry, but at the same time, global cell phone sales growth has stagnated.
Soon after this report, Xiaomi has officially clarified, though not explicitly denied, reports of its entry into the car-making industry.
In an announcement filed with the Hong Kong Stock Exchange Sunday evening, Xiaomi said it noted recent media reports about its plans to enter the electric vehicle manufacturing industry, but that "the Group's research on the electric vehicle manufacturing business has not yet reached the stage of formally setting up the project."
"The Group has been following the development of the electric vehicle ecology and has been conducting continuous assessment and research on the relevant industry dynamics," the announcement said.