XPeng Motors announced on Monday that it would hold a 3,000-kilometer drive via Navigation Guided Pilot (NGP) from March 19 to 26 to show off the electric car company's self-driving technology.
The vehicles will depart from Guangzhou, a city in southern China, and travel through Shantou, Quanzhou, Wenzhou, Hangzhou, Shanghai, Nanjing, Qingdao, Jinan and arrive in Beijing in northern China.
The route will cover 3,675 kilometers, of which more than 3,000 kilometers can be covered using NGP, the company said.
In the process, XPeng P7 sedans equipped with NGP will challenge a lower manual takeover rate per 100 km, the higher success rate of automatic lane change overtaking, high-speed ramp change success rate, and tunnel use success rate.
XPeng invites teams to use the XPeng competitor's autopilot assist function to output data evaluation with the same start and finish locations.
The event is the longest distance self-driving assistance challenge in China and selects roads that users would actually drive on, according to XPeng.
With NGP, the star product of XPILOT 3.0, the vehicle can drive from point A to point B with automatic navigation assistance based on the navigation route set by the user.
Since NGP was opened to users on January 26, the accumulated user mileage has exceeded one million kilometers in 25 days, according to XPeng.
XPeng also hopes that all invited guests can also experience its charging network layout as well as charging experience in a long-distance self-driving scenario.
XPeng will report its fourth quarter and fiscal year 2020 unaudited financial results on March 8 before the open of the US stock markets.
XPeng's management will host an earnings conference call at 8:00 AM US Eastern Time on March 8, 2021 (9:00 PM Beijing/Hong Kong time on March 8, 2021).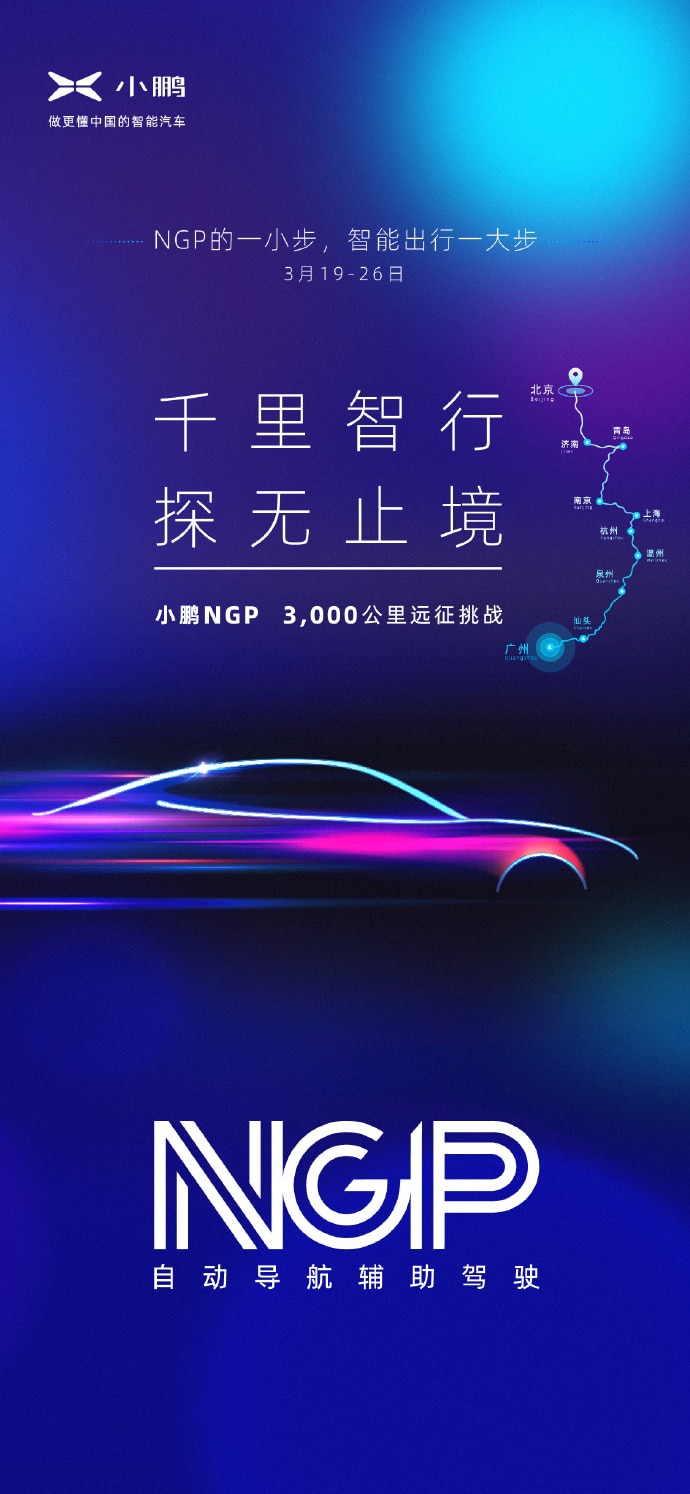 (Source: XPeng)
CnEVPost Daily Newsletter