This hottest-selling model in China is also world's top-selling electric car
The WulingHongguang Mini EV, the top-selling electric car in China, was also the world's monthly electric car sales leader in January.
According to data aggregated by ev-sales.blogspot.com, the Wuling Hongguang Mini EV sold 36,762 units in January this year, far outpacing other electric vehicles.
The Tesla Model 3 came in second with 21,589 units sold, the Model Y came in third with 9,597 units sold, and the BYD Han EV came in fourth with 9,298 units sold.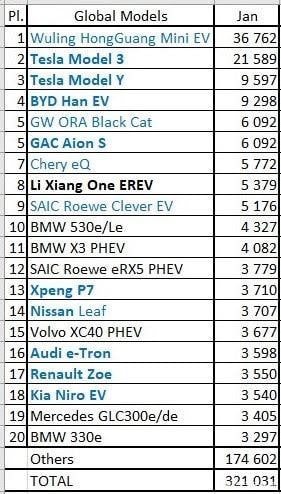 (Source: EV-sales.blogspot.com)
As previously reported by CnEVPost, the Wuling Hongguang Mini EV sold a whopping 36,762 units in January, ranking No. 1 in China for five consecutive months.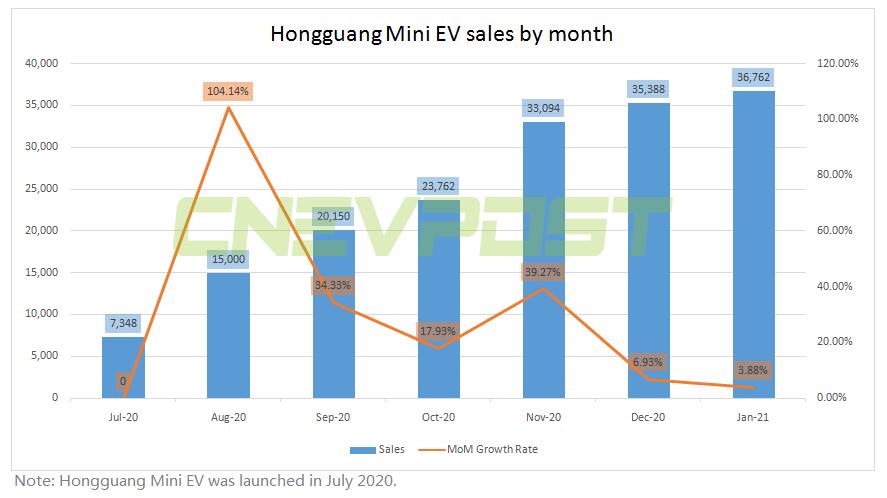 (Graphic by CnEVPost)
The vehicle has been the No. 1 selling new energy vehicle in China in 2020 with sales exceeding 150,000 units in the six-month period since its launch in July 2020. The vehicle's sales exceeded 35,000 units in December 2020.
Wuling encouraged users to modify the car to attract more young consumers, with 165,000 users modifying their Wuling Hongguang Mini EV.
Global plug-in passenger vehicle sales doubled year-on-year for the fourth consecutive month in January 2021.
In January, more than 321,000 plug-in electric vehicles were registered worldwide, up 112 percent year-on-year and representing about 5 percent of the overall vehicle market.