Chinese EV maker Xpeng Motors went public on August 27 on the New York Stock Exchange (NYSE), with an offering price of $15. It went up 41% on the first day of trading to reach a market capitalization of approximately $14.96 billion.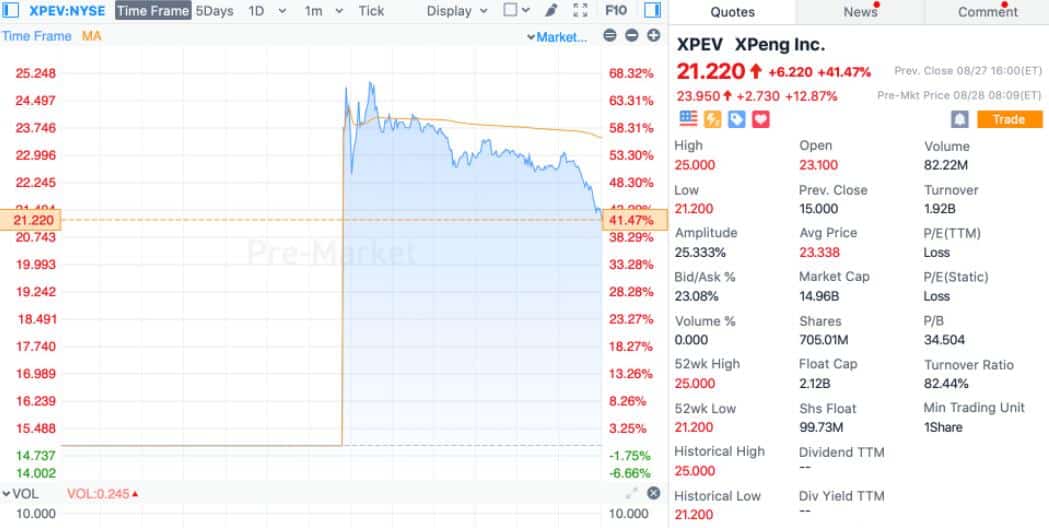 This makes Xpeng the third Chinese EV startup to go public in the US, following NIO and Li Auto.
Xpeng CEO He Xiaopeng said at the IPO site: "The competition in EVs is just getting started, and a small step ahead now is not valuable enough; what matters is how to succeed in the next decade."
Since the beginning of the year, the shares of US electric car maker Tesla have risen by about 370 percent, making it the world's highest market capitalization car company.
With a market capitalization of more than $400 billion, Tesla is equal to about two Toyotas, nine General Motors, and 14 Ford Motors, and its sales are a fraction of those of the traditional auto giants.
This contrast highlights a fundamental shift in the capital market's attitude toward electric car companies.
Against this backdrop, recent share price gains for both NIO and Li Auto, EV startups from China, have been remarkable.
Although Xpeng is the last to go public, it has a unique market advantage in that it offers both an SUV and a sports sedan.
It is backed by Alibaba, HillHouse, Sequoia Capital, Xiaomi, IDG, Morningside Venture Capital, and Qatar Investment Authority.
It took Tesla 17 years to struggle from the brink of death to the top of the industry, will its Chinese apprentices be the new disruptors?
Xpeng plays catch up
Xpeng, a star among electric car startups, raised its planned $11 to $13 offering price to $15 ahead of its IPO and raised its offering to 99.7 million shares from 85 million.
It raised $1.496 billion in funding, with four existing shareholders, Alibaba, Coatue, Qatar Investment Authority, and Xiaomi, expressing interest in buying up to $200 million, $100 million, $50 million, and $50 million respectively.
Like NIO and Li Auto, Xpeng's products are aimed at the mid-to-high end of China's passenger car market, with prices ranging from RMB 150,000 to RMB 300,000.
According to an IHS Markit report, 30.6 percent of China's passenger car market in 2019 will be mid-to-high-end and its EV penetration rate will be higher than the rest of the price range, which is why EV startups are entering the market more often from this price bracket.
Xpeng started production of the G3 (SUV) in November 2018 and delivered a total of 18,741 G3s to customers as of July 31, 2020.
Deliveries of its sports sedan, the P7, began in May 2020 and a total of 1,966 units were delivered as of July 31, 2020.
The company also plans to launch its third smart electric sedan in 2021 to further expand its portfolio and customer base.
For comparison, NIO delivered 10,031 units in the second quarter of 2020, including 8,068 ES6 and 2,263 ES8 units.
Cumulative deliveries of the ES8 and ES6 totaled 49,615 units at the end of July this year.
In the second quarter of 2020, Li Auto delivered a total of 6,604 units, with the production of its flagship model, the Li ONE, beginning in November 2019. As of June 30, 2020, Li Auto had delivered 10,400 vehicles.
All told, the Xpeng is somewhere in between in terms of deliveries.
The amazing thing is that Tesla delivered 90,650,000 vehicles in the second quarter of this year alone, with about 31,000 of them coming from China, accounting for 34.2 percent of its total sales.
Tesla's market position still eludes these EV startups, and the Xpeng P7, which is seen as a competitor to Tesla's Model 3, is competitive in both looks and performance.
While Xpeng says it actually has more than 15,000 orders for the P7, it remains to be seen what the actual sales will be.
As of June 30, 2020, Xpeng has 147 offline stores and service centers, covering 52 major cities in China.
On the production side, it is producing the G3 model through a partnership with Haima Motors' Zhengzhou plant on the one hand and setting up its own factory site in Zhaoqing, Guangdong province, on the other, where it will start production of the P7 in May 2020, which will also be used to produce future new models. Its Haima and Zhaoqing plants have an annual production capacity of 150,000 and 100,000 units, respectively.
Xpeng posted a net loss of RMB 3.692 billion in 2019 and a loss of about RMB 796 million in the first half of 2020, a significant narrowing from RMB 1.918 billion in the same period last year.
Its operating expenses were mainly focused on research and development and selling and management expenses, with research and development expenses accounting for 89.2% and 62.9% of its total revenue in 2019 and the first half of 2020, respectively.
Its largest R&D investment occurred in 2019, amounting to RMB2.07 billion.
Xpeng's R&D investment in the first half of 2020 was about RMB 631 million, and notably, expenses on sales and management also soared to RMB 799 million, surpassing R&D investment at one point.
In the second quarter of this year, Tesla's total revenue was $6.036 billion and non-GAAP net income was $451 million, making it the fourth consecutive quarter of profitability.
Outside of Xpeng, a representative of domestic EV startups, NIO's total revenue for the second quarter of 2020 was RMB 3,718.9 million, up 146.5 percent year-over-year.
Its net loss narrowed by 63.6 percent year-over-year but still stood at RMB1,207.8 million.
Li Auto's net loss for the second quarter was RMB 75.2 million ($10.6 million), and electric car startups still have an uphill battle to turn it around.
Aiming for the high end
When people talk about EV startups, including EV startups themselves, they like to use Tesla, a market pioneer, as a market comparison, just like many Chinese mobile phone users like to compare it with Apple.
But unlike Tesla, today's EV startups are facing a more complex market battle.
Although compared with Tesla in terms of technical indicators and localized operating capacity, it may not be worse than Tesla, but if you want to get out of the high-end elite brand from the impression of domestic cars, five or six years of time test is still not convincing.
Cars are different from other electronic consumer products. Besides good design, intelligent interaction, automatic driving, and interior decoration are all icings on the cake. All of these features may be compromised by a few vehicle accidents, affecting consumer confidence.
In just a couple of years or even a few months, almost all EV startups have been exposed to a variety of accidents, such as spontaneous combustion, high-speed failures, and broken axles.
Even though all the companies explained in the shortest possible time that it had nothing to do with the quality of their products, and either took urgent measures or compensated to avoid further negative publicity, the underlying issues still need to be addressed.
In addition to the higher income brackets, which have enough money to buy and trade in their cars frequently, more families are buying cars that may take 5 to 10 years to run.
There is a fundamental difference between building a car from a technical concept and using a technical concept from a car, and the prerequisite for building a car is to build a good car, no matter how many trendy technical concepts are mentioned.
The brand of electric car startups, not just by burning money can be shaped up, the best brand impression is still to rely on the long-term quality test and user experience.
The traditional giant car enterprises operating for decades to build new energy vehicles are not good? What core technology is lacking? In addition to considering the interests of thousands of enterprises upstream and downstream of the vehicle, they tend to be more cautious and conservative in their choice of technology routes.
More competition
The next step for electric car startups is competition from local brands and pressure from the transformation of established car companies.
NIO, Li Auto, and Xpeng are in the first tier and are likely to take the majority share of the new energy vehicle circuit in the future. But will that be the case? There may be a question mark.
According to third-party platforms, there are more than 1,000 new-energy models currently on sale from Chinese auto brands, with almost complete coverage in every price range. There is also a wide variety of models, and the market is more likely to blossom.
And an interesting phenomenon is that in the July 2020 new energy vehicle sales ranking, in addition to Tesla holding the top spot, expensive electric car startup brands (such as NIO, Li Auto, Xpeng, Weimar, etc.) have also made a lot of efforts in marketing.
However, from the market's perspective, new energy vehicles that are low-end and cost-efficient for large manufacturers are clearly more popular with consumers. For example, the Wuling MINI EV sold 7348 units in a single month, Guangzhou Automobile New Energy's Aion S ranked third, and BYD's Qin, Song, Yuan, and Tang models did not sell badly either.
It may be countered that high-profile EV startups are not comparable to these low-key mid-range brands and that the new powerhouse has a more distinctive product offering.
But the market isn't going to pay for a high-profile new brand to shape an innovative service concept. New energy is the trend of the entire automotive industry, whether emerging brands or traditional car companies, product sales and popularity is always a factor that substantially affects the long-term development of a car company.
And the real strength of the car companies now has not begun to make serious efforts, just preliminary test water.
Mercedes-Benz launched a purely electric SUV model EQC350, BMW 5 series plug-in hybrid models, Audi e-tron SUV. These traditional car companies are very strong after the power, in the 300,000 yuan price point or higher to squeeze the market share of electric car startups is the probability of the event, and thus from the Chinese local emergence of the next Tesla more and more difficult.
NIO, Li Auto, and Xpeng have gone public and become the first echelon of electric car startups with the help of strong capital behind the scenes.
But from the trend of new energy vehicles, it does not matter what the new power or old power, product sales is the hard power.
Listing is only a starting point for these electric car startups to expand their funding channels, the real market test and collision has just begun.
CnEVPost Daily Newsletter