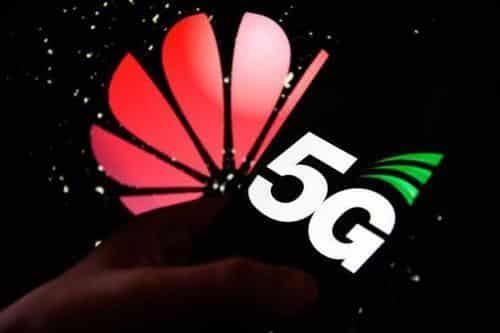 Huawei's 5G in-vehicle module is now commercially available, Tencent News said yesterday, citing sources close to Huawei Vehicle BU.
Earlier, BYD said its new model, the Han, will be the world's first mass-produced model to feature Huawei 5G technology. But as to which Huawei technology was used was not revealed.
As a pure electric/hybrid sedan for the medium and large luxury market, BYD Han was officially launched in April this year, with a subsidized pre-sale price range of 230,000-280,000 yuan, and is expected to go on sale in June.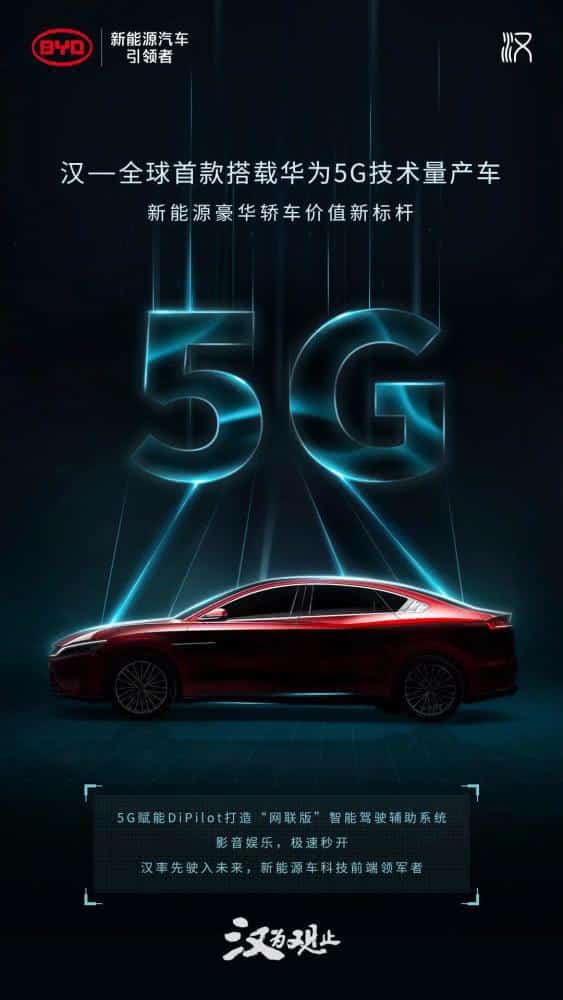 The technology is exactly what Huawei's 5G in-vehicle module, which supports a peak 2Gbps downlink rate, the person with knowledge of the matter said. It also means that the BYD Han will be the world's first mass-produced car with 5G communication capability.
At last year's Shanghai Auto Show, Huawei showcased the industry's first 5G in-vehicle module, the MH5000, which uses the 5G multimode terminal chip Balong 5000 chip, which is highly integrated with C-V2X technology for road collaboration.
Judging by BYD's official poster, the electric car is equipped with BYD's newly launched DiPilot intelligent driver assistance system.
The system has automatic emergency brake assist system, forward collision warning system, adaptive cruise, single-lane integrated cruise, traffic congestion assistance and other functions. Not on par with mainstream electric vehicles on the market.
What really caught the industry's attention was its use of the latest 5G in-car module.
As we all know, 5G commercial, vehicle networking is the typical application scenario. Whether it's intelligent control, in-car entertainment, autonomous driving, all rely on cellular communication modules, V2V modules to achieve.
For automotive companies, compared with 4G vehicle modules, 5G vehicle modules with high speed, low latency and large capacity can enable vehicles to have V2X communication capabilities, truly realizing the communication between car and person, car and car, car and road testing facilities, car and network.
For example, for an existing 4G network, the same data processing may take about 50 milliseconds, but for 5G, the delay is reduced to just one millisecond.
This will change the way connected vehicles operate, sharing information between vehicles and infrastructure almost instantaneously.
The benefit to car companies is that 5G can also greatly accelerate the pace of innovation. Access to data will be faster, and computing workloads can be dynamically shifted, balancing the work done on the car with the work done in the cloud.
After more than a year of integration with car companies, Huawei's 5G car module officially empowered BYD DiPilot, with the support of hardware configuration and Huawei's 5G technology, the traditional "stand-alone" automatic driving assistance function in the car becomes the "network version" intelligent driving.
At the moment, the 5G network is still going on, and it can be said that it is not yet perfect, but Huawei's 5G in-vehicle module also supports the smooth transition from 4.5G to 5G to maximize the protection of car companies' investment in R&D.
According to an agency report, the global connected car market size is expected to grow 270% by 2022.
Between 2020 and 2022, more than 125 million new connected vehicles are expected to be launched globally. It is expected that by 2022, the global major automotive markets will have close to 100 percent of new vehicle Internet adoption.
Since Huawei launched its first in-vehicle module, ME909, to provide wireless network connectivity for cars many years ago, Huawei has partnered with more than a dozen top domestic and international automakers.
Last month, Huawei announced that it had joined hands with FAW, SAIC, BAIC, Dongfeng Motor, Changan Motor and BYD to build a "5G car eco-circle", accelerating the commercial process of 5G technology in the automotive industry.
For Huawei, becoming the global leader in the Internet of Vehicles is probably the next focus after communication devices and smartphones. Some cars like the BYD Han with Huawei's 5G in-car modules are already on the road.