From January to October, WM Motor delivered a total of 34,068 units, up 101.7 percent year-over-year, the company said.
WM Motor, one of China's highest-profile electric vehicle startups, posted record sales of 5,025 units in October, up 67 percent year-on-year and essentially flat from the 5,005 units it sold in September.
The company said its sales in October were a record high for a single month, even though it has only released sales figures for June, September and October so far this year.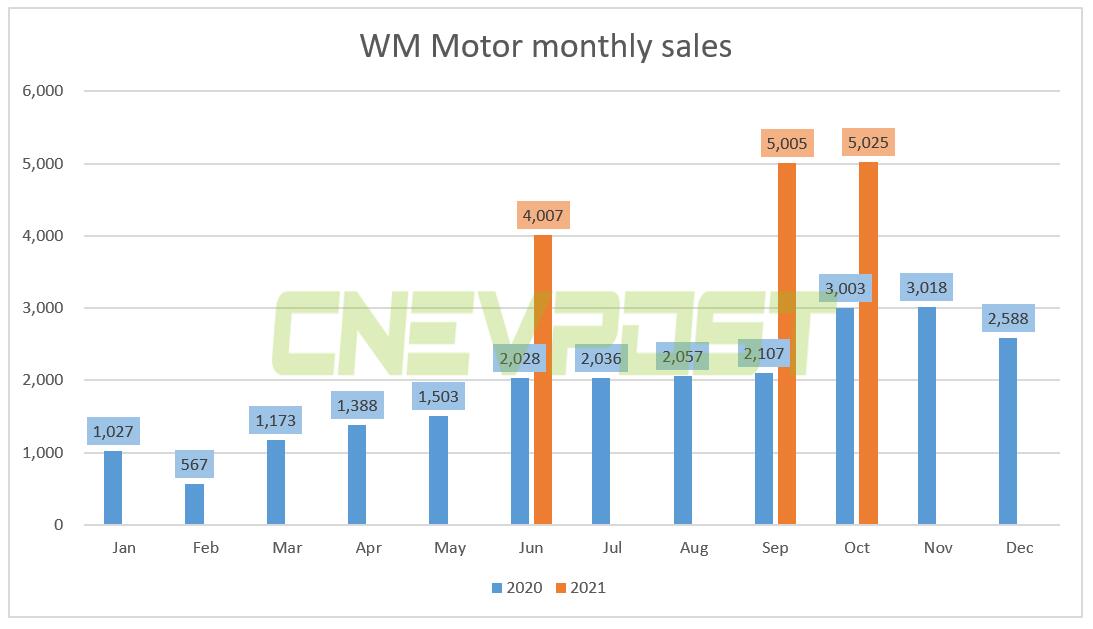 (Graphic by CnEVPost)
From January to October, WM Motor delivered a total of 34,068 units, up 101.7 percent from a year earlier, the company said.
Since the first vehicle deliveries began in September 2018, WM Motor has delivered a total of 78,597 electric vehicles, it said.
Shen Hui, founder, chairman and CEO of WM Motor, said the company continues to gain share in the RMB 150,000 ($23,440)-250,000 mainstream passenger car market through the EX5 and W6's excellent smart experience and reasonable cost control.
WM Motor's cumulative deliveries exceeded 78,000 units, which shows that customers are accepting and enjoying the convenience of smart mobility, and that they recognize WM Motor's "technology for all" concept, he said.
As one of China's most talked-about new car makers, WM Motor has been questioned for lagging behind its peers this year because it stopped releasing sales figures.
In July, Shen broke his silence and said the company sold 4,007 units in June, a 97.6 percent increase from the previous year.
WM Motor currently offers three models - W6, EX5-Z and EX6 Plus - with subsidized starting prices of RMB 169,800, RMB 149,800 and RMB 279,900 respectively.
On October 2, the company announced the highly anticipated M7, its first sedan, which presents a controversial look while offering superb hardware features.
The model is positioned as a mid-size coupe with a length of 4,930mm and a wheelbase of 2,918mm. by comparison, the NIO ET7 is 5,098mm long with a wheelbase of 3,060mm. XPeng Motor's P7 is 4,880mm long with a wheelbase of 2,998mm. The Tesla Model 3 is 4,694mm long with a wheelbase of 2,875mm.
In terms of hardware specifications, the M7 is equipped with the top hardware currently available, including most notably three LiDARs, making it the first vehicle announced by a car manufacturer so far to be equipped with three of those components.
WM Motor says the M7 will be delivered in production in 2022, and no pricing information for the model was announced.
WM Motor unveils M7 sedan with superb hardware and controversial look
CnEVPost Daily Newsletter