They are built by Foxtron, a joint venture between Foxconn and Taiwanese car company Yulon Motor.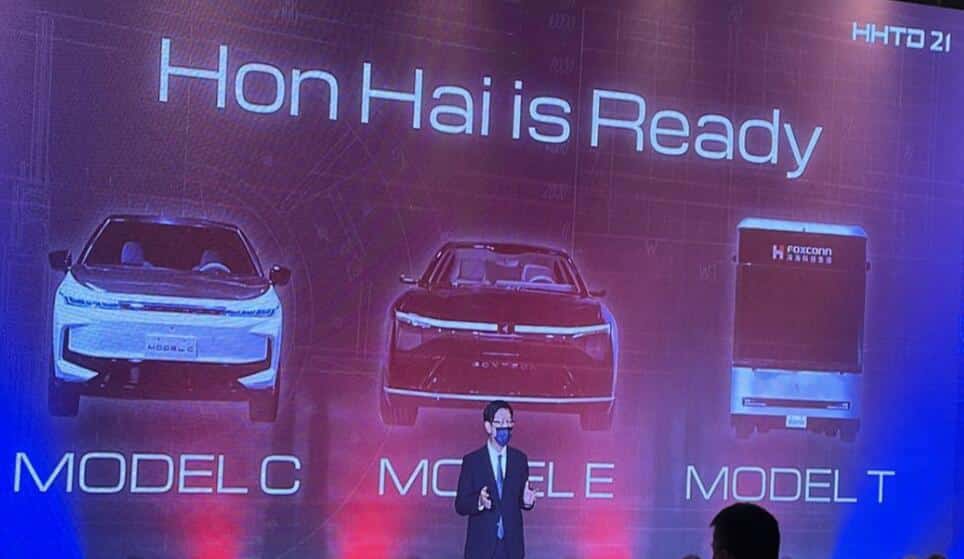 Apple supplier Foxconn today unveiled three electric vehicles (EVs) - Model C, Model E, and Model T - at its Tech Day event, a naming similar to Tesla's model naming.
The Model C is an SUV, Model E is a sedan, and Model T is a commuter bus, and they are being built by Foxtron, a joint venture between Foxconn and Taiwanese car company Yulon Motor.
The Model C is Foxtron's first model built on the MIH open platform for electric vehicles, developed for general household users. The car features a black and white body and through-headlights.
The car is 4.46 meters long, with a wheelbase of 2.86 meters, and its high-performance version accelerates in 3.8 seconds at 100 kilometers and has a range of up to 700km.
The Model E is a mid-to-high-end luxury sedan, built for business customers. It supports face recognition door opening, smart windows, a back seat that doubles as a mobility office and automatic driving.
The Model E has a 0-100km acceleration time of 2.8 seconds, a power output of 750 horsepower and a range of up to 750km.
The Model T "E Bus" has an output of 260kW, 3000N・m torque output, and a built-in high-capacity lithium iron phosphate battery. It has a typical range of 250km and a maximum range of 320km.
The vehicle is equipped with electronic air suspension, electro-hydraulic power steering and ABS disc brakes to ensure comfort and safety.
The MIH electric vehicle platform will also be used by other brands, with Yulon Motor's Luxgen and CMC brands among Foxtron's first customers.
Foxtron says its goal in the electric vehicle sector is to provide a full range of services including parts, design, complete solutions and assembly and manufacturing.
Foxconn ramps up efforts in NEV industry with new investment
Get China EV News Directly in Your Inbox
Join our Telegram group to be alerted the moment we publish an article: t.me/CnEVPost
If you like what we do, you can buy us a coffee, via the button in the lower right corner or by clicking here.