Leap Motor's deliveries in September fell about 9 percent from August, which the company blamed on a lack of chip supply.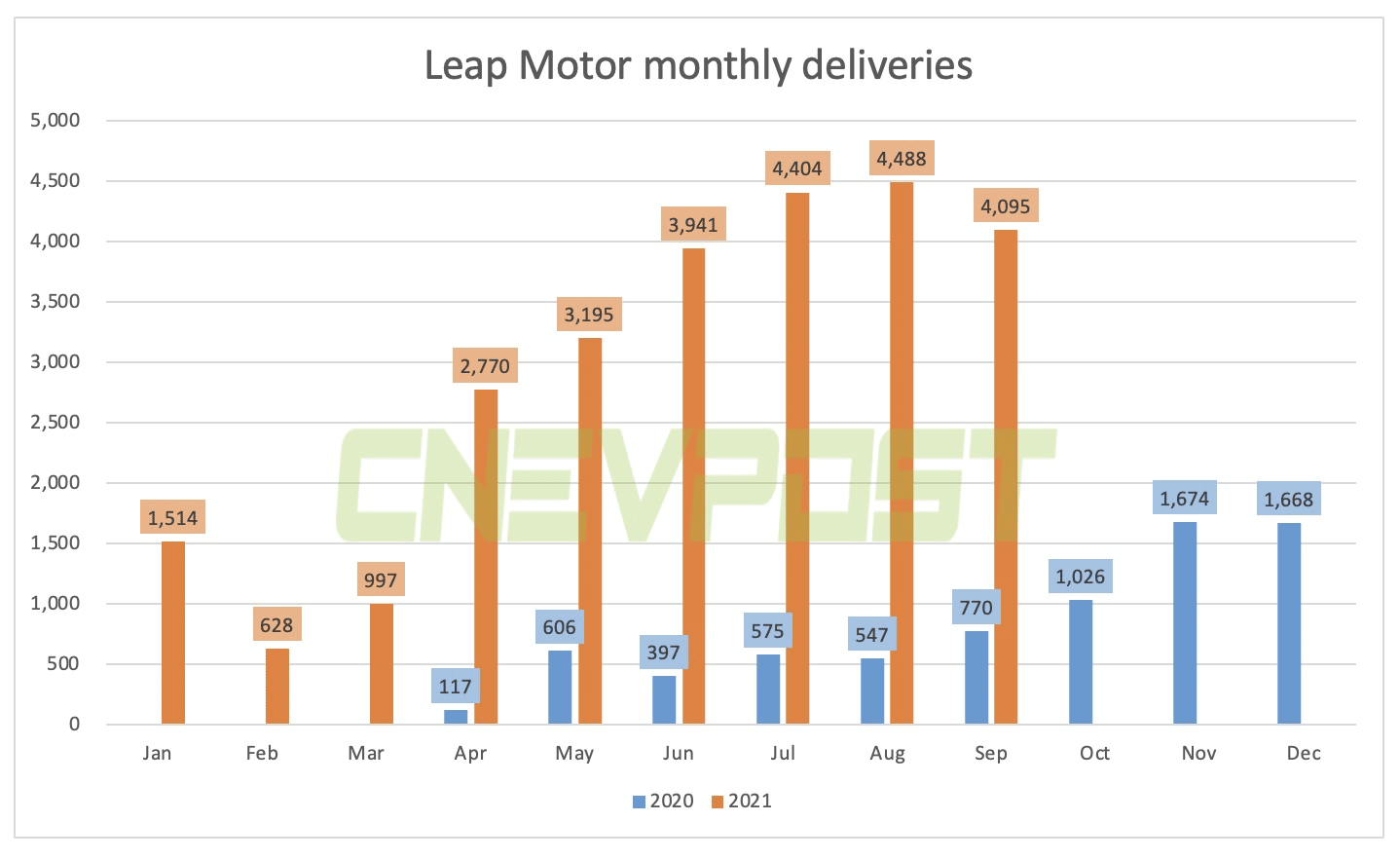 (Graphic by CnEVPost)
Leap Motor delivered 4,095 vehicles in September, up 432 percent from a year earlier, but down about 9 percent from August, the Chinese electric car startup said today.
The company blamed a lack of chip supply for the September drop in deliveries.
Leap Motor said it received orders for 8,754 units in September and has accumulated 44,416 orders so far this year.
Orders for the T03 model were 7,541 units in September, the company said.
The T03 is available in five models with a price range of RMB 59,800 ($9,250) to RMB 76,800.
The company's other coupe model currently on sale, the S01, includes two versions with starting prices of RMB 129,900 and RMB 149,900, respectively.
The company's flagship SUV, the C11, officially opens for pre-sale in early 2021, goes on sale on September 29 and deliveries begin in October.
The vehicle is available in three options, priced at RMB159,800, RMB179,800 and RMB199,800.
The C11 measures 4,750 x 1,905 x 1,650mm and has a wheelbase of 2,930mm. it has a maximum NEDC range of over 600km and the dual motor 4WD version has a claimed 0-100km/h acceleration time of less than 5 seconds.
The model will be equipped with Leap Pilot 3.0 driver assistance system, with modules including chip, algorithm, perception and data developed by the company in-house.
Leap Pilot 3.0 uses two of the company's Lingxin 01 chips with up to 8.4T of computing power, which is 3-4 times more than the existing Mobileye EyeQ4 solution.
It also includes 28 sensors including 11 cameras, 5 millimeter wave radars, 12 ultrasonic radars, and 128G of high precision map storage space is reserved for future upgrades.
Leap Motor secures about $1.55 billion credit line from Chinese bank
Get China EV News Directly in Your Inbox