Tesla China's wholesale sales reached a record 44,264 units in August, up 275 percent year-on-year and up 34 percent from July, according to data released Wednesday by the China Passenger Car Association (CPCA).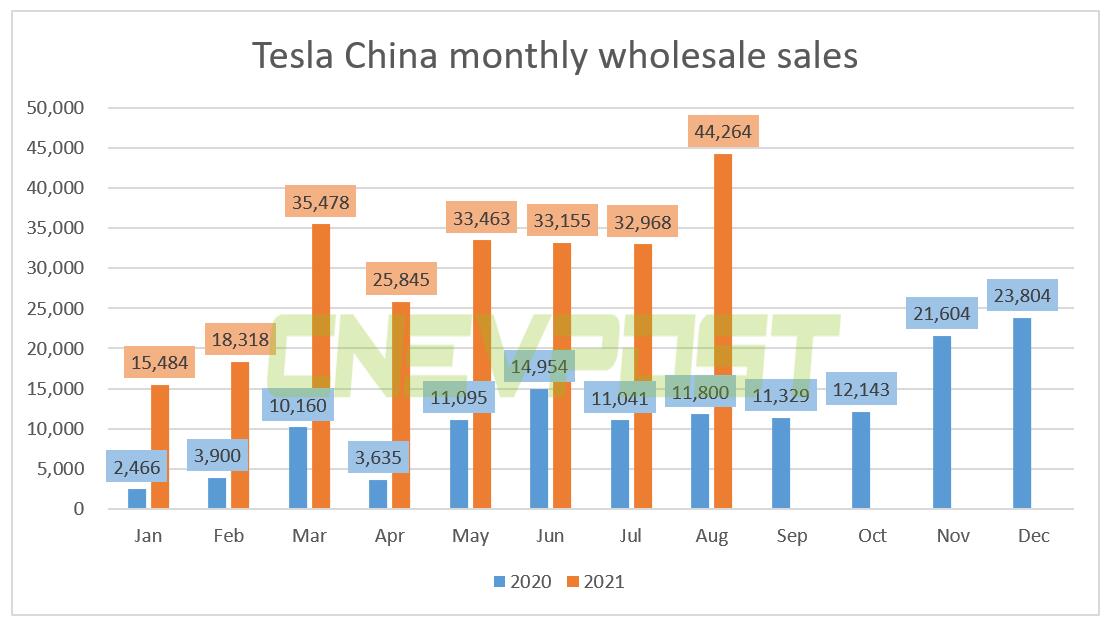 (Graphic by CnEVPost)
The figures released by the CPCA include Tesla's exports, which stood at 31,379 units. This means that Tesla's August sales in China were 12,885 units.
For comparison, Tesla China's wholesale sales in July were 32,968 units, of which 24,347 were exports.
Notably, Bloomberg reported on September 2 that certain operations at Tesla's Shanghai plant were temporarily shut down in August, with a portion of one production line halted for four days because of a lack of key chips.
One particular shortage was related to the availability of electronic control units, which largely caused delays in output of Tesla's Model Y, one of the people said, adding that production has now returned to normal.
The news was not confirmed, which, if true, means that Tesla China's August sales were higher than the CPCA announced.
Tesla China's exports in August were also the highest since data became available, further evidence that the company is using its Shanghai plant as an export hub.
In late July, Tesla said on Weibo that the company had completed the transition of its Shanghai factory as a major vehicle export center.
Tesla's Shanghai plant reportedly halted production for days in Aug due to chip shortage
Get China EV News Directly in Your Inbox
If you like what we do, you can buy us a coffee, via the button in the lower right corner or by clicking here.