Chinese power battery supplier Gotion High-Tech reported first-half revenue of RMB 3.55 billion ($548.5 million), up 46.63 percent year-over-year, with overseas revenue up 102 percent year-over-year, according to the company's semiannual report released Friday evening.
Gotion's net profit attributable to shareholders of the listed company for the first half of the year was RMB 48.17 million, up 33.30 percent year-over-year, the report showed.
The company's power lithium battery business reported revenue of RMB 3.09 billion, up 37.82 percent year-over-year, accounting for 86.99 percent of operating revenue.
The company's overseas revenue for the first half of the year was RMB 168 million, up 102 percent year-over-year, and its 44.51 percent gross margin was 26 percentage points higher than that of its local business.
Last year the company's overseas revenue was RMB 159 million, up more than six times year-over-year, and gross profit was up 5.7 times year-over-year.
As previously reported by CnEVPost, Gotion signed a deal with Bosch Group in July to acquire the latter's plant in Göttingen, Germany, to acquire its first new energy production and operation base in Europe.
In 2019, Gotion joined forces with EBUSCO in the Netherlands to enter the European electric bus market.
In May 2020, Gotion signed an equity partnership agreement with VW, in which VW China invested approximately €1.1 billion to acquire a 26 percent stake in Gotion and become its majority shareholder.
The investment deal was approved by the China Securities Regulatory Commission, making VW the first foreign automotive company to invest directly in a Chinese battery manufacturer.
On July 12, Gotion signed a new agreement with Volkswagen to develop the first generation of standard cells for the latter's regular mass-production models.
The company became the sole battery company in Volkswagen's local holding last year, and VW is expected to deliver 1.5 million new energy vehicles in its home market by 2025, implying a demand for 100 GWh of power cells, the company said.
Gotion's current lithium iron phosphate battery monoblock energy density is 210 Wh/kg, and ternary battery energy density is 300 Wh/Kg.
Gotion is China's fifth-ranked power battery supplier, with 3.38 GWh installed from January to July this year and a 5.3 percent market share, according to the China Automotive Battery Innovation Alliance.
At press time, Gotion's shares traded in Shanghai were up 3 percent in early trading on Monday.
Over 40% of micro cars use Gotion High-Tech's batteries in H1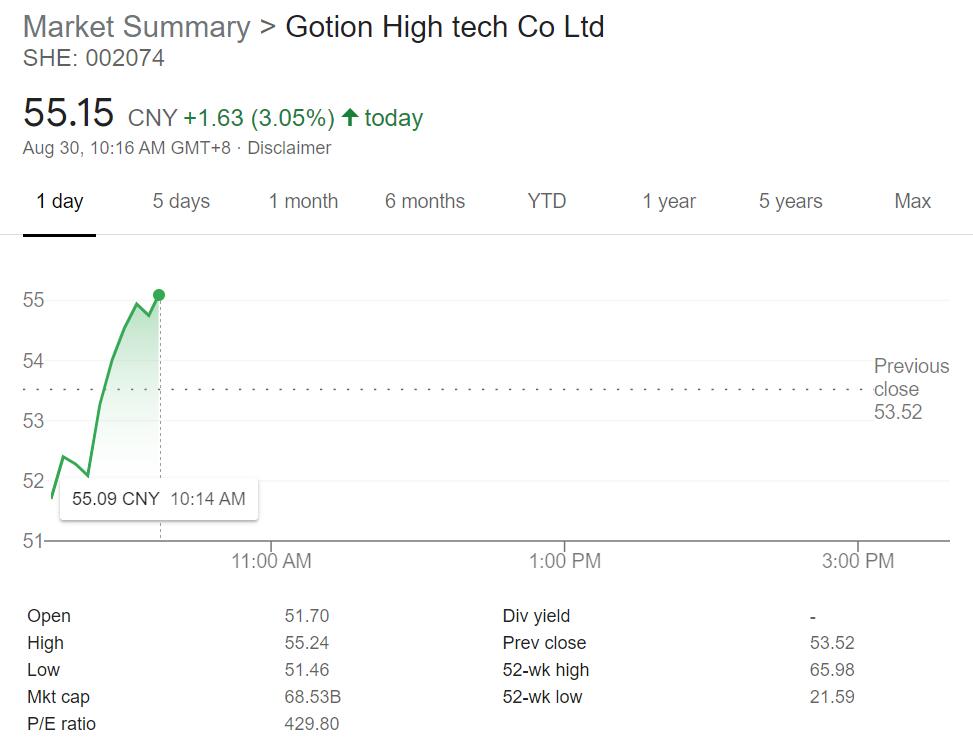 Get China EV News Directly in Your Inbox