SAIC-GM-Wuling Hongguang Mini EV sold 30,706 units in July, ranking first in China's new energy vehicle market for the 11th consecutive month since its launch, the company said Monday.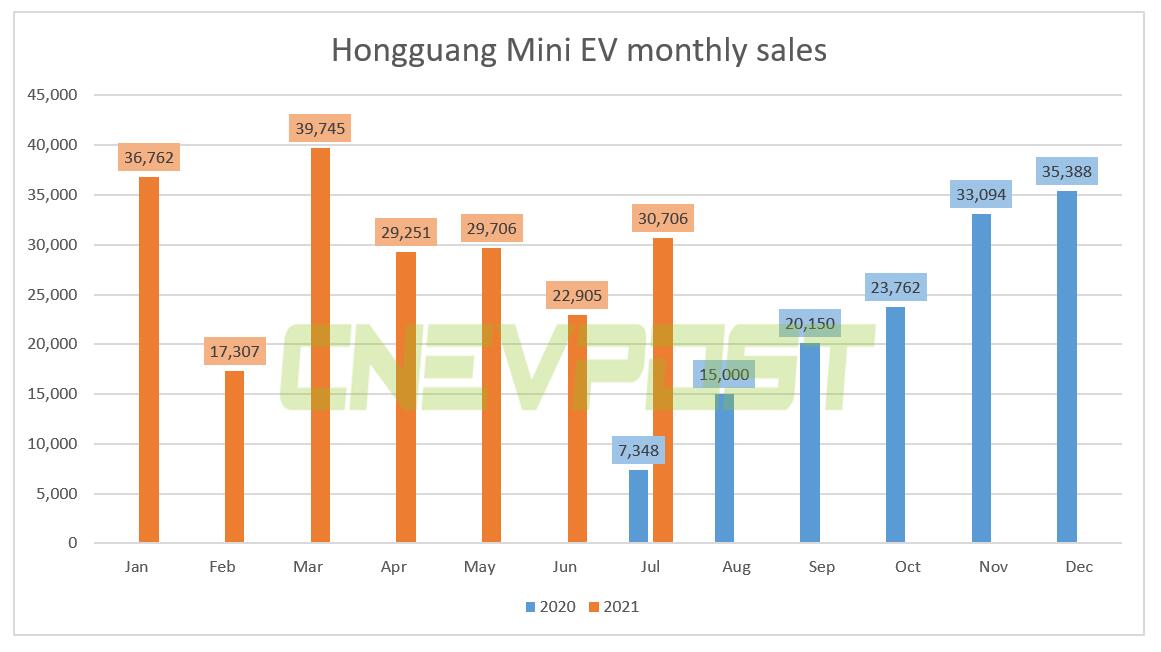 (Graphic by CnEVPost)
The company sold 123,008 units of all vehicles in July, with cumulative sales from January to July reaching 1,007,203 units, up 33 percent year-over-year.
It sold 216,989 units of its GSEV (global small electric vehicle architecture) series from January to July, up 788 percent year-over-year.
From January to July, its overseas export volume reached 87,401 units, up 98 percent year-over-year, exceeding the total export volume of last year.
However, it is worth noting that the sales advantage of the Hongguang Mini EV seems to have gradually declined.
After the car's single-month sales reached a high of nearly 40,000 units since March this year, it is now stabilizing at around 30,000 units per month.
Cheap EVs are no longer the exclusive domain of SAIC-GM-Wuling, which has more and more competitors, with Chery, Great Wall Motor and other car companies launching competing products of the Hongguang Mini EV one after another.
What's more, the Hongguang Mini EV is no longer eligible for free electric car license plates in Shanghai and other places.
Get China EV News Directly in Your Inbox
Join our Telegram group to be alerted the moment we publish an article: t.me/CnEVPost