Li Auto delivered 8,589 units of the Li ONE in July, the first time deliveries exceeded 8,000 units in a single month, up 251.3 percent year-over-year and 11.4 percent from June.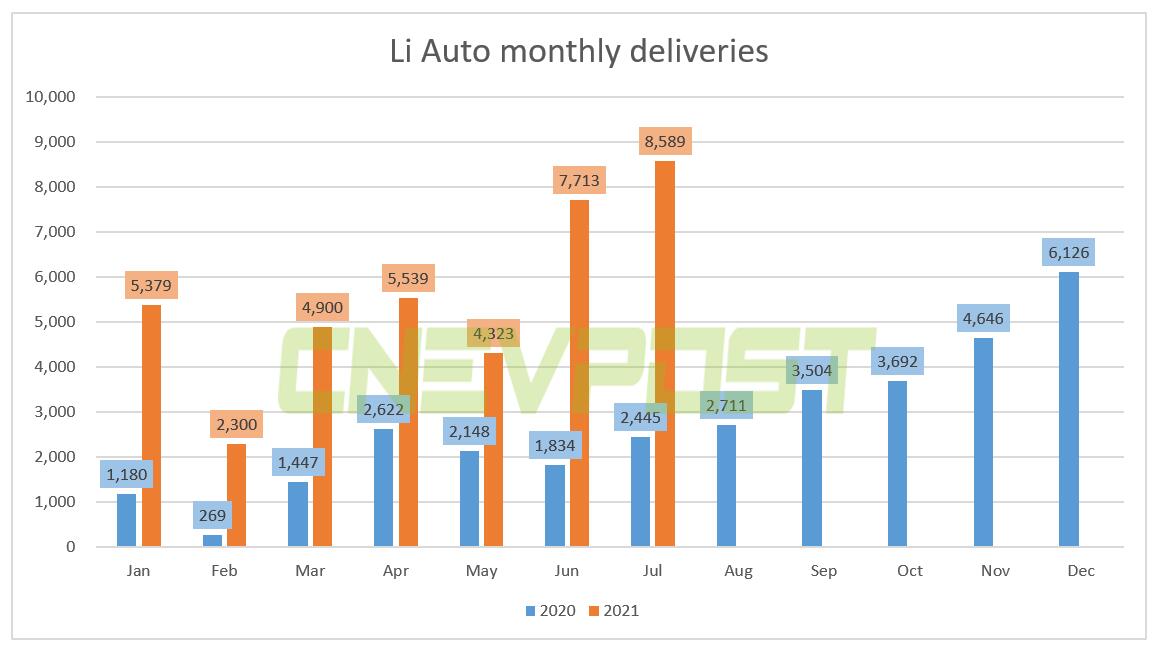 (Graphic by CnEVPost)
Li Auto currently has only one model, the Li ONE, on sale, with total deliveries of 38,743 units in the first seven months of the year, bringing cumulative deliveries to date to 72,340 units, according to data released by the company on Sunday.
"Before the end of the year, we will also launch a heavy-weight OTA upgrade that will take Li ONE's competitiveness to a whole new level," said Li Auto co-founder and president Shen Yannan.
Li Auto's direct retail system construction is accelerating, with plans to have 200 direct retail centers covering more than 100 cities in China by the end of 2021, the company said.
As of July 31, Li Auto had 109 retail centers in China, covering 67 cities, and 176 after-sales repair centers and authorized sheet metal spraying centers, covering 134 cities.
Li Auto released the 2021 Li ONE on May 25 with a starting price of RMB 338,000 ($52,300), RMB 10,000 higher than the previous version. Deliveries of the new Li ONE began on June 1.
Li Auto added more than 10,000 orders in June, a record high, the company previously said.
Notably, despite the popularity of the 2021 Li ONE, owners are now beginning to complain about problems with the vehicle.
Several Weibo users have recently reported that their Li ONE vehicles are making unusual noises at high speeds, suspected to be emitted by the generator.
Owners complain about unusual noise from new Li ONE when driving at high speed
CnEVPost Daily Newsletter