NIO wins Red Dot design award for ET7, a sedan that analysts say has no rival in terms of specs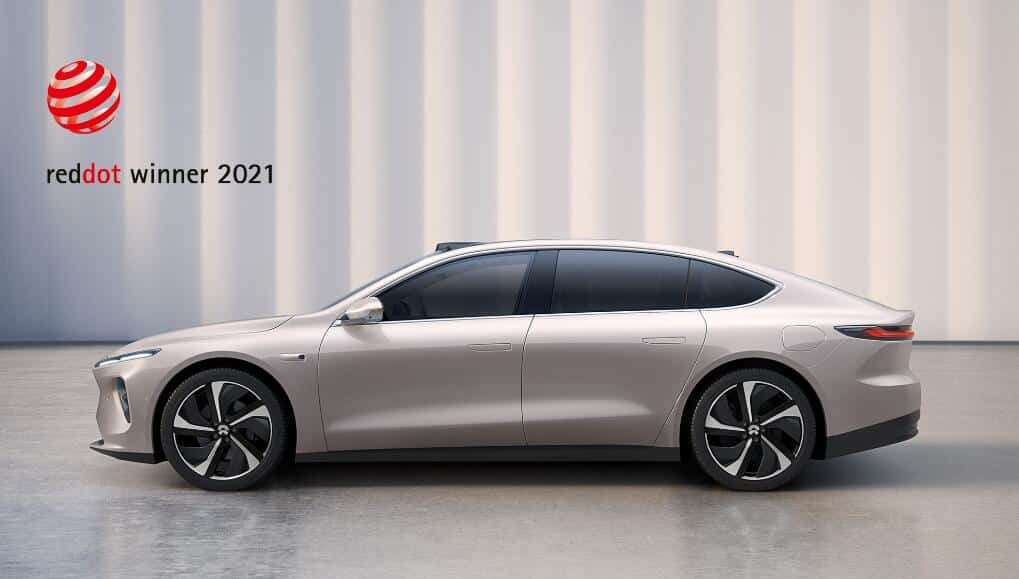 Chinese premium electric car company NIO has won the 2021 Red Dot Product Design Award for its first sedan, the NIO ET7, the company's fourth such award.
Previously, NIO won three Red Dot awards for its NIO Power Home, NIO Power Swap, and its digital assistant, NOMI.
The Red Dot Award for Product Design, which began in 1955, honors the best products of the year.
The assembled jurors said NIO deserved the Red Dot Award 2021 because, "The design and appearance of the NIO ET7 is minimalist progressive, reduced to the bare essentials, integrating all the technologies that will make EVs ready for the future."
"We are very proud to receive our fourth Red Dot Award," said NIO's Vice President of Design, Kris Tomasson. "This not only recognizes that our products are innovative and the forefront of technology, but also proves that we have taken the right path with our 'Driven by Design' NIO philosophy.
NIO unveiled the NIO ET7, designed by Tomasson's team in Shanghai and Munich, on NIO Day, Jan. 9.
"The NIO ET7 is 'progressive' with some of the most advanced technologies seamlessly integrated into its form. Furthermore, the NIO ET7 is 'sophisticated' because it is an absolute premium sedan," Tomasson said.
In fact, apart from its design, the ET7 has been praised for its high specifications, and even now, six months after its launch, there is still no model that can match it. In the analyst's view, the same will be true by the time it begins deliveries next year.
In a report earlier this month, top Chinese investment bank CICC said the NIO ET7 is scheduled to go on sale in the first quarter of 2022, when it will still be the most advanced model in the global automotive market in terms of smart hardware configuration.
CICC sees NIO ET7 as still top of the line in terms of specs when it is delivered next year
The car comes standard with NAD (NIO Autonomous Driving), which can gradually realize point-to-point autonomous driving in high-speed, urban, parking and power-up scenarios, the team noted.
At the perception level, ET7's Aquila super-sensing system is equipped with 33 high-performance perception hardware and is industry-leading in carrying LIDAR. At the computational level, its supercomputing platform Adam is equipped with four NVIDIA Orin chips and has an arithmetic power of 1,016Tops.
"We believe that with the hardware configuration and the company's full-stack R&D capabilities, NIO is on track to reach industry leadership in autonomous driving," CICC said.
NIO has never announced bookings or sales targets for the model. However, earlier this month a document suspected to have come from its suppliers revealed its sales targets.
The NIO ET7 has a sales target of 50,000 units in 2021, according to minutes posted on the NIO board of the Chinese-language electric vehicle forum ddxq.tech, purportedly from NIO motor component supplier Zhejiang Founder Motor.
"The NIO ET7 will enter the market in the first quarter of next year and we will start supplying it 2 months earlier. the ET7 target for next year is 50,000 units and motor demand is expected to be 100,000 units," the minutes, dated June 4, show.
If true, it would mean that NIO will deliver an average of 4,167 ET7s per month next year.
For reference, NIO delivered 6,711 vehicles in May, including 1,412 ES8s, 3,017 ES6s and 2,282 EC6s.
The average monthly delivery target of over 4,000 vehicles means that the ET7 could surpass NIO's current top-selling model, the ES6.
NIO ET7 delivery target for next year said to be 50,000 units