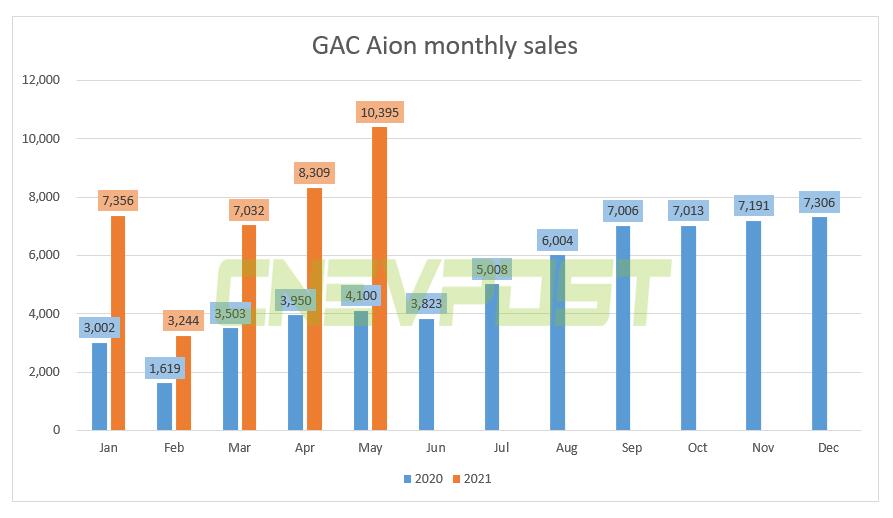 (Graphic by CnEVPost)
GAC Aion sales reached 10,395 units in May, up 154 percent compared to the same month last year, according to data recently released by the GAC Group's new energy vehicle brand.
During the 2020 Guangzhou auto show, GAC announced that GAC Aion began operating independently, positioning itself as a premium smart electric vehicle brand.
GAC Aion currently has four models on sale, AION Y, AION LX, AION V and AION S.
Among them, the AION Y, which launched at the 2021 Shanghai auto show, has an average daily sales volume of 400 units and is the company's main model.
GAC Aion announced on June 3 that the AION S Plus, based on the design concept of the ENO.146, which has the world's lowest wind resistance coefficient, will soon go into mass production.
According to its declaration files, the car's body dimensions are 4810*1880*1515mm in length, width and height respectively, with a wheelbase of 2750mm.
The car is equipped with a drive motor with a maximum power of 150kW and is expected to be equipped with the latest magazine battery.
GAC Aion says it has achieved mass production of its concept car with 'world's lowest wind resistance'
CnEVPost Daily Newsletter