Deutsche Bank cuts Li Auto price target to $27, says EV maker shows encouraging signs but not game-changing
Deutsche Bank sees some encouraging signs for Chinese electric vehicle company Li Auto after it released its first-quarter earnings report, but think they are not game-changing.
In a research note sent to investors Thursday, Edison Yu's team maintained a Hold rating on Li Auto but lowered its price target by $5 to $27 amid the broader re-rating in EV-related assets. The price target means an upside of 18 percent from Li Auto's closing price of $22.82 on Wednesday.
Li Auto reported unaudited earnings before the US stock market opened on Wednesday, showing it realized revenue of RMB 3.58 billion ($545.7 million) in the first quarter, beating Wall Street's estimate of RMB 3.355 billion.
The company reported a net loss of RMB 360 million for the quarter, higher than analysts' expectations of a loss of RMB 134 million, compared to a net income of RMB 107.5 million in the fourth quarter.
Li Auto's Gross margin was 17.3% in the first quarter, up from 8.0% in the same quarter last year and down slightly from 17.5% in the fourth quarter. Its Vehicle margin was 16.9% in the first quarter, up from 8.4% a year ago, but down from 17.1% in the fourth quarter.
Li Auto shares jumped 14.16% on Wednesday to a new high since April 9. The stock is still down by about 30 percent so far this year.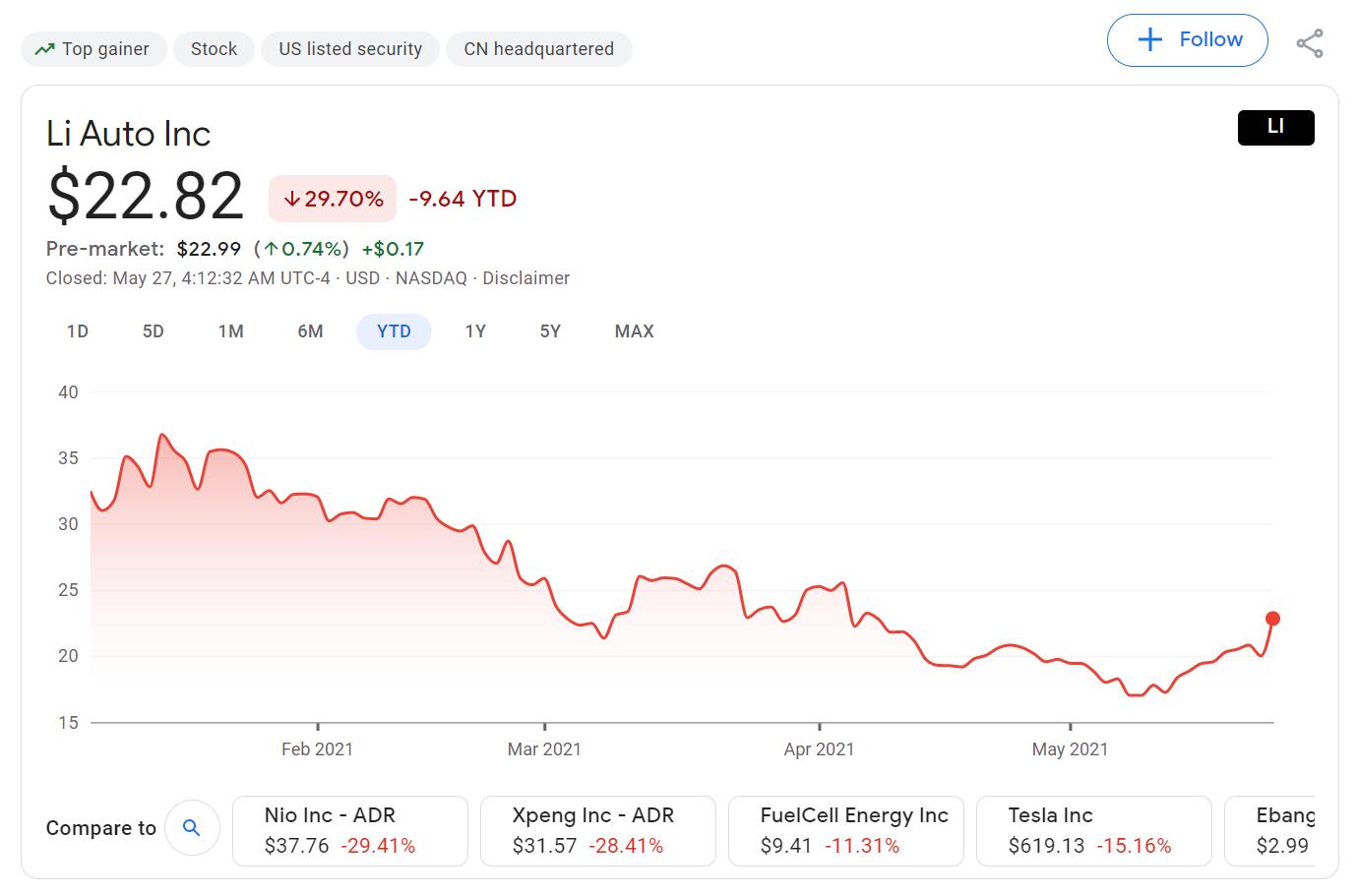 Yu's team believes Li Auto shares benefited from the company's strong outlook for the second half of the year, as the company said deliveries will reach 10,000 units by September. Also contributing is improved investor sentiment toward China's electric vehicle industry.
But Yu's team is not bullish on Li Auto's future product strategy, their report reads:
Moving forward, while LI is accelerating its BEV efforts, the company appears to be still committed to development of hybrid EREV powertrain at least for another 2 platform cycles which we view as superfluous (i.e., we don't see EREV representing 1/3 of NEV mix).

We don't doubt EREV unit sales can increase from current levels given Li One is a solid value proposition and China's TAM is massive, but similar to traditional automakers, investors usually give zero credit for success in hybrids, making us wonder why LI would continue investing in this path.
But it's worth noting that the day before Li Auto reported earnings, the company unveiled its new Li ONE, ditching its use of Mobileye self-driving chips in favor of the Journey 3 chip from local chip company Horizon Robotics.
Yu's team said they were encouraged by this move and believe it will significantly improve Li Auto's ADAS capabilities.
In addition, Li Auto expects to deliver 14,500-15,500 units in the second quarter, up 119.6-134.7 percent from the same period last year.
Yu's team believes this guidance is somewhat soft against the backdrop of the company having delivered 5,539 vehicles in April, which may be partly due to consumers waiting for the Li ONE's mid-cycle refresh thus hurting sales in May.
Li Auto Q1 revenue jumped 320% year-on-year to $545.7 million, beating expectations