Mizuho Securities reiterates Buy rating on NIO, says Q1 earnings results could position it to raise 2021 delivery outlook
With about a week to go before NIO reports its first-quarter earnings, analysts are starting to issue upbeat outlooks.
In a research note on Monday, Mizuho Securities analyst Vijay Rakesh reiterated a buy rating and a $60 price target on the electric car company.
NIO closed up 1.91 percent to $36.78 on Monday, which means the company has a 63 percent upside according to Mizuho Securities' estimates.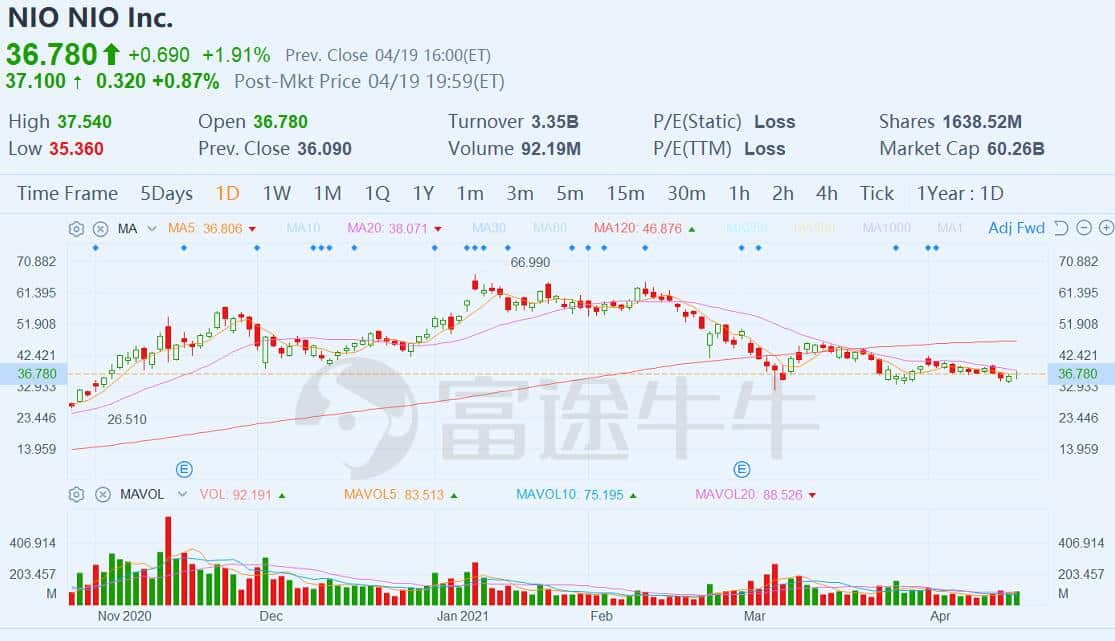 NIO said on Friday that it will report unaudited first-quarter earnings after the US stock market closes on April 29.
Figures released earlier this month showed the company delivered 20,060 vehicles in the first quarter, up 422.7 percent from a year ago and 15.6 percent from the previous quarter. This is the first time NIO has achieved deliveries of more than 20,000 vehicles in a single quarter.
NIO to report Q1 earnings on April 29, over 20,000 vehicles delivered in the quarter
The Mizuho Securities analyst believes NlO deliveries rose 423 percent year-over-year as it ramped up its ES8 and EC6 SUVs, and that both vehicles could remain strong this year.
The analyst believes NIO's first-quarter results could position it to improve its delivery prospects for 2021.
Here are their main arguments:
We believe key to MarQ results are:

1) Deliveries; both TSLA and NIO have reported upside to MarQ deliveries, with TSLA deliveries up 109% y/y on strong Model 3/Y ramps. NlO deliveries were up 423% y/y as it ramped its ES8 and EC6 SUVs, and both could remain strong through 2021E.

2) lncreases to the 2021 outlook; We believe Q1 results could position both to raise the 2021 shipment/delivery outlook.

3) For Tesla, we believe a weaker product mix with 3/Y, the Fremont facility shutdown, and model changeovers could be a GM headwind that may reverse in the JunQ.

We continue to see a vertically-integrated TSLA and NlO well-positioned in a secular EV market as legacy OEMs struggle to balance portfolios between legacy combustion engine and EVs.
It is worth noting, however, that NIO had suspended car production activities at its Hefei plant for five working days from March 29 due to a shortage of semiconductors.
NIO said at the time that overall supply constraints for semiconductors had affected the company's March 2021 production. The company expected deliveries to drop to 19,500 units in the first quarter of 2021, a 500- to 1,000-unit reduction from previously released expectations of 20,000 to 20,500 units.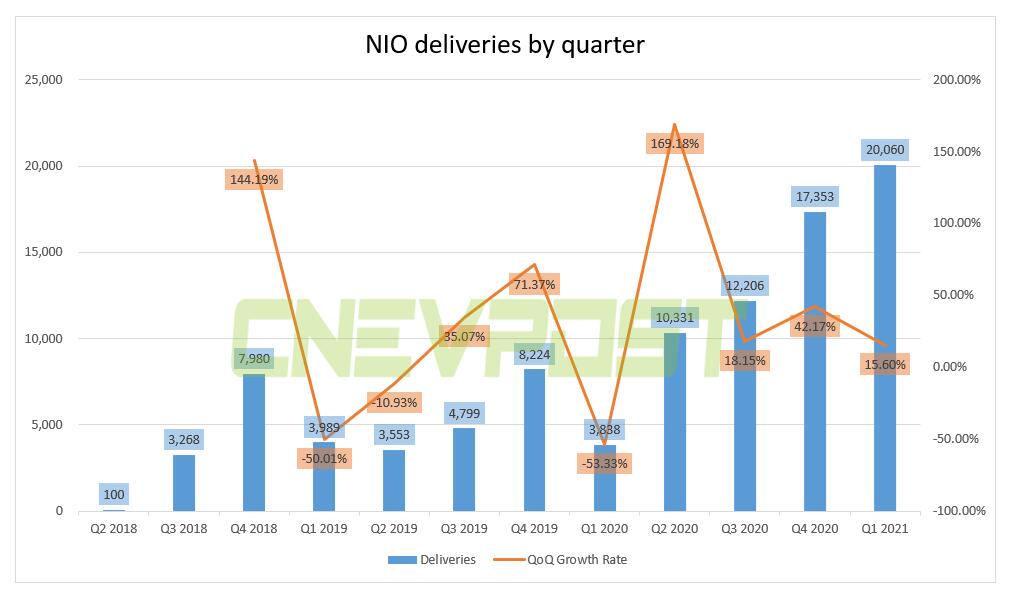 Last week, William Li, founder, chairman, and CEO of NIO, said that the company's current production capacity is 400 units per day and could reach 10,000 units per month based on 25 working days per month.
But the supply chain, including chips and batteries, is now under pressure to produce 7,500 units per month, Li said.
Li predicted that the chip shortage will ease in the third quarter, and the shortage of 100-degree battery pack capacity is expected to ease in June and July.