Deutsche Bank reiterates $70 price target on NIO, says recent stock weakness buying opportunity
Shares of Chinese electric carmaker NIO plunged 13 percent Tuesday after reporting a disappointing loss per ADS, bringing its decline to about 27 percent in the past three weeks.
But in the view of analysts at Deutsche Bank, led by Edison Yu, NIO's revenue in the fourth quarter was largely in line with expectations and its guidance for the first quarter was impressive, while sales could start overseas during the year.
The team raised its full-year sales estimate for NIO by 6,000 units to 96,000 units. They also reiterated their $70 price target on NIO and see the recent stock weakness as a buying opportunity.

NIO fell 13 percent to $43.29 on Tuesday as US stocks suffered a broad sell-off, with the tech-heavy Nasdaq Composite Index down 1.69 percent.
NIO's local peers XPeng Motors fell 11.27 percent and Li Auto dropped 8.2 percent on Tuesday.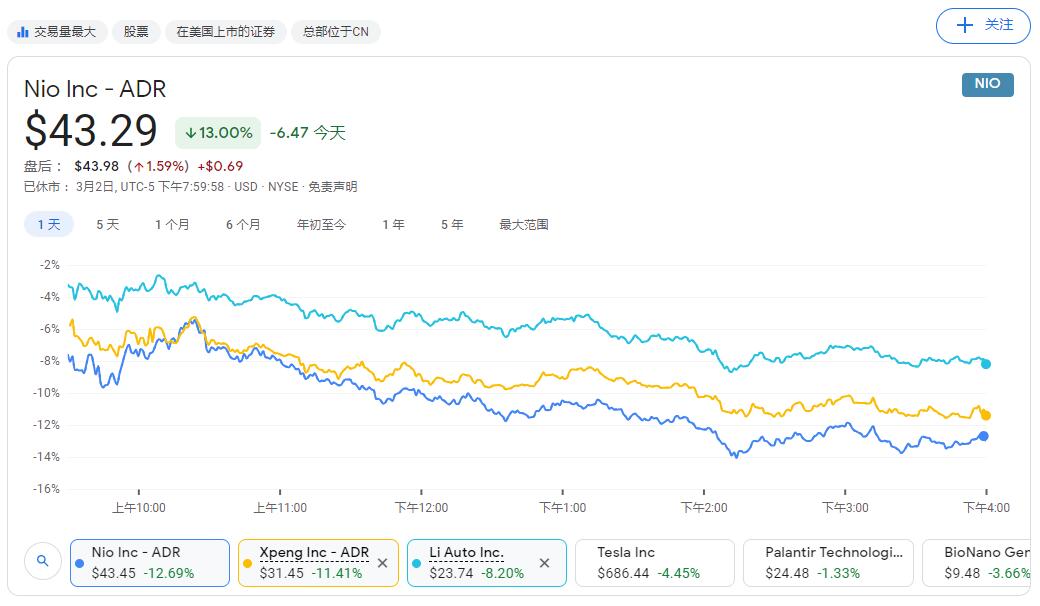 NIO Q4 revenue in line with expectations, adjusted loss per ADS higher than expected
A market leader in China's premium segment
NIO's unaudited financial results released after the bell on Monday showed that total revenue for the fourth quarter was RMB 6.64 billion, up 133.2 percent compared with the same period last year and up 46.7 percent compared with the previous quarter.
NIO's net loss for the fourth quarter was RMB 1.39 billion, narrowing 51.5% compared to the same period last year and widening 32.6% compared to the previous quarter.
The adjusted loss per ADS for the fourth quarter was RMB 0.93, widening 25.6% from the previous quarter and higher than Wall Street's median expectations of a loss of RMB 0.45.
NIO delivered 5,578 units in February, down 22.8% from January, the data showed.
The company expects total revenue for the first quarter to be between 7.38 billion yuan and 7.56 billion yuan, up about 438.1%-450.8% year-over-year and about 11.2%-13.8% from the fourth quarter.
NIO expects deliveries in the first quarter of 2021 to be between 20,000-20,500 units, up about 421%-434% year-over-year and about 15%-18% higher than the fourth quarter.
Yu's team believes that this reflects growing awareness and appreciation of its aspirational brand and ecosystem, putting NIO on track to be a market leader in the China premium segment.
The team writes:
Management initiated strong guidance for 1Q21 calling for 20,000-20,500 deliveries (up >400% YoY, +15-18% QoQ despite unfavorable CNY seasonality), above our 18,000 forecast, supported by stronger than anticipated February sales (delivered 5,578 units, taking Jan-Feb to 12,803).

March would be implied to come in around ~7,500 (record high selling month), suggesting little to no impact on demand from the Tesla MIC Model Y introduction thus far. We also note NIO's February sales declined only about >20% QoQ whereas XPeng/Li Auto saw much larger declines (XPEV >60%), illustrating the strength of NIO's order book and execution.

Beyond the first quarter, NIO indicated it can already increase capacity at the plant to 10k/month but is limited to 7.5k by the semis shortage and battery pack production (larger, more expensive 100 kWh demand is 2-3x higher than initially expected).

Therefore, it believes it can achieve 10k run-rate in 2H21 likely July and then reach 150k per year (on 1 shift, 300k on 2 shifts) in 1Q22 in anticipation of the ET7 launch. Assuming demand continues to be robust, this would suggest 2H deliveries could potentially be as high 60k should NIO be able to run at full capacity.
Factoring in the updated outlook, Yu's team now expects 96,000 deliveries for 201, up 6,000 from the prior forecast.
"We think 100k is achievable for 2021E but would like to get more clarity about the semis/battery pack shortage and demand trajectory before giving NIO credit for that. Separately, we highlight that NIO reached a 55% BaaS take rate on orders last month, up from 35% in November," they wrote.
Untapped growth
William Li, founder, chairman, and CEO of NIO said during the earnings conference call that creating a new brand to enter the mass market is a possibility; however, the NIO brand will not enter the mass market.
NIO made an attempt a few years ago, for example, with Guangzhou Auto Group and Changan Automobile to aim for the mass market. "Currently, we have reduced our share ratio from 45 percent to 5 percent in the companies," he said.
"We are actively looking at ways to enter the market dominated by Volkswagen more aggressively but this is a long-term strategy for us," Li stated..
NIO earnings call: Creating new brand to enter mass market is a possibility
Yu's team sees several areas of untapped growth including developing a separate brand for the mid-tier/mass-market, incremental volume in Europe, and recurring software subscription revenue from NAD (NIO Autonomous Driving) service.
NIO's sales in Europe are expected to begin later this year, likely starting in Norway and few investors give NIO any credit for success there, the team said.
During the call, Li also said NIO invested RMB 2.49 billion in R&D in 2020 and plans to double that amount to RMB 5 billion in 2021.
Yu's team said with $6.5bn in cash on the balance sheet exiting 2020 and ample access to bank credit lines, the company can invest aggressively to expand its capacity /service network and improve its autonomous driving software/engineering capabilities. "We maintain our $70 price target, still based on 10x 2023E EV/Sales."