Global sales of electric vehicles will increase to 30 million units by 2028, and EVs will account for 48 percent of total global passenger vehicle sales by 2030, according to market research firm Canalys.
Global electric vehicle sales grew 39 percent year-on-year to 3.1 million units in 2020, accounting for nearly 5 percent of all new vehicle sales, Canalys said.
Global EV sales are expected to grow a further 66 percent to more than 5 million units in 2021, accounting for more than 7 percent of global new vehicle sales, Canalys said.
In 2020, China and Europe together sold about 1.3 million electric vehicles, four times the number of electric vehicles sold in the US, according to the agency.
Despite the fact that US ishome to Tesla, the world's leading electric car maker, electric car sales in the US account for only 2.4 percent of new vehicles sold there.
By 2030, electric vehicles will account for 48 percent of all new vehicle sales, according to Canalys' forecasts. The rapid growth will continue as more electric vehicles are introduced and as more government policies are put in place tostimulate electric vehicle production and sales.
Reducing "range anxiety" by improving performance and increasing charging infrastructure is critical to attracting more buyers, according to Sandy Fitzpatrick, vice president of Canalys.
The automotive industry is currently facing a severe semiconductor shortage, so managing supply chains and production systems forfuture growth will be key to the success of any strategyof electric vehicle, Fitzpatrick added.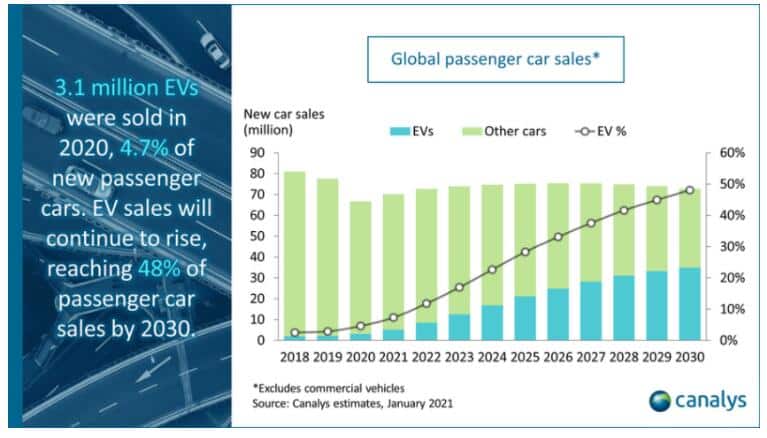 CnEVPost Daily Newsletter