(Update: Change 2012 to 2021 in first paragraph.)
NIO co-founder and president Qin Lihong delivered a speech Saturday at the 2021 China EV100 Forum held in Beijing from January 15 to 17, 2021.
Qin mentioned the construction schedule of the second-generation battery swap station, the plan to enter overseas markets, and the development of NAD (NIO Autonomous Driving).
The following is a translated version of the main points of his speech.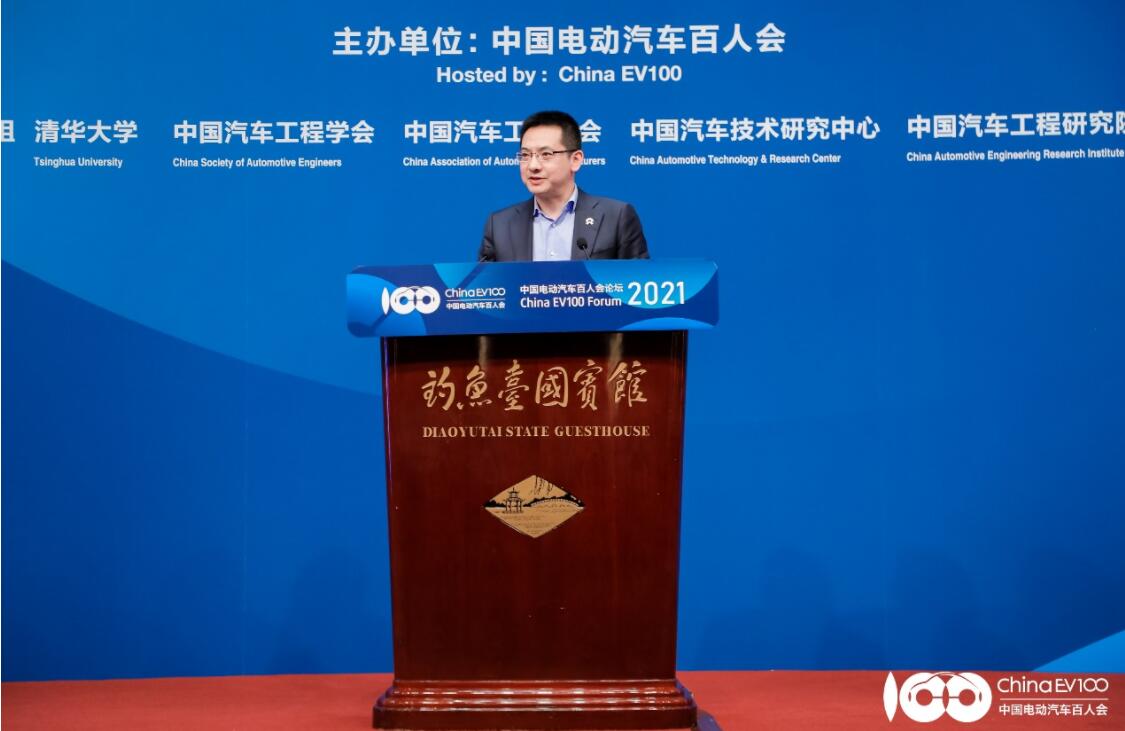 (Qin Lihong, NIO co-founder and president. Source: China EV100)
I am very impressed that we can have such a gathering at this time of Covid-19 epidemic prevention and control.
This is our sixth time to participate in the China EV100 Forum, and although we are a young company, we have witnessed the development of the whole electric vehicle industry in China together.
China EV100 is also witnessing the development of such a new company as NIO, and I would like to take this opportunity to briefly report on the growth of NIO.
In 2020, NIO sold 43,728 units, of which December exceeded 7,000 units in a single month, reaching a new level, and doubled the year-on-year growth rate for 9 consecutive months from April to December.
In total, NIO has delivered more than 75,000 vehicles in two and a half years since it started delivering vehicles at the end of June 2018.
In 2020, I know this number is small, a very small number compared to many of the previous companies here today.
But I would like to report to you that this may also be a small achievement for Chinese brands in the luxury car market.
In 2020, NIO ranked 12th in sales but 4th in retail price among all mainstream luxury brands.
Porsche, Land Rover, and Mercedes-Benz sell at slightly higher prices than us, and our actual delivery prices are higher than those of luxury brands including BMW, Audi, Lexus, and Tesla.
In terms of branding, just now Li Auto's chairman Li Xiang also talked about that we should still make a little achievement as a new enterprise.
In terms of business model, 2020 is the year when NIO's innovative business model achieves a closed loop.
In June last year, the model of separating body and battery was recognized by the state, and NIO was the first to obtain the product announcement for battery swap electric vehicles. Then in August, we launched Battery as a Service (BaaS), a battery rental service.
As of recent weeks, the number of customers who have purchased vehicles using the BaaS model is close to 50% of our new orders, indicating that it is very popular.
In November, we launched a 100 kWh battery pack and opened the upgrade program to all of our then over 60,000 customers, making the battery technology upgrade available to every NIO consumer.
On January 3 of this year we launched our used car business, essentially closing the loop on the model in the consumer market.
On January 9, we announced the next-generation self-driving technology as a subscription service, opening up the subscription service model.
We realize the integrated layout and experience of hardware, software and service in the operation of the whole company. In terms of business planning, hardware, software and service have their own relatively independent business planning to adapt to the needs of different classes of consumers.
In terms of products and technologies, in the past year we released the new generation ES8, the mid-cycle ES6, and the new coupe SUV ES6.
The ES6 was awarded the Body Design Award by the German Association of the Automotive Industry in Germany.
In terms of battery technology, we worked with our partners to launch a new 100kWh battery pack in 2020, following the launch of a 70kWh pack in 2018 and an 84kWh pack in 2019.
Our 100kWh pack has already started to be launched in volume for the market, and we have recently announced that in 2022 we will launch a 150kWh pack with an energy density of 360wh/kg using the latest solid-state battery technology, with the aim of launching it in the fourth quarter of next year.
We are also using an innovative business model to give each NIO owner the flexibility to choose each battery product to match their travel needs.
In terms of charging and battery swap facilities, last year we launched the second generation of 7 kW home AC charging piles and 20 kW home DC fast charging piles.
Not long ago, we deployed 14 sets of destination charging piles along the 2,900 km route from Chengdu to Everest using 20 kW DC fast charging piles.
We are also actively developing the second generation battery swap station, which is expected to be launched to the market in March or April of this year.
It will have four times the service capacity of our first-generation station, and can be automatically connected to the vehicle, so that the user can automatically park and change the battery swap pool with one click in the car.
It can be unattended, which provides the possibility for NIO's battery swap mode to enter the markets of developed countries in Europe and America in the future.
In terms of software, in the past year and a half, we have released 39 software upgrades, added 131 new features and optimized 280 existing features.
In August last year, we launched ADAS Advanced Pilot Assist, which we call NOP, and so far users have driven more than 100 million kilometers with NIO's Advanced Automated Driving Assist, which has been tested in a wide range of applications.
At the beginning of next year, we will launch the next generation of autonomous driving, making the leap from assisted driving to autonomous driving. We will use the launch of ET7 to take autonomous driving to a new level.
NIO and JAC have cooperated fully in these years and have worked out a good path in innovative manufacturing, and now we have not only stable production but also very stable quality.
In the two years of 2019 and 2020, inside the new car quality survey of JD Power, a US research company, ES8 and ES6 won the new car quality award in that year respectively, proving that the innovative manufacturing model is not at the expense of quality and not at the expense of efficiency.
In the past year, we have been actively laying out our service capabilities. As of now, NIO has over 210 pre-sales stores, 150 of which were built last year.
We have more than 200 after-sales sites and 178 NIO battery swap stations, and will reach 500 by the end of this year.
We have installed about 50,000 home charging posts for customers and built 100 supercharging stations across the country, including about 800 supercharging posts.
We have also introduced more than 280,000 third-party fast-charging piles in the society through NIO's APP to facilitate users' travel.
We are also actively preparing to enter overseas markets in 2021 and start sales overseas if the world epidemic does not deteriorate significantly.
We also aim to continue to adhere to our high-end brand positioning overseas and serve our customers directly with a direct sales model.
NIO is only six years old, our volume is still very small, and our achievements are very limited.
After listening to your speeches today, I feel that our small achievements and thoughts over the past few years may serve as a footnote for you to look forward to the future.
This may be a new development model, and in the new era there may be new brands, new companies, and new ways to access our existing market.
Finally, I would also like to take the opportunity of our China EV100 Forum to make a suggestion.
The current factor that may limit the further popularity of electric vehicles is the popularity of public infrastructure.
We still encounter a lot of challenges in the process of battery swap station and charging pile layout. Many times my feeling is that there is no law to serve as a basis.
Last year, China's State Council put forward charging, battery swap facilities, battery swap stations as a new infrastructure project in the "14th Five-Year Plan", but there is no clear method of implementation in each place, involving battery swap stations in the end how to approve, charging piles in the end how to approve, property management does not cooperate in the end how to do.
If every consumer can install a charging post in their own parking space, the electric car charging experience will exceed the gasoline car refueling experience, and then the popularity of electric cars will not be far away.
So here we also hope that China EV100 and other professional organizations can join hands with all car companies, and we are also willing to actively participate to launch a new organization and a new platform to help consumers and various enterprises to make electric vehicle travel more worry-free.
That's all for my speech today, thank you!
CnEVPost Daily Newsletter