NIO ET7 is not a car but a mobile computing center, analysts say
The NIO ET7 is equipped with the most powerful self-driving hardware available, with four Nvidia Orin chips and 1016 TOPS of computing power, making it a mobile computing center, according to analysts.
Equipping the ET7 with powerful sensing and computing units demonstrates NIO's commitment to fully autonomous driving and its confidence in its own smart driving capabilities, analysts at Haitong Securities said in a report released today.
The subscription model for NAD (NIO Autonomous Driving) is expected to provide NIO with a steady stream of cash flow as the smart driving algorithms take hold, the analysts said.
"NAD is similar to the Tesla FSD in that the car is being transformed into a vehicle for computing power and software," they said.
Through NIO ET7, high-performance computing platforms and high-performance LiDAR are being used in vehicles at an accelerated rate, and the entire industry chain is gearing up for the use of high-level autonomous driving, they said.
NIO unveils its first electric sedan, ET7, with maximum range of over 1,000 km and price starting at about $69,000
On January 9, NIO held the NIO Day 2020 in Chengdu to unveil its first flagship sedan, the ET7, as well as a 150kWh solid-state battery and a second-generation battery swap station.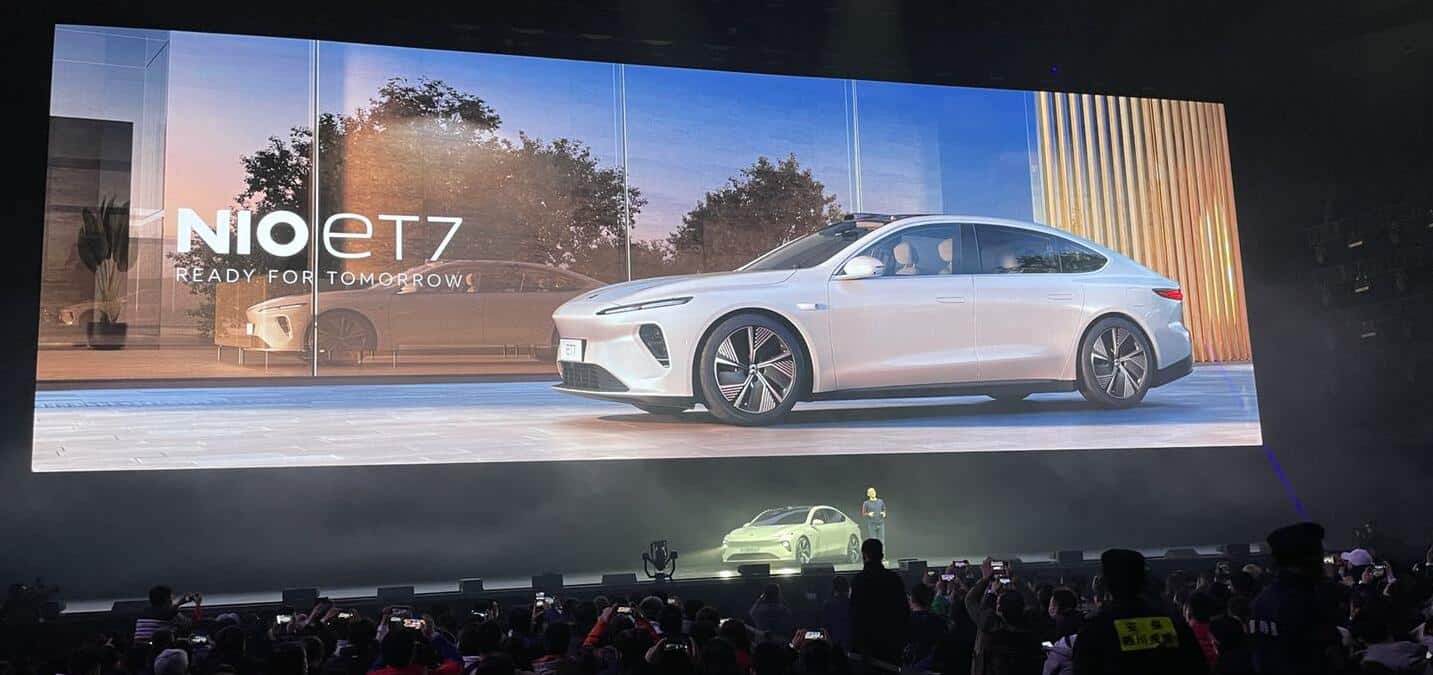 (Source: cnEVpost)
NIO also debuted NAD, based on NIO Aquila NIO super-sensory system and NIO Adam NIO supercomputing platform, which will gradually realize point-to-point autonomous driving experience in high-speed, urban, parking, battery swap and other scenarios.
Analysts at Haitong Securities believe that as NIO's first all-electric sedan, the ET7 allows intelligent hardware to be used in cars at an accelerated pace and makes significant advances in autonomous driving capabilities.
The NIO Aquila is equipped with 33 sensors, including 11 8-megapixel cameras, one ultra-long-range high-precision LIDAR, five millimeter-wave radars, 12 ultrasonic radars, two high-precision positioning units, one vehicle-road co-sensing and one enhanced primary driver sensing (DMS).
With a large number of sensing components comes a huge amount of data, with NIO ET7 capturing 8GB of data per second.
The NIO Adam is equipped with four NVIDIA Drive Orin chips, making the ET7 the world's first production vehicle to be equipped with NVIDIA Drive Orin.
NIO is finally thinking about saving money as ET7 eliminates AC charging port
Adam has 48 CPU cores, 256 matrix units, 8096 floating point units, and a total of 68 billion transistors.
The total computing power of the NIO Adam NIO supercomputing platform is 1016 TOPS, more than the combined computing power of 7 Tesla FSDs.
NIO ET7 is equipped with an 8-megapixel autopilot HD camera, which is 6 times higher resolution than the 1.2-megapixel camera used by Tesla FSD.
The 8-megapixel autopilot camera can detect vehicles more than 680 meters away, pedestrians more than 220 meters away, and cone buckets more than 260 meters away, which is three times the distance of the 1.2-megapixel camera.
The ET7 is equipped with 1 ultra-long-range, high-precision lidar from Innovusion, which was founded in Silicon Valley in November 2016 and whose main product is currently a hybrid solid-state lidar. 2018 saw NIO Capital invest in Innovusion.
NIO's lidar will have an ultra-wide 120-degree viewing angle, ultra-high resolution of 300 lines equivalent, an ultra-long detection range of up to 500 meters, and a focus function to resolve more details.
Analysts at Haitong Securities believe that a lidar with long detection range, high resolution, low cost and integration is the best lidar for mainstream mass production vehicle applications at this stage.
CICC says NIO's NAD starts new hardware race, raises price target by 42% to $85